Better health through better philanthropy
GIH Connect
Connect with GIH to learn, collaborate, and grow through education, networking, and leadership opportunities.
Sign Up
Sign up for the GIH Bulletin to stay on top of news from the field.
Funding Partner Portal Login
Login to access exclusive Funding Partner resources from GIH.
2018 Annual Conference: Agenda at a Glance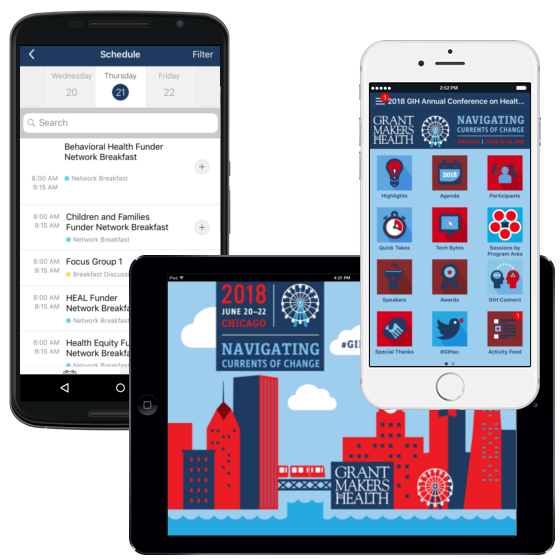 Speakers, session locations, details, and additional materials can be found by visiting the GIH App and mobile website.
Wednesday, June 20, 2018
9:00 a.m.
–
12:00 p.m.
CEO Working Group on Access and Coverage (by invitation)
Terrance Keenan Institute Reunion (by invitation)
Healthy Eating/Active Living Learning Community (by invitation)
11:00 a.m.
–
12:00 p.m.
Newcomers' Welcome
12:00
–
12:30 p.m.
Lunch Buffet
12:30
–
1:00 p.m.
Conference Welcome: Faith Mitchell – President and Chief Executive Officer, Grantmakers In Health
1:00
–
2:00 p.m.
Opening Plenary: Candice C. Jones – President and Chief Executive Officer, Public Welfare Foundation
2:30
–
5:30 p.m.
Workshops (preregistration required)

Addressing Addiction: Evidence, Equity, and Empathy
The Art and Science of Health Grantmaking: Reimagining the Program Officer Role for Authentic Community Engagement
Building Health Advocacy Capacity in Rural Communities
Innovative Strategies and Solutions for Complex Care Populations

Site Visits (preregistration required)

A New Frontier: A Paradigm Shift from Rehabilitation to Ability
Elevated Chicago: Promoting Strong, Prosperous, and Resilient Communities
The Kids Are All Right: Advancing Adolescent Health at Erie Teen and Young Adult Health Center
There Grows the Neighborhood: Practicing Regenerative Placemaking

6:00
–
7:30 p.m.
Opening Reception
 
 
 
 
Thursday, June 21, 2018
8:00
–
9:15 a.m.
Breakfast Discussions and Networking Breakfasts:

Behavioral Health Funder Network Breakfast
Children and Families Funder Network Breakfast
HEAL Funder Network Breakfast
Health Equity Funder Network Breakfast
Together Our Impact is Greater: CDC Foundation and the Acceleration of 6|18
What's Keeping CEOs up at Night?
What's Keeping Trustees up at Night?

9:30
–
10:30 a.m.
Plenary Session: Dr. Vivek Murthy –

 

19th Surgeon General of the United States

11:00 a.m.
–
12:00 p.m.
Breakout Sessions:

A Public/Philanthropic Partnership to Support Early Childhood Mental Health
Helping Municipal Leaders Create Healthy, Thriving Cities through Policy Change
How Foundations Can Shape Medicaid's Future
If You Want to Serve Native Americans, Start in Your Cities
Navigating Change: Innovative Evaluation Frameworks and Tools for Staff, Boards, and Communities
Place-Based Investments for Health: What Have We Learned?
Protecting Immigrant Health through Policy Advocacy, Research, and Direct Service
Stepping up to Take on the Opioid Epidemic

Quick Takes:

A Challenge to Philanthropists: Investing in Integrated Models of Care for Enabling Successful Aging
Design for Community Ownership: Principles from the Raising Places Project
Framing Domestic Violence through the Lens of Neurobiology, Trauma, and Gender Norms
Putting Our Money Where Our Mouths Are: How Philanthropy Can Tackle Gun Violence as a Public Health Threat

12:15
–
1:30 p.m.
Terrance Keenan Leadership Award in Health Philanthropy Luncheon
2:00
–
3:00 p.m.
Breakout Sessions:

Aligning Behavior and Values for Grantee Success
Changing the Current of Children's Oral Health Care
Confronting a Public Health Crisis: Solitary Confinement in the Criminal Justice System
Cultural Competency for Rural America: What Foundations Need to Know
Entering the Policy Arena: Advancing Mental Health and Wellness
Making the Case for Racial and Gender Equity in Grantmaking
Pursuing Collective Action: A Multi-Funder Workforce Collaboration

Tech Bytes:

County-Level Overdose Mapping: Considering Social Determinants of Overdose Deaths

Quick Takes:

A Cross-Sector Approach to Reducing Preterm Birth
Including Children in State Health Reform Efforts: Lessons from Connecticut

3:30
–
4:30 p.m.
Breakout Sessions:

Addressing the Many Faces of Food Insecurity
Collaborative Learning to Navigate Change and Accelerate Promising Practices
Housing as a Prescription: Using Health Care Dollars to Pay for Housing
Legislation Has Passed: Now What?
No Child Left Behind: Promoting Universal Early Developmental and Behavioral Screenings
Pathways to Addressing Trauma: Navigating an Emerging Field
The Evolving Needs of Veterans' Health
Using Collective Impact to Improve Birth Outcomes

Tech Bytes:

Advancing Health Insurance Literacy with Data-Driven Consumer Tools
An App for That: Smartphone App for Homeless Youth

Quick Takes:

Health Funders' Role in Building a Reflective Democracy

4:45
–
5:45 p.m.
Guided Riverwalk Activity (preregistration required)
6:00
–
7:30 p.m.
Off-Site Reception
 
 
 
 
Friday, June 22, 2018
8:00
–
9:15 a.m.
Breakfast Discussions and Networking Breakfasts:

A Breakfast Gathering for Foundations with Assets under $25 Million
Health Reform Funder Network Breakfast
Integrative Health Funder Network Breakfast
Health Care Conversion Foundations: Contributions, Impact, and Lessons Learned along the Way
Oral Health Funder Network Breakfast
Population Health Funder Network Breakfast
Worst Grant I Ever Made

9:30
–
10:30 a.m.
Plenary Session: Dr. Laura Mosqueda – Dean of the Keck School of Medicine, University of Southern California
11:00 a.m.
–
12:00 p.m.
Breakout Sessions:

Building Community Resilience to Address Climate, Health, and Equity
Nonprofit Capacity Building
Orienting towards Action: Strategies to Address the Opioid Crisis
People, Place, and Power: Putting Community Voices at the Center of Health Transformation
Targeting Resources and Building Trust: Strategies to Prevent Street Violence
Weaving the Safety Net
What Can the World Teach Us about Health Equity?

12:15
–
1:30 p.m.
Andy Hyman Award for Advocacy Luncheon
2:00
–
3:00 p.m.
Guided Riverwalk Activity (preregistration required)