Better health through better philanthropy
Lead, Listen and Inspire: Measuring Health Improvement
June 16, 2017
Jennifer Chubinski, PhD, Vice President – Innovation and Learning, Interact for Health

2016 Terrance Keenan Fellow
Interact for Health in Cincinnati actively engages in data collection and applied research. We do this work because we are uniquely able to invest in high-quality data, ask politically controversial questions, and fund and partner with researchers with a similar research agenda. Over the years, our health measurement work has offered us several ways to lead, listen, and inspire.
Measuring a population's health doesn't sound hard, until you dig into the actual data collection and questions arise. What is "health?" What is "healthy?" How do you measure that at an aggregate level without violating privacy? Discussions about how to measure health improvement in our community began in 2010 under the leadership of the United Way of Greater Cincinnati.
As a leader in our region's collective impact effort, the United Way had a strong desire to create overall bold goals for our region in education, income, and health, its signature investment sectors. After many engaging discussions, Interact for Health and other regional health stakeholders chose self-reported health as one of the community's leading health indicators.
Self-reported health is the answer to the question, "In general, how would you rate your health: excellent, very good, good, fair or poor?" The question is easy to administer, answer, and monitor. In our community, about half of adults have consistently reported "excellent" or "very good" health, similar to the nation. (See graph below.)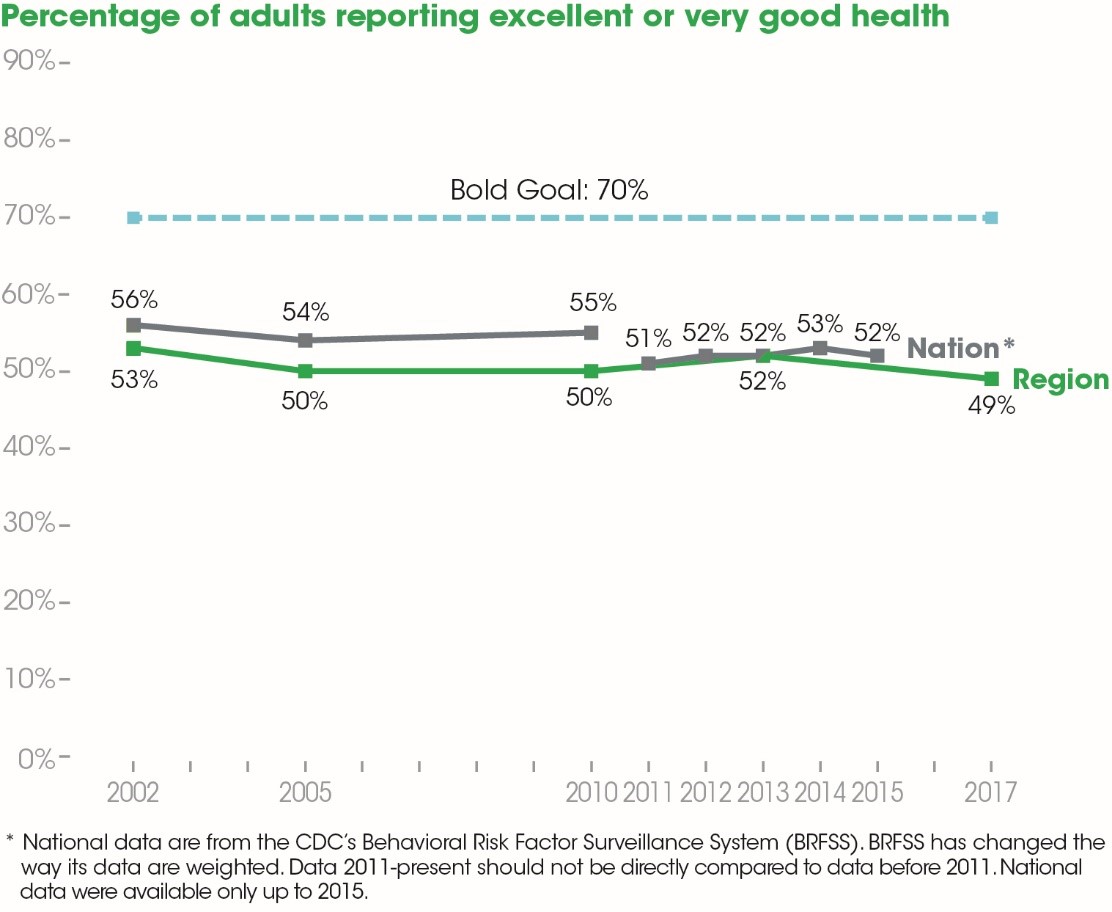 This varies notably by income. The poorest adults in our community are consistently much less likely to report good health.
FPG = Federal Poverty Guideline
Led by the United Way and using Interact's data, the community rallied around a goal that 70% of the community will report having excellent or very good health by 2020. As the above graphs show, these percentages have been flat since 2002. While research is clear that self-reported health is an excellent measure of health (Idler & Benyamini, 1997; Jylhä, 2009; Huisman & Deeg, 2010; Singh-Manoux, Guéguen, Martikainen, Ferrie, Marmot & Shipley, 2007; Manderbacka, Lundberg & Martikainen, 1999), knowledge about how to move this measure is more limited. Interact reached out to health-data collectors and applied health researchers to find small ways to test how to move the needle on self-reported health.
In 2015 we asked adults in our two statewide opinion polls in Ohio and Kentucky,"What is the most important thing you could do to improve your health one level?"1 (For example, from "good" to "very good.") On both surveys, the most common response was more exercise (3 in 10 adults in both states) and an improved diet (2 in 10 adults in both states). Adults reporting excellent, very good, or good health cited exercise and diet most frequently. However, adults reporting fair or poor health gave more varied responses. They cited exercise and diet, but also identified specific health problems and getting access to health care. (For more details, including respondents' rating of how difficult it would be to make the change, please click here for Ohio data and here for Kentucky data.) 
In a separate project, we partnered with Nancy Elder, MD and her team at the University of Cincinnati Department of Family and Community Medicine to better understand self-reported health, the relationship between physician-perceived health and patient-perceived health, and what could be done to improve health. Some of the findings of the resulting study are available at Congruence of Patient Self-Rating of Health with Family Physician Ratings (Elder et al. 2017). Patients' responses to an open-ended question about what they could do to best improve their health confirmed the results of our earlier opinion polls in Ohio and Kentucky. Patients who reported their health as excellent, very good, good, or fair all said that the top two things they could do to improve their health would be to diet and exercise. Patients who described their own health as poor identified miscellaneous factors and medical treatments, surgeries, or therapies as the best way to improve their health. The table below shows the results by patient self-reported health (running vertically) and the number of respondents who selected each answer as his or her top choice (small columns next to each response).
It is clear from these small applied-health research projects that health status affects people's attitudes about what they need to do to improve their health. For adults in excellent, very good, and good health, exercise and diet are consistently identified, while sicker adults identify health care access and medical treatments as the keys to better health.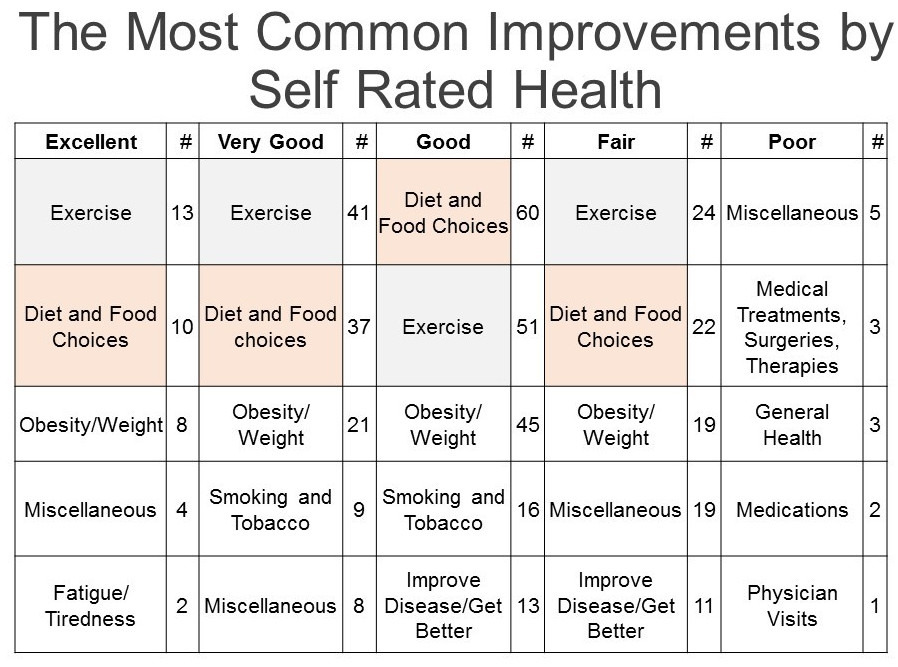 I would love to hear back from readers and conference attendees: What is your initial reaction to these data, and how do you measure general health in your communities?
---
Footnote
1: The actual question wording was, "What is the most important thing you could do to change your health from (insert self-reported health here) to (insert next highest scale response here)?" [if response is "excellent" say "improve your health" instead of "change your health from…."].
---
Reference List
Elder, N., Imhoff, R., Chubinski, J., Jacobson, C., Pallerla, H., Saric, P., Rotenberg, V., Vonder Meulen, M., Leonard, A., Carrozza, M., Regan, S. (2017) Congruence of Patient Self-Rating of Health with Family Physician Ratings. Journal of the American Board of Family Medicine. 30:196–204.
Huisman, M., & Deeg, D. J. (2010). A commentary on Marja Jylhä's What is self-rated health and why does it predict mortality? Towards a unified conceptual model. (69: 3, 2009, 307–316). Social Science & Medicine, 70(5), 652-654.
Idler, E. L., & Benyamini, Y. (1997). Self-rated health and mortality: a review of twenty-seven community studies. Journal of Health and Social Behavior, 21-37
Jylhä, M. (2009). What is self-rated health and why does it predict mortality? Towards a unified conceptual model. Social Science & Medicine, 69(3), 307-316.
Manderbacka, K., Lundberg, O., & Martikainen, P. (1999). Do risk factors and health behaviors contribute to self-ratings of health? Social Science & Medicine, 48(12), 1713-1720.
Singh-Manoux, A., Guéguen, A., Martikainen, P., Ferrie, J., Marmot, M., & Shipley, M. (2007). Self-Rated Health and Mortality: Short- and long-term association in the Whitehall II study. Psychosomatic Medicine, 69 (2), 138-143.
GIH Connect
Connect with GIH to learn, collaborate, and grow through education, networking, and leadership opportunities.
Sign Up
Sign up for the GIH Bulletin to stay on top of news from the field.
Funding Partner Portal Login
Login to access exclusive Funding Partner resources from GIH.