Letter From President Cara V. James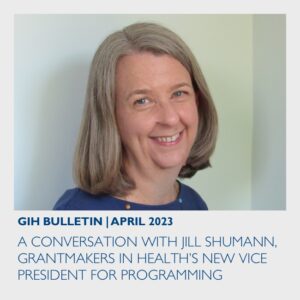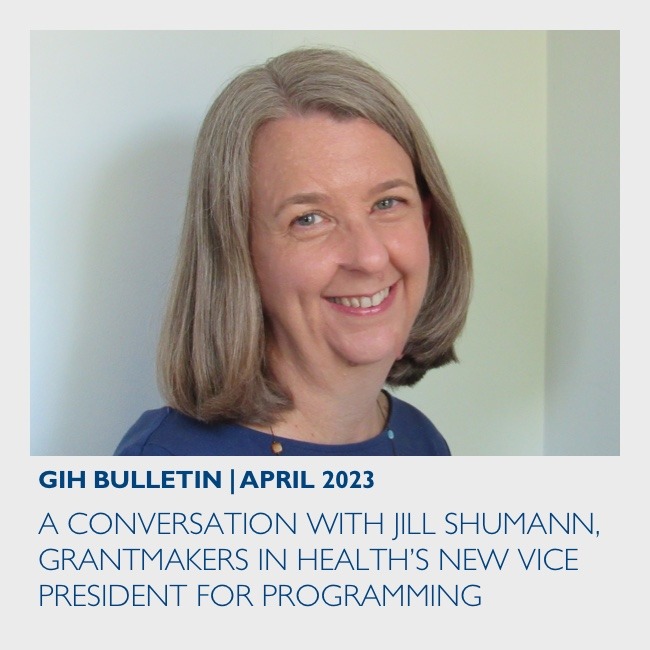 This month, Grantmakers In Health (GIH) President and CEO Cara V. James sat down with Jill Shumann, GIH's new Vice President for Programming, to learn more about Jill's long career in health and how her experience applies to GIH's mission of advancing better health for all through better philanthropy. Jill discussed her formative years as a Peace Corps Volunteer, her work on international public health in Africa, and her recent tenure at the National Alliance on Mental Illness.
Read More →
Grantmakers In Health Announces 2023 Award Winners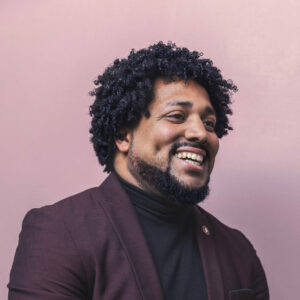 Gregory Jackson, Executive Director of the Community Justice Action Fund, will receive the 2023 Andy Hyman Award for Advocacy.
Learn More →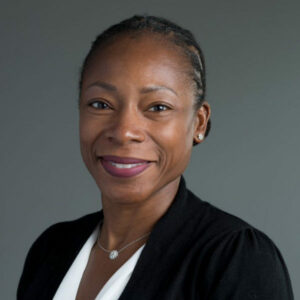 Myechia Minter-Jordan, MD, MBA, President and Chief Executive Officer of the CareQuest Institute for Oral Health, will receive the 2023 Terrance Keenan Leadership Award in Health Philanthropy.
Learn More →
GIH's 2023 Policy Priorities
GIH seeks to take a more active role in defining the key issues that will advance better health for all and support health philanthropy with the thought leadership and programming to make a lasting impact by influencing advocacy, policy, and funding in targeted areas.
This policy agenda identifies our public policy priorities for the coming year. Informed by health funders, these priorities will guide our programming, influence decisions related to issuing public statements on timely policy issues, and focus our emerging advocacy efforts. We hope these priorities will also inspire the field of health philanthropy and encourage greater collaboration and commitment to common policy goals among funders. We look forward to working with funders and others to advance this agenda.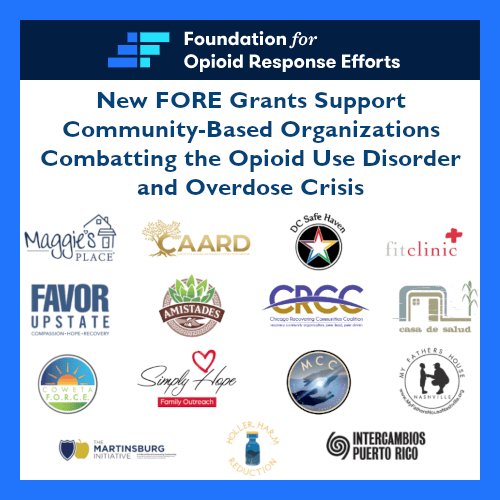 The Foundation for Opioid Response Efforts (FORE) recently announced $2.2 million in grants to community-based organizations in urban and rural areas to support prevention, harm reduction, treatment, and recovery initiatives to address opioid use disorder and the overdose crisis.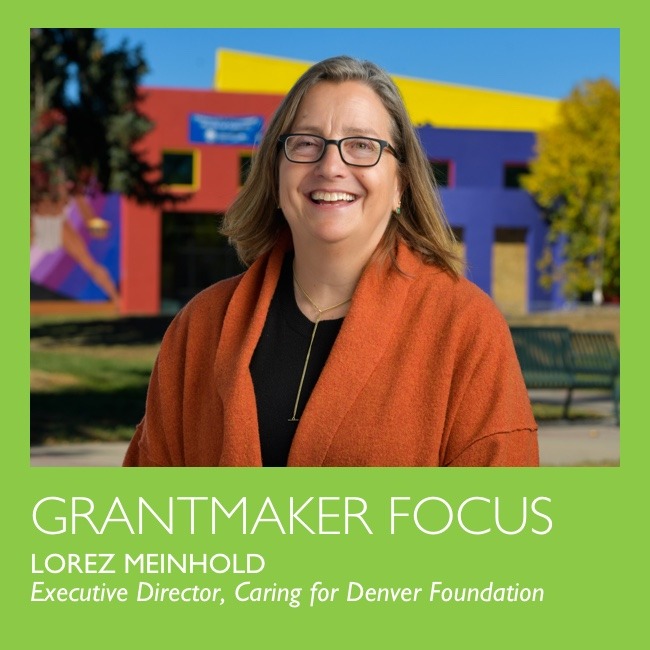 "Increased economic and social stress is driving a higher need for mental health and substance misuse care, making the work of our grantee partners even more important than when we were founded. People are ready to talk about and seek help, and Caring for Denver's grantmaking process is ready to meet this moment because it is centered in reflecting the unique cultural needs, values, and beliefs of the city's diverse communities."
Stay Informed!
Sign up to receive the GIH Bulletin and other announcements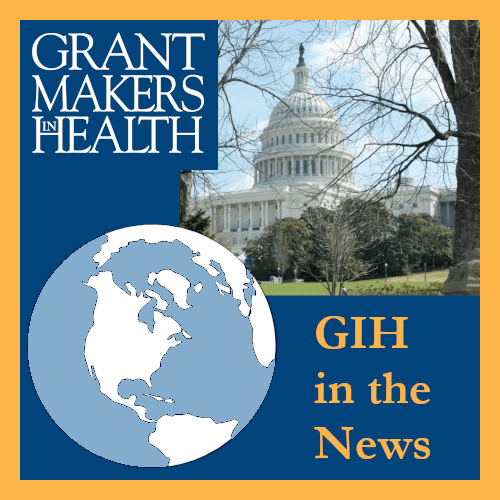 Grantmakers In Health (GIH) President and CEO Cara V. James was quoted in a December 18, 2022 Politico Magazine article about the Black community's distrust of the health care system.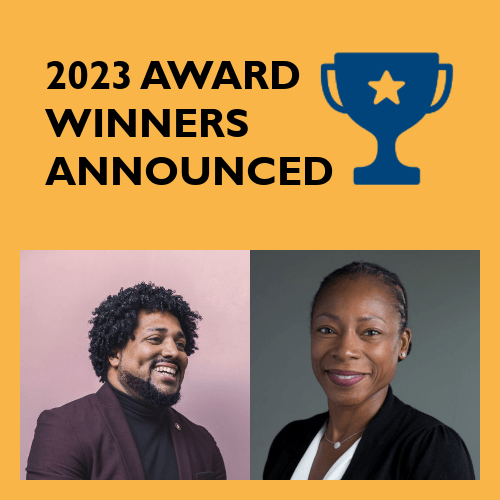 Grantmakers In Health (GIH) is pleased to announce Dr. Myechia Minter-Jordan as the 2023 recipient of the Terrance Keenan Leadership Award in Health Philanthropy, and Mr. Gregory Jackson as the 2023 recipient of the Andy Hyman Award for Advocacy.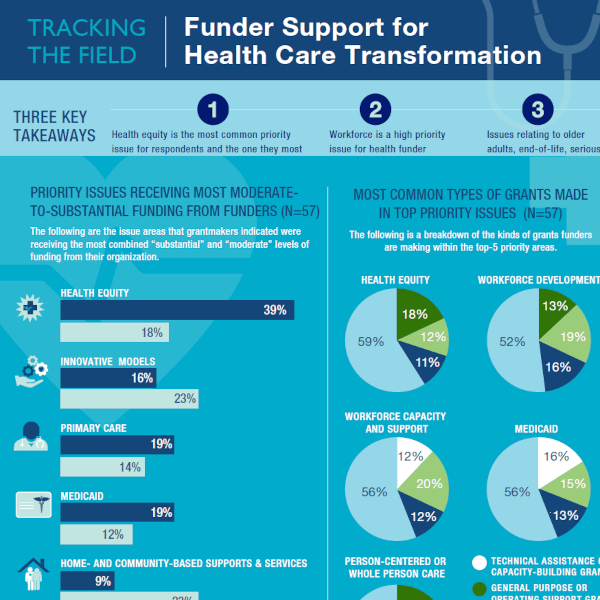 This infographic summarizes the responses to a Grantmakers In Health funder poll, conducted October 2022, on how philanthropy is supporting health care transformation efforts, especially those concerned with improving quality of life, coordinating complex care, and taking patient preferences into account.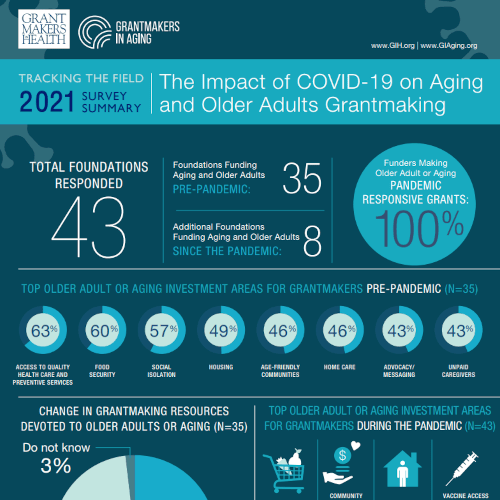 To better understand how philanthropy has responded to these challenges over the course of the pandemic, Grantmakers In Health and Grantmakers In Aging launched a joint survey in November 2021 to learn how health and aging funders are addressing COVID-19 related needs among older adult populations and potential long-term impacts on future grantmaking.
Perspectives From Health Philanthropy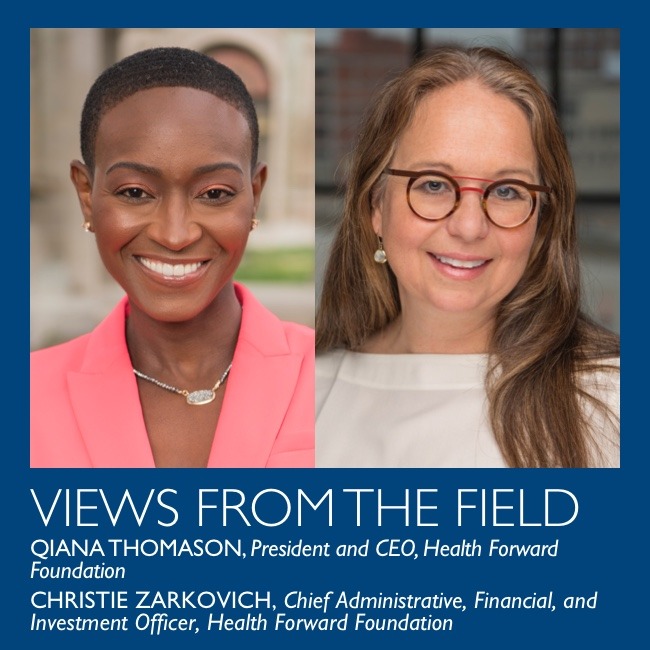 In 2020, none of the Health Forward Foundation's assets were managed by Black, Latina, or Latino managers. Struck by that stark reality, Health Forward began the process of diversifying the asset managers in its investment portfolio as part of a larger strategy to align the Foundation's capital with its purpose.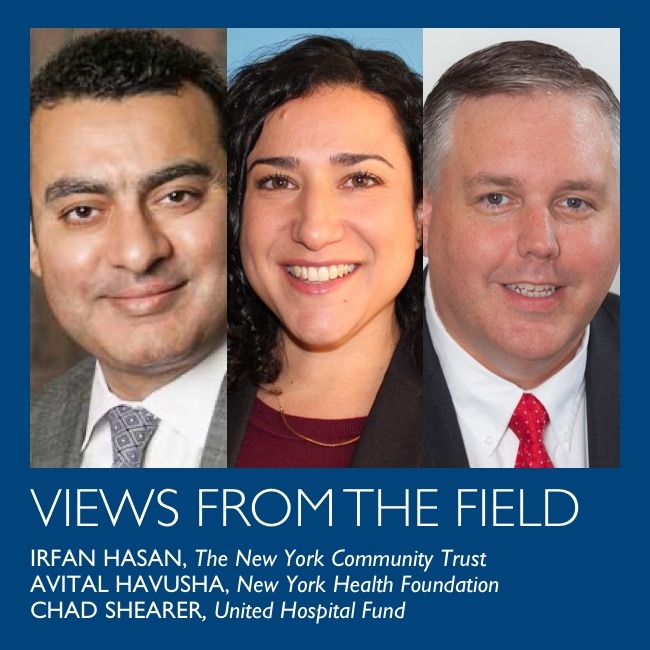 In March 2020, the United States declared a public health emergency and enacted historic COVID-19 relief legislation. It increased Medicaid funding to states contingent on several conditions, including a "continuous enrollment" requirement that prohibited states from terminating Medicaid enrollees' coverage until after the public health emergency had ended. How well this worked is a rare silver lining of the pandemic: an estimated 20.2 million people gained coverage since March 2020, and the uninsured rate dropped across the country.
Join us for a two-part virtual, interactive series to explore social movements, the needs of movement leaders, and promising practices from funders.  
This position supports the organization through research, the development of meaningful data reports and synthesis of information to enable execution of MHM's mission and progress toward achievement of its vision in advancing health equity. The Senior Public Health Researcher must be knowledgeable about research design, a variety of data sources related to population health and community conditions, and able to compile and report both primary and secondary quantitative and qualitative data in a concise and clear format.
Explore health trends and promising approaches to address critical issues, conduct health policy research and data analysis; plann meetings, and webinars; field surveys; write articles and reports; and manage networks and learning communities. You will also be giving foundation staff strategic advice, creating tools foundation staff can use to connect to each other, giving presentations about philanthropy, and forging partnerships with other organizations.
Connect and collaborate with peers, learn about opportunities to develop your staff, browse professional growth opportunities, and more.
Browse trustee-tailored content related to governance, strategy, and effectiveness.