The Terrance Keenan Institute for Emerging Leaders in Health Philanthropy is a biennial professional leadership development opportunity for our field's next-generation leaders.
Established by GIH in 2009, the institute serves as a living legacy through which Terrance Keenan's words and deeds continue to inspire future leaders as they seek to create a more just and equitable world. Fellows spend two days with seasoned leaders from the field of health philanthropy, many of whom are past recipients of the GIH Terrance Keenan Leadership Award in Health Philanthropy. The institute focuses on leadership development, exploration of critical issues facing philanthropy, and building collegial connections that can endure throughout fellows' careers. It features a retreat-like format that includes a mix of structured discussions and unstructured networking. Topics reflect key themes from Keenan's work and writings: placing people and ideas at the center of philanthropic work, embracing innovation, taking risks, and creatively deploying foundation resources.
To support ongoing professional connections among the fellows, GIH provides additional opportunities for them to connect with and learn from one another throughout the year.
Support for the institute is provided by the Effective Philanthropy Fund.
For questions or additional information, contact Kate Treanor.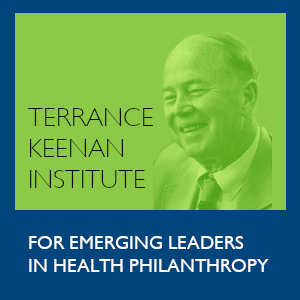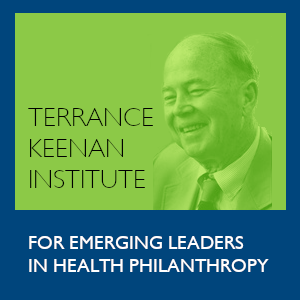 GIH is delighted to announce the 2022 Terrance Keenan Institute for Emerging Leaders in Health Philanthropy class of fellows.
Meet the Class of 2022 →
Terrance Keenan Institute Fellows and Alumni
| Name | Title | Organization Name | Formerly with | Location | Class |
| --- | --- | --- | --- | --- | --- |
| Melinda Abrams | Executive Vice President for Programs | The Commonwealth Fund | | New York, NY | 2010 |
| David Adler | Deputy Director of Healthy Communities | Robert Wood Johnson Foundation | | Princeton, NJ | 2012 |
| Gabriela Alcalde | Executive Director | Elmina B. Sewall Foundation | | Freeport, ME | 2014 |
| Veenu Aulakh | President | Center for Care Innovations | Formerly with California HealthCare Foundation | Oakland, CA | 2010 |
| Matt Barnes | Founder and CEO | BarnesStrategies | Formerly with Houston Endowment | Houston, TX | 2010 |
| Allison Bauer | Associate Teaching Professor | Northeastern University Bouve College of Health Sciences | Formerly with The Boston Foundation | Boston, MA | 2010 |
| Len Bertel | Senior Director for Learning and Impact | CFLeads | Formerly with Maine Health Access Foundation | Ithaca, NY | 2014 |
| Lesa Boettcher | Chief Operating Officer | Foundation for a Healthier West Orange | | Winter Garden, FL | 2020 |
| Saba Brelvi | | | Formerly with The California Wellness Foundation | | 2010 |
| Shivon Brite | Executive Vice President | Empire Health Foundation | | Spokane, WA | 2018 |
| Jamie Brown | Program Officer | Colorado Springs Health Foundation | | Colorado Springs, CO | 2016 |
| Katie Byerly | Program Manager | CommonHealth Action | Formerly with The Kresge Foundation | Detroit, MI | 2020 |
| Tiffany Callender Erbelding | Senior Program Director | The Horizon Foundation | | Columbia, MD | 2018 |
| Brian Castrucci | President and CEO | de Beaumont Foundation | | Bethesda, MD | 2014 |
| Matt Cervantes | Managing Director, Healthy Youth Development | Sierra Health Foundation | | Sacramento, CA | 2014 |
| Jennifer Chubinski | Assistant Professor | Xavier University | Formerly with Interact for Health | Cincinnati, OH | 2016 |
| Colleen Church | Chief Strategy Officer | Caring for Colorado Foundation | | Denver, CO | 2014 |
| Abbey Cofsky | Managing Director | Robert Wood Johnson Foundation | | Princeton, NJ | 2014 |
| Anna Creegan | Project Director | The Rippel Foundation | | Morristown, NJ | 2018 |
| Colleen Culbertson | | | Formerly with Dogwood Health Trust | | 2020 |
| Crispin Delgado | Public Policy Director | Northern California Grantmakers | Formerly with Blue Shield of California Foundation | San Francisco, CA | 2014 |
| Kimalon Dixon | Senior Project Director, Cleveland Purpose Built Communities | St. Luke's Foundation | | Cleveland, OH | 2016 |
| Tiffany Donelson | President and CEO | Connecticut Health Foundation | | Hartford, CT | 2018 |
| Noelle Dorward | | | Formerly with The Colorado Trust | Denver, CO | 2020 |
| Cecilia Echeverria | Executive Director | Kaiser Permanente Institute for Health Policy | | Oakland, CA | 2012 |
| Alexa Eggleston | Founder | Audacia Consulting | Formerly with Conrad N. Hilton Foundation | Santa Monica, CA | 2016 |
| Jane Erickson | Director of Learning and Impact | Rippel Foundation | | Morristown, NJ | 2020 |
| Alan Eversley | | | Formerly with Aetna Foundation, Inc. | | 2016 |
| Katie Eyes | Vice President, Program and Strategy | BlueCross BlueShield of North Carolina Foundation | | Durham, NC | 2014 |
| Marcy Felsenfeld | Senior Program Officer | The Healthcare Foundation of New Jersey | | Millburn, NJ | 2016 |
| Alyson Ferguson | Chief Operating Officer | The Scattergood Foundation | | Philadelphia, PA | 2016 |
| Kelly Firesheets | Vice President of Community Business Development | Cordata Healthcare Innovations | Formerly with Interact for Health | Cincinnati, OH | 2014 |
| Kim Firth | Program Director | Endowment for Health | | Concord, NH | 2012 |
| Jean Freeman-Crawford | Senior Project Analyst | Missouri Foundation for Health | | St. Louis, MO | 2018 |
| Rebecca Gallo | Senior Program Officer | MetroWest Health Foundation | | Framingham, MA | 2016 |
| Emmy Ganos | Senior Program Officer | Robert Wood Johnson Foundation | | Princeton, NJ | 2018 |
| Maria Garcia | Program Officer | The Health Trust | | San Jose, CA | 2020 |
| Nora Garcia | Director of Programs | Healthy Communities Foundation | | Riverside, IL | 2020 |
| Phillip Gonzalez | Director, Community Investments | Point32Health Foundation | | Canton, MA | 2010 |
| Abigail Goodwin | Vice President | Palm Healthcare Foundation | | West Palm Beach, FL | 2018 |
| Amy Gorn | Program Officer, Healthy Families Program Area | Mat-Su Health Foundation | | Wasilla, AK | 2020 |
| Deidre Griffith | Regional Director of Community Health | SSM Health | Formerly with Missouri Foundation for Health | St. Louis, MO | 2016 |
| Anu Gupta | Leader Global Social Responsibility | McKinsey & Company | Formerly with Johnson & Johnson | New York, NY | 2010 |
| Michelle Gutiérrez | Program Officer | W.K. Kellogg Foundation | | Battle Creek, MI | 2018 |
| Michele Guzmán | Principal | TriWest Group | Formerly with Hogg Foundation for Mental Health | Bolder, CO | 2014 |
| Jasmine Hall Ratliff | Deputy Director | Keecha Harris Associates | Formerly with Robert Wood Johnson Foundation | St. Louis, MO | 2010 |
| Dana Heiman | Chief Impact Officer | Brandywine Health Foundation | | Coatesville, PA | 2014 |
| Jessica Hembree | Principal | Platform Civic Strategies | Formerly with Health Forward Foundation | Kansas City, MO | 2014 |
| Morgan Hynd | Director | The Bingham Program | Director | Augusta, ME | 2018 |
| Shalini Iyer Rana | Health Policy Advisor | Office of the Mayor, City and County of San Francisco | Formerly with Metta Fund | San Francisco, CA | 2016 |
| Marcus Johnson | Director of State Health Policy and Advocacy | Vitalyst Health Foundation | | Phoenix, AZ | 2018 |
| Beth Jones | Director of Community Impact | Delta Dental of Iowa | | Johnston, IA | 2020 |
| Anne Katharine Wales | Senior Philanthropy Portfolio Lead | Medtronic Foundation | | Minneapolis, MN | 2020 |
| Kate Keller | President | The Harvest Foundation | | Cincinnati, OH | 2010 |
| Priscilla Ko | Director | Bristol-Myers Squibb Foundation | | New York, NY | 2018 |
| Elizabeth Krause | Director of Programs | Perigee Fund | | Seattle, WA | 2010 |
| Christine Kudrav James | Senior Director of Operations | de Beaumont Foundation | | Bethesda, MD | 2020 |
| Matthew Kuhlenbeck | President and CEO | Greater Rochester Health Foundation | | Rochester, NY | 2014 |
| Colleen Lampron | President | AFL Enterprises | Formerly with Delta Dental of Colorado Foundation | Denver, CO | 2012 |
| Amy Latham | Chief Impact Officer | The Colorado Health Foundation | | Denver, CO | 2014 |
| Jennifer Lee | Managing Director | Health Resources in Action | Formerly with Blue Cross Blue Shield of Massachusetts Foundation | Boston, MA | 2012 |
| Nhia Lee Daryoushfar | Principal Sustainability Program Lead | Blue Cross and Blue Shield of Minnesota | | Eagan, MN | 2016 |
| Corina Lindley | | | Formerly with Kaiser Permanente Colorado | | 2012 |
| Randy Lopez | Vice President of Community Programs | Wyandotte Health Foundation | | Kansas City, KS | 2016 |
| Sarah Lyman | Executive Director | Alliance Healthcare Foundation | | San Diego, CA | 2014 |
| Scott Malloy | Program Director | Montana Healthcare Foundation | | Bozeman, MT | 2018 |
| Sandra Martinez | Vice President and Chief of Staff | LA84 Foundation | Formerly with The California Wellness Foundation | Los Angeles, CA | 2010 |
| Jacqueline Martinez Garcel | President and CEO | Latino Community Foundation | | San Francisco, CA | 2010 |
| Andy Miller | Chief Strategy and Impact Officer | Texas Health Institute | Formerly with The Morris Foundation | Austin, TX | 2012 |
| Henocson (Henny) Mulatre | Manager, Corporate Citizenship | Point32Health Foundation | | Canton, MA | 2020 |
| Brian Myers | Senior Advisor of Strategic Projects | Dogwood Health Trust | | Asheville, NC | 2016 |
| Mary O'Donnell | President | RRF Foundation for Aging | | Chicago, IL | 2018 |
| Padmini Parthasarathy | Principal and Founder | Sāmya Strategies | Formerly with Walter & Elise Haas Fund | San Francisco, CA | 2018 |
| Catherine Patterson | Co-Executive Director, CityHealth | de Beaumont Foundation | | Bethesda, MD | 2016 |
| Yanique Redwood | President and CEO | if, A Foundation for Radical Possibility | | Washington, DC | 2012 |
| Rachel Reichlin | Senior Program Officer | Michael Reese Health Trust | | Chicago, IL | 2020 |
| Janisse Rosario Schoepp | Vice President of Strategy | Health Foundation of South Florida | | Miami, FL | 2012 |
| Christy Ross | Director, Health and Wellbeing | NAACP | Formerly with Baptist Community Ministries | New Orleans, LA | 2018 |
| Tym Rourke | Senior Director | Third Horizons Strategies | Formerly with New Hampshire Charitable Foundation | Chicago, IL | 2012 |
| Alyse Sabina | | | Formerly with Aetna Foundation, Inc. | | 2012 |
| Katie Schoenhoff | Director of Programs | United Methodist Health Ministry Fund | | Hutchinson, KS | 2020 |
| Sarah Senseman | Director, Tobacco Settlement Operations & Community Funding | Blue Cross Blue Shield of Minnesota | | Eagan, MN | 2012 |
| Tanya Shah | | | Formerly with The Commonwealth Fund | | 2016 |
| Linda Shak | Program Officer | Sunlight Giving | | Palo Alto, CA | 2020 |
| Lisa Shugarman | Vice President | The Lewin Group | Formerly with The SCAN Foundation | Los Angeles, CA | 2012 |
| Amber Slichta | Vice President of Programs and Learning | Ralph C. Wilson Jr. Foundation | | Grosse Point, MI | 2012 |
| Michael Smith | Director for Community Investments and the Built Environment | Richmond Memorial Health Foundation | | Richmond, VA | 2020 |
| Erica Snow | Portfolio Director | The Colorado Health Foundation | | Denver, CO | 2016 |
| Brenda Solórzano | CEO | Headwaters Foundation | | Missoula, MT | 2010 |
| Amy Stringer Hessel | | | Formerly with Missouri Foundation for Health | | 2010 |
| Erin Switalski | Program Director | Headwaters Foundation | | Missoula, MT | 2020 |
| Kim VanPelt | Chief Regional Officer | First Things First | Formerly with Vitalyst Foundation | Phoenix, AZ | 2010 |
| Edgar Villanueva | Principal | Leverage Philanthropic Partners | Formerly with Schott Foundation for Public Education | New York, NY | 2010 |
| Carolyn Wang Kong | Chief Program Director | Blue Shield of California Foundation | | San Francisco, CA | 2018 |
| Rachael Watman | Vice President of Programs | Rita & Alex Hillman Foundation | | New York, NY | 2012 |
| Daniel Waxler | Senior Communications Strategist | Missouri Foundation for Health | | St. Louis, MO | 2020 |
| Kathryn Wehr | Senior Program Officer | Robert Wood Johnson Foundation | | Princeton, NJ | 2016 |
| Rachel Wick | Senior Program Officer | Blue Shield of California Foundation | | San Francisco, CA | 2010 |
| Jeff Willett | Senior Vice President of Health Strategies | American Heart Association | Formerly with Kansas Health Foundation | Dallas, TX | 2014 |
| Kara Williams | Director of Strategic Initiatives | Allyn Foundation | | Syracuse, NY | 2014 |
| Liane Wong | Principal | LW2 Solutions | Formerly with The David and Lucile Packard Foundation | Los Altos, CA | 2012 |
| Janelle Woods-McNish | Managing Director | The Trustees of Reservations | Formerly with Harvard Pilgrim Health Care Foundation | Boston, MA | 2016 |
| Emily Yu | Executive Director, BUILD Health Challenge | de Beaumont Foundation | | Bethesda, MD | 2018 |