This October, GIH is welcoming our fifth class of Terrance Keenan Fellows (TK fellows). We are proud of this milestone and of the evolution of the Terrance Keenan Institute for Emerging Leaders in Health Philanthropy (TKI) that the fellows are part of. This month's Bulletin celebrates the history of TKI and the promise of the TK Fellows.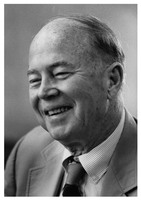 Naming the program for Terrance Keenan recognizes his profound impact on both the field of health philanthropy and generations of individuals who have been inspired by his wisdom and values. A longtime Robert Wood Johnson Foundation (RWJF) leader who died at age 85 in 2009, Keenan created and led many RWJF signature funding programs, including the Nurse Faculty Fellowships, Community Care Funding Partners Program, and the Interfaith Volunteer Caregivers Program (later Faith in Action). By example and instruction, he challenged grantmakers to invest in leadership and to develop new institutions and systems to confront major needs. He encouraged health funders to embrace both the freedom to fail and the freedom to persist.
In 2010, GIH established TKI as a living legacy through which Keenan's words and deeds could inspire the field's future leaders. Held biennially, TKI nurtures talented foundation staff, nominated by their CEOs, helping them to build relationships and to connect with established figures in the field. Over the past decade, TKI has received support from a dozen foundations across the country and there have been 86 fellows, including the 2018 class. Nominees may be program officers, program directors, or other staff directly involved in grantmaking, and must be under the age of 45. Once nominated, fellows are selected by a committee from GIH Funding Partner organizations.
Terrance Keenan believed that people and ideas are the heart of philanthropic leadership. He observed that grantmakers need "an astute sense of what is significant – not only the quality of the ideas underlying the proposal but the quality of the people behind the ideas." In his view, effective grantmakers "proactively and constantly seek out the best ideas, people, and institutional systems to advance a foundation's goals." Like Keenan, TKI alumni value grantmakers' intellectual curiosity and discernment. Asked to share the leadership qualities they hold highest, they also identified honesty and humility. In their view, effective leadership offer vision and inspiration. Moreover, they challenge, innovate, take risks, and trust in others' abilities.
TKI presents an opportunity for fellows to reflect on Keenan's thoughts and develop their own thinking about being a grantmaker and creating change. Fellows hone their skills by discussing leadership themes such as authentic engagement with grantees, partners, and community stakeholders; creative application of philanthropic resources; and understanding what it means to take risks, learn from failure, and persist when the work does not go as planned. They explore these and other topics with guidance from a diverse group of philanthropic leaders, who challenge them to think deeply about their roles within the foundation, as well as within the communities they serve. As a 2014 alumna remarked, the faculty "add depth and honesty to the conversations."
To nurture the relationships formed during TKI, alumni remain connected via a dedicated GIH e-forum and also gather yearly at GIH's Annual Conference on Health Philanthropy. The institute network is highly valued – as a fellow from the 2010 class recently shared, "The most beneficial part of the Terrance Keenan institute has been the ongoing connection with peers from around the country. I remain in contact with many of my classmates and often turn to them for counsel."
The 2018 class of TK fellows is a talented group of grantmakers from foundations throughout the country who reflect the rich diversity of the field. Please read more about them here and enjoy articles by TKI alumni that appear in this month's October 2018 Bulletin.