Improving the quality of health care delivery is a hallmark of the Affordable Care Act (ACA). Provisions in the health care law encourage and support innovative approaches to transform the health care system to one that improves quality, increases access, eliminates waste, and reduces costs, particularly for those with multiple chronic conditions.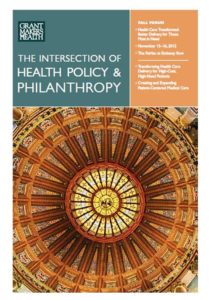 Health Care Transformed: Better Delivery for Those Most in Need was designed to inform funders' work. Discussion topics included:
promising innovations in health care delivery models,
necessary elements for creating a patient-centered medical home,
payment reform, and
the work of fellow funders supporting coordinated care efforts in their communities.
Thursday, November 15
Keynote Speaker: Jeffrey Brenner, Camden Coalition of Healthcare Providers
The first day of the Fall Forum focused on transforming care for high-cost, high-need patients. This relatively small share of patients—those with multiple chronic or complex conditions and those with needs that span the spectrum of behavioral, social, and medical care—account for a disproportionate share of health care costs, even though the outcomes of their care are not always commensurate with the costs. Can health care systems be transformed to better meet the needs of the neediest without increasing the cost burden? Promising experiences suggest that both better outcomes and cost savings for all are possible through a focus on high-cost, high-need patients.
Friday, November 16
Keynote Speaker: Mitchell Katz, Los Angeles Department of Health Services
The second day of the Fall Forum focused on the creation and expansion of patient-centered medical care, especially within the safety net. Funders, providers, and field experts will discuss the ways in which the ACA is supporting the development and diffusion of patient-centered medical care; required elements to create and sustain health homes within primary care practices; issues surrounding payment reform and costs savings; the integration of behavioral and mental health services; evaluating patient experiences; and shared examples of successes in the field. Ample evidence exists to demonstrate the value and cost savings of patient-centered care—can the vision be turned into a reality?
MEETING LOCATION
The Fairfax at Embassy Row
2100 Massachusetts Avenue NW
Washington, DC 20008
Related Content