Click here for the virtual event platform, recordings, and materials
The 2021 virtual GIH Fall Forum provided policy-engaged funders with information on current issues, access to leading thinkers, and connections with grantmaking peers. This year's Fall Forum consisted of two timely and relevant programming series:
Building Momentum to Advance and Institutionalize Equity
There is growing awareness of the structural inequities driving health disparities in the United States, which has led to new policies, programs, and people focused on health equity. At the same time, the country remains divided on many issues, and there is an increasingly vocal resistance to centering equity and structural discrimination in conversations about health. Given the complexity of the current moment, how can philanthropy help communities create a new normal through initiatives that are designed to ensure everyone has a fair and just opportunity to obtain their highest level of health?  In this action-oriented programming series, participants will discuss how to: move from crisis response to long-term recovery in ways that advance equity; use narrative change as a tool to shift policy; and engage board leadership to incorporate equity as a priority in foundation programming and operations.
From Crisis to Care: Decriminalizing Mental Illness and Addiction
For far too long, behavioral health crises have been treated as a criminal justice problem instead of a public health issue. As a result, jails and prisons have become our largest psychiatric facilities and communities of color have been disproportionately harmed by the criminalization of mental illness and drug use. Across the country, there are growing calls to reform our crisis response systems by prioritizing harm reduction; implementing alternatives to incarceration; and utilizing mental health providers, not law enforcement, as first responders to behavioral health challenges. Policy and practice changes at the local, state, and federal level are redesigning crisis systems to respond to behavioral health needs more effectively and equitably. In this programming series, participants will hear about community-centered decriminalization efforts; explore lessons learned from partnership work; and discuss how philanthropy can best support equitable and sustainable strategies
The Fall Forum is an excellent opportunity for grantmakers to:
Get up-to-speed on current policy issues
Past meetings have addressed areas ranging from access to civic engagement and youth violence prevention.
Interact with leading thinkers
Hear diverse perspectives from cutting-edge experts in the field.
Connect with one another
Connect with peers around the country working on the issues that matter most to you.
The Fall Forum also features the Lauren LeRoy lecture, a lecture series established in honor of former GIH President and CEO Lauren LeRoy and her commitment to increasing communication between the worlds of philanthropy and policy. Funders who attend the Fall Forum return home with a deeper understanding of important topics, an introduction to key players, and ideas about how to apply what they have learned to their work.
Recent Fall Forum Events: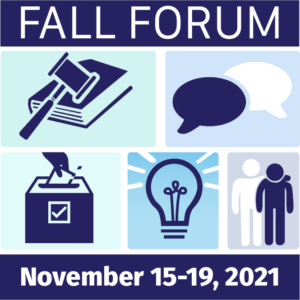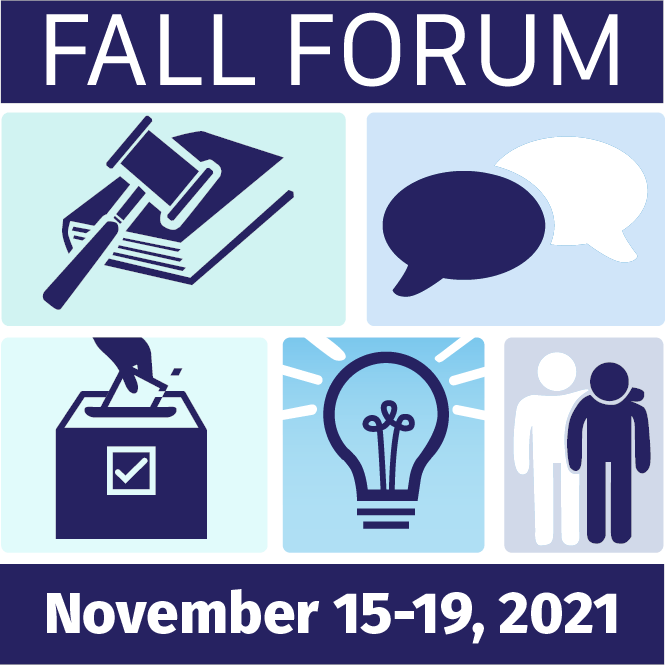 Grantmakers In Health was created nearly 40 years ago. In the four decades since then, much has changed in the world related to philanthropy, policy, health care, and our understanding of health and wellness. GIH President Cara James provides a first look at GIH's new strategic plan.
Read More
Funder take-aways include:
A deeper understanding of important topics,
an introduction to key players, and
ideas about how to apply learning to the work.
See more about upcoming GIH events
Learn more about upcoming GIH events by visiting our event calendar.