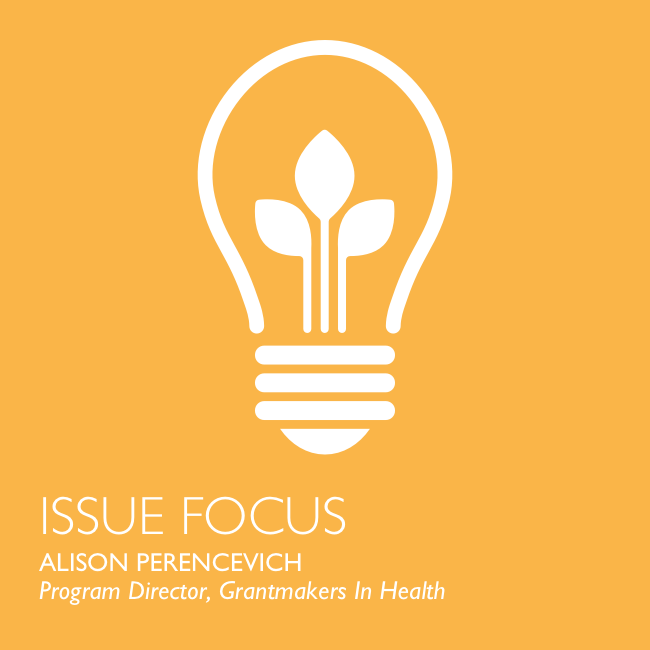 Alison Perencevich
Program Director
Grantmakers In Health
Climate change is one of the biggest health and equity issues of our time. The effects of climate change on health are well documented (Appendix 1) and increasingly apparent with the spread of infectious diseases; poor air quality; rises in dangerous heat; and severe weather disrupting energy, water, and food sources. Systemic racism and socioeconomic inequalities have disproportionately burdened low-income communities and communities of color with the health and economic impacts of climate change, pollution, and environmental hazards. COVID-19 has exacerbated these inequities and foreshadowed the increased disruptions, devastation, and disparities we can expect from climate disasters.
The scale of climate change can be daunting, and some may think of the issue as the sole responsibility of federal, state, local, and tribal governments—however, philanthropy has an essential role to play. The Dorothy A. Johnson Center for Philanthropy's 11 Trends in Philanthropy for 2020 contends that philanthropy will be on the front lines of climate change response, with most of this work falling into four key categories:
responding to disasters that are more frequent and more powerful as a result of climate change,
incorporating the impacts of climate change into strategies for issues already being addressed,
advancing innovative programs for mitigation and prevention, and
continuing to lead on advocacy efforts for climate-focused policy change.
While environmental, energy, and disaster funders have been leading the charge, climate change's significant impact on individual and community health argues for health philanthropy's increased involvement. For health funders who are newly interested in climate-related philanthropy, there are promising practices to support and innovative solutions in which to invest. The following compilation of data, resources, and strategic guidance for health funders—while globally and nationally informed—is geared towards local and regional place-based strategies and is intended as a supplement to the Climate, Health, and Equity Funder Toolkit.
Where to Begin
Understand the current funding landscape. The Climate, Health, and Equity Funder Toolkit provides a repository of information on government (federal, state, local, and tribal) and philanthropic funding, along with hubs of funder and nonprofit collaborations. Toolkit data originated from a landscape analysis of climate, health, and equity funding conducted in fall 2019. Another useful resource is the Robert Wood Johnson Foundation's 2017 health and climate landscape assessment, which outlined key findings related to funding approaches, research gaps, and communications opportunities. In recent years, several broader philanthropic initiatives, pooled funds, and climate challenges have also been established, such as Lever for Change 2030 Climate Challenge, Bloomberg Philanthropies American City Climate Challenge, Climate Works Foundation, Climate Leadership Initiative, and Climate Emergency Fund. Equity investments, however, are still woefully lacking, with just 1.3 percent of U.S. climate dollars going to Black, Indigenous, and People of Color (BIPOC)-led environmental justice groups. The Donors of Color Network's Climate Funders Justice Pledge is calling on philanthropy to increase funding of BIPOC-led groups to at least 30 percent within two years and to improve transparency with grant reporting. Resources: Donors of Color Network; The Hive Fund; Native Americans in Philanthropy; U.S. Department of Health and Human Services Climate Change and Human Health; United States Climate Alliance.
Build meaningful relationships with BIPOC environmental and climate justice leaders. At its best, philanthropy listens to, learns from, and supports individuals and communities that are on the frontlines, closest to the issues, and most knowledgeable about effective solutions. Foundations on the leading edge of climate funding are seeking out BIPOC- and youth-led organizations and grassroots leaders in their communities and are disrupting the power dynamics inherent in philanthropic practice by ensuring those most proximal to the issues have the most power in decisionmaking. These funders are moving beyond advisory committees to funding paradigms that share decisionmaking power; compensate individuals for their time and expertise; center equity; and operationalize community empowerment and engagement. Resources: NDN Collective; Indigenous Environmental Network; National Black Environmental Justice Network; NAACP Environmental and Climate Justice Program; Green Latinos; Asian Pacific Environmental Network; Climate Justice Alliance; Sunrise Movement; Future Coalition.
Consider ways your own organization can operationalize environmental sustainability and climate resilience. Philanthropy utilizes myriad tools beyond grantmaking and convening. At the institutional level, foundations can examine their own operations, policies, practices, and ways of doing business and can leverage their financial assets and purchasing power to prevent and mitigate the impacts of climate change. Examples include restructuring financial investments and banking relationships to divest from fossil fuels and align with sustainability goals; offsetting the carbon footprint of foundation-related travel and reducing overall energy consumption; changing vendor contracts to reduce single-use plastic and increase plant-based catering options; and preparing for the future implications of climate change on foundation operations, convenings, and grantmaking. Resources: Health Care & Climate Change: An Opportunity for Transformative Leadership; Dorothy A. Johnson Center for Philanthropy
Philanthropic Strategies to Consider
There are numerous ways that health philanthropy can help address climate change and join cross-sectoral efforts to protect our health, communities, and planet. To learn more and get involved, sign up for GIH's Health Equity E-forum at healthequity@gih.org and join the Health & Environmental Funders Network's climate, health, and equity listserv at climate@lists.hefn.org.