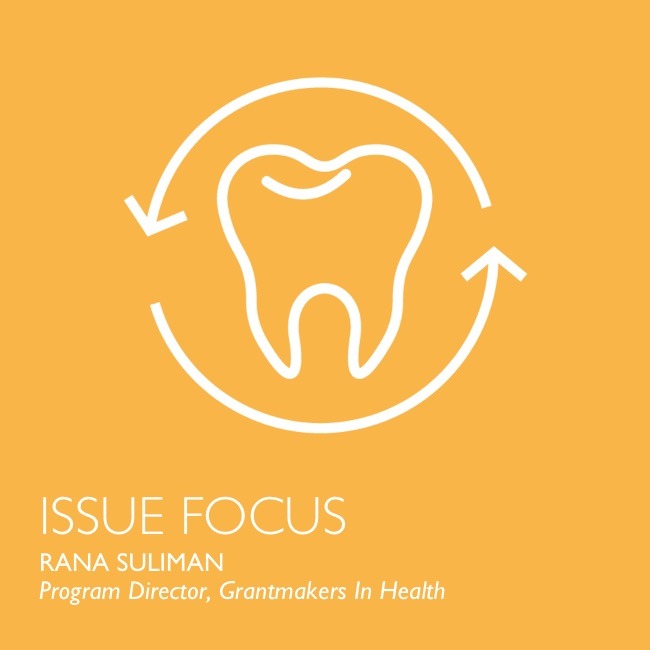 Rana Suliman, Program Director, Grantmakers In Health
Stark inequities in oral health care access and outcomes reflect the United States' deepest societal divides and overarching social justice concerns. Oral health disparities adversely affect groups of people who have systematically experienced greater obstacles to health based on their social and economic position, racial or ethnic group, gender, age, mental health, cognitive, sensory, or physical disability, geographic location, or other characteristics historically linked to discrimination or exclusion. Though many challenges exist in the provision of quality, equitable, and accessible oral health care, stakeholders across multiple sectors identify oral health disparities as a key public health priority and an opportunity for action. For instance, the forthcoming 2020 Surgeon General's report, Oral Health in America: Advances and Challenges, will focus attention on innovative solutions for improving oral health and oral health equity in the U.S. (National Institute of Dental and Craniofacial Research 2019). Similarly, health philanthropy is among the sectors aspiring to accelerate change and drive upstream solutions in a period of increasing vulnerability for communities heavily impacted by the downstream effects of oral health disparities.

In 2019, Grantmakers In Health (GIH) and the Funders Oral Health Policy Group (FOHPG) cosponsored a strategy session entitled Putting Your Money Where Your Mouth Is: The Case for Funding Oral Health Programming in Memphis, Tennessee. The convening affirmed the value of oral health as a crucial health equity investment for the philanthropic sector and highlighted connections between the social determinants of health and provision of oral health care. Health funders identified the following strategies as part of a roadmap to build a more cohesive and equitable oral health system in the United States:
Investing in narrative change. Though there is a great deal of empirical evidence supporting oral health as crucial to overall health and well-being, it has proven difficult to move public opinion and political will around poor oral health outcomes beyond narratives that they are a result of personal and individual-level irresponsibility, rather than health inequities and social injustices resulting from systems failures which block access to oral health care for nearly 43 million Americans. By funding efforts to reframe oral health equity issues as essential to health and social justice, funders can play a critical role in advancing oral health access and care by appealing to a broader group of stakeholders.   
For example, the book Oral Health in America: Removing the Stain of Disparity, produced in partnership with the American Public Health Association press, the W.K. Kellogg Foundation, and Community Voices: Healthcare for the Underserved, a division of the Satcher Health Leadership Institute at Morehouse School of Medicine, asserts that oral health care is a social justice issue because it is largely structural and systemic, and because historical barriers block access to oral health care for many populations. These barriers include a diverse range of issues, including a non-cohesive oral health delivery system structure which lacks standardized metrics, historical systems of oppression and discrimination, dental provider shortages in underserved areas, lack of comprehensive and accessible Medicaid and Medicare dental benefits for low-income populations, and the historical separation of oral health care from traditional primary care. When communities disproportionately bear disease burden from a health concern due to largely structural, systemic, and historical inequities, these concerns become social justice issues. As vulnerable communities face the burden of several unique, but connected, health disparities simultaneously, the need to address these disparities becomes a societal imperative, in which interconnected health care, economic, and political systems work together to create upstream solutions to advance opportunity, overall health, and well-being.
Another example is Reframing Oral Health: A Communications Toolkit for Advancing Oral Health Reform, which was developed by the FrameWorks Institute with the support of the DentaQuest Partnership for Oral Health Advancement (formerly the DentaQuest Foundation) to address common misconceptions and reframe local, state, and national conversations about oral health systems and policies. The interactive, multimedia toolkit for funders, subject matter experts, advocates, and other stakeholders includes comprehensive strategic framing recommendations, communications tools, and research to increase public understanding and support for policies which increase access to quality oral health care services.
Building relationships and forming multisector partnerships. Individuals and entities interested in advancing oral health efforts including funders, dental providers, public health practitioners, policy and research institutions, government officials, and community-based organizations often operate within silos. Health funders have an opportunity to support and facilitate relationship building and partnerships to more effectively and strategically move oral health advocacy efforts forward. For example, the Oral Health Progress and Equity Network (OPEN), a virtual forum supported by the DentaQuest Partnership for Oral Health Advancement, aims to break down siloes between stakeholders and support an oral health equity movement that addresses structural barriers at the community, state, and national levels. The nearly 1,400 OPEN members include policymakers, providers, public health activists, and grassroots organizers. They are unified around a strategic roadmap which includes set goals and benchmarks incorporating social justice and health equity principles. Members engage in networking, peer-learning, and skills-building related to topics such as oral health access issues compounded by the COVID-19 pandemic, advocating for comprehensive Medicaid and Medicare coverage of dental benefits, culturally competent oral health interventions, racial justice initiatives, and data utilization to move oral health equity initiatives forward.
Investing in data and standardized metrics for oral health programming. There is a lack of timely, consistent, and available data to adequately track oral health metrics and indicators across populations at the local, state, and national levels. Existing data is outdated and often lacks cohesion across systems. This can make targeting resources, investments, and strategies in oral health care difficult for members of the philanthropic community, federal and state government, and other stakeholders. Oral health data systems primarily focus on basic measures of dental treatment, service utilization, and water fluoridation data, which while important, do not provide a complete picture of gaps in oral health care access, quality, and population-level disparities. Funders can focus related efforts on strategies to promote and advocate for key oral health measurement priorities across the lifespan including oral health status, utilization, access, prevention, patient satisfaction, and intentionality around disaggregating data in communities most vulnerable to oral health disparities.
Investing in community-based delivery models, which involve communities in planning and implementation. Dental provider shortages in underserved areas are a root cause of oral health disparities. The fact that there are 6,782 dental Health Professional Shortage Areas (HPSAs) limit oral health care access for approximately 56 million Americans (Kaiser Family Foundation 2019).  Nearly half of American Indians and Alaska Natives live in dental HPSAs. This includes populations living on rural reservations and within urban metropolitan areas. Recognizing that oral health is part of a continuum of health disparities shaped by historical systems of oppression and trauma, tribes in Alaska sought to find a holistic, community-centered, and culturally appropriate solution. In 2004, the Alaska Native Tribal Health Consortium (ANTHC) introduced the first dental therapy program in the United States to address oral health access and improve oral health outcomes among local tribal communities. Dental therapists, also known as dental health aide therapists, are mid-level oral health care practitioners who provide routine preventative and restorative care, as well as community oral health education. The dental therapy recruitment model also promotes economic security. It was specifically created to increase career opportunities for individuals who are members of the tribes and communities they serve and have a deep understanding of the historical and cultural context in which they provide care. Several funders, including the W.K. Kellogg Foundation, Rasmuson Foundation, and the Pew Charitable Trusts, have been involved in efforts to promote dental therapy as a health equity best practice in the philanthropic community and advocate for targeted community engagement and recruitment efforts across the United States. Community Catalyst's Dental Access Project resources for funders that include community engagement guidelines and tools.
Supporting state and national advocacy efforts towards comprehensive Medicaid and Medicare dental benefits for low-income Americans. Funders can also concentrate efforts on advocating for comprehensive Medicaid and Medicare benefits at the state and national levels. As noted previously, the United States lacks comprehensive and accessible Medicaid and Medicare dental benefits for low-income populations. Routine dental services, including screenings, exams, cleanings, fillings, extractions and dentures are not covered by traditional Medicare, which excludes a large percentage of older adults from accessing oral health care. Medicaid dental coverage for adults and children varies by state and the large majority spend less than two percent of their Medicaid budgets on dental and oral health services. Additionally, there is a shortage of Medicaid dental providers in the areas of greatest need, with fewer than 25 percent of dentists seeing more than one hundred Medicaid patients each year. This is largely due to low reimbursement rates. Although rates of children with dental coverage under Medicaid and the Children's Health Insurance Program (CHIP) have improved, only 38 percent of dentists accept either type of coverage in their practice (Treadwell et al, 2019). In partnership with organizations like the California Pan-Ethnic Health Network, the California Wellness Foundation has successfully championed initiatives to expand Medi-Cal (Medicaid) coverage in the state. For example, advocates recently achieved the restoration of Medi-Cal dental benefits for adults and passage of the California Healthcare, Research and Prevention Tobacco Tax Act (Proposition 56), a tax increase on tobacco that boosts reimbursement rates for providers and increase funding for Medi-Cal providers by nearly 40 percent.
The road ahead. Addressing inequities and disparities in the oral health system remains one of the greatest public health challenges in the United States. Achieving oral health equity requires a social justice lens, which places equal value on all individuals, promotes focused and ongoing societal efforts  to address contemporary inequalities and historical and injustices, addresses the unique health needs of vulnerable communities, prioritizes the elimination of disparities, and ensures the structural and personal conditions needed to support optimal health for all people (Treadwell et al. 2019). Health funders across issue areas have an opportunity to move these goals forward to achieve optimal, equitable, and accessible oral health care as part of a larger continuum of health equity, social justice, and health care as an essential human right.
---
References
Frameworks Institute. Unlocking the Door to New Thinking: Frames for Advancing Oral Health Reform. 2017.
Kaiser Family Foundation. Dental Care Health Professional Shortage Areas (HPSAs).  2019.
National Institute of Dental and Craniofacial Research. Update on Oral Health in America – A Forthcoming Report from the Surgeon General. 2019.
Treadwell HM, Evans CA. Oral Health in America: Removing the Stain of Disparity. American Public Health Association Press, 2019.
United States Department of Health and Human Services Oral Health Coordinating Committee. US Department of Health and Human Services Oral Health Strategic Framework, 2014–2017. Public Health Reports. 2016;131(2):242–257.