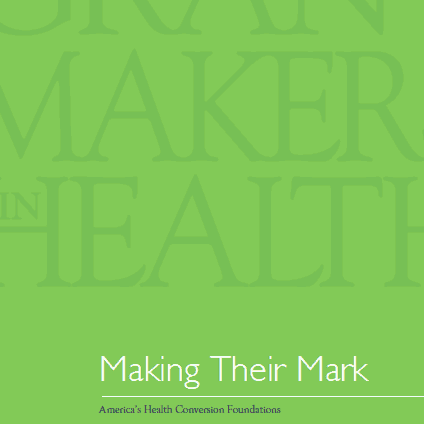 Paul Jellinek, Principal, Isaacs|Jellinek
Kate Treanor, Senior Program Director, Grantmakers In Health
Making Their Mark provides a holistic view of 14 health conversion foundations that goes beyond data. Based on in-person interviews with foundation staff, trustees, and other stakeholders, it highlights each foundation's distinct character and priorities. The main report explores the important connection between conversion foundations and the communities they serve, outlines the strategies they use to create impact, and identifies their relative strengths, as well as the challenges they face. The accompanying profiles spotlight each foundation's history and grantmaking, and introduce the passionate staff and trustees leading the work.
Special thanks go to the foundations that supported the project, including Brandywine Health Foundation, California Health Care Foundation, The Commonwealth Fund, Cone Health Foundation, Episcopal Health Foundation, Foundation for a Healthy Kentucky, Health Forward Foundation, Impact Alamance, Jewish Healthcare Foundation, MetroWest Health Foundation, Missouri Foundation for Health, Montana Healthcare Foundation, Ottumwa Regional Legacy Foundation, and Sierra Health Foundation.
Read the Report:
Non Funding Partners can contact GIH at 202.452.8331 to purchase this report for $99.
Funding Partners may click "Download" below (or first Sign In for access)
Upon download, this report should not be duplicated, shared, or posted without written permission from Grantmakers In Health.
Profiles