GIH continues to track health philanthropy's response to COVID-19. This blog post presents the results of our June 2020 COVID-19 Quick Poll on contributions to pooled response funds. Results of the May 2020 Quick Poll on foundation payout can be found here.
A significant number of health foundations have contributed to pooled response funds to help alleviate the widespread health and economic effects of the coronavirus pandemic. According to Candid (2020), more than 730 coronavirus relief and/or recovery funds have been established in the United States. These pooled response funds are often managed by community foundations or United Way agencies. A small number are being directly administered by health foundations.
Contributing to pooled response funds allows health foundations to quickly respond to immediate community needs. This strategy may also provide an opportunity to support issues outside of a foundation's defined focus areas or to apply funds in new ways. For example, community foundations administering response funds may be able to deploy direct cash assistance to individuals in need.
GIH's June 2020 Quick Poll asked foundations if they have contributed to a pooled response fund for COVID-19 relief and/or recovery. The question, fielded in GIH's June 2020 E-Alert, received 53 responses. More than three-quarters (79 percent) of respondents reported that their foundation has contributed to such a fund.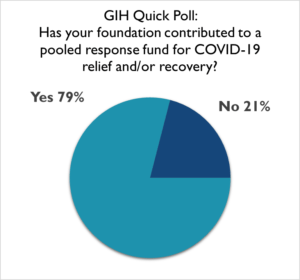 ---
References
Candid. "Funds for Coronavirus Relief." Accessed June 22, 2020. 
---
July Quick Poll question
To help nonprofits weather the financial impacts of COVID-19, is your foundation providing general operating support to current grantees or other nonprofits?
Please sign in to answer this month's quickpoll. If you are a staff member or trustee at a GIH Funding Partner organization, click the "Sign In" button below to log in or to create a GIH account.
If you would like to learn more about joining the GIH network, click here.