GIH is monitoring health philanthropy's response to COVID-19 and sharing what funders are doing and learning as they seek to mitigate the wide-reaching effects of the pandemic. We are pleased to share the results of our first COVID-19 Quick Poll.
In response to the devastating health and economic impacts of COVID-19, many health foundations are increasing their grantmaking. As they lean into their missions, however, health foundations are grappling with volatility in the stock market and the implications of expanded levels of giving over the long-term on their endowments. GIH's May 2020 Quick Poll asked foundations if they plan to increase payout in response to the pandemic. The question, fielded in GIH's May 2020 e-Alert, received 41 responses. Almost half (46 percent) of respondents indicated that their foundation plans to increase payout.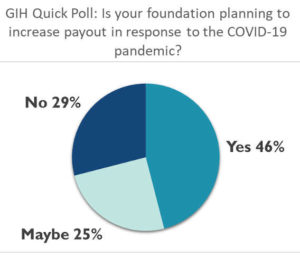 June Quick Poll question
Has your foundation contributed to a pooled response fund for COVID-19 relief and/or recovery?
Please sign in to answer this month's quickpoll. If you are a staff member or trustee at a GIH Funding Partner organization, click the "Sign In" button below to log in or to create a GIH account.
If you would like to learn more about joining the GIH network, click here.