Better health through better philanthropy
2017 GIH Annual Conference on Health Philanthropy
Boston, Massachusetts - Sheraton Boston Hotel
June 21 - 23, 2017

The 2017 Annual Conference on Health Philanthropy, the largest gathering of health funders in the country, was our most-attended conference yet! Thank you for being a part of it. Please note that session materials are now available on the #GIHac app website. 
---
---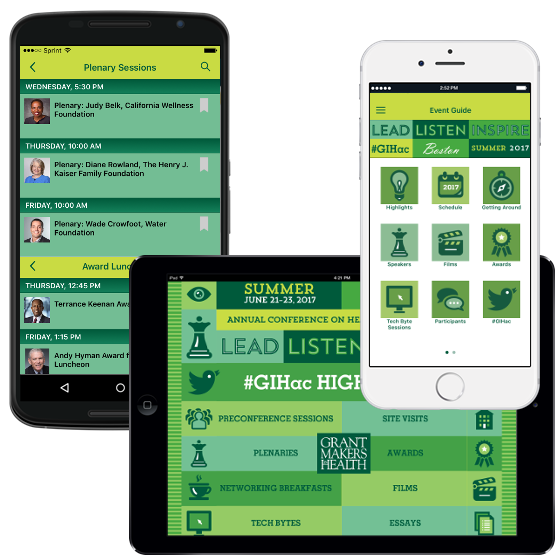 CONFERENCE APP
To make the most of your experience at #GIHac, download our conference app! The app will allow you to stay on top of conference opportunities and developments, browse conference sessions, and seamlessly connect with other leaders in the field. You can access the app one of two ways: as an app on your mobile device, or on the web. 
Download the GIH annual conference app on your Apple and Android device.
Find the conference app by searching for Grantmaker In Health in the Apple App Store or the Google Play Store, or click here from your device.
OR
Open the app with other devices via the app website.  The app website works with your web browser so no download is required.  You may log in, and the display is mobile-friendly.
In order to see the participant list, please log in:
Enter the mobile app or app website. 
From the app, select the 2017 Annual Conference, click on the menu button (web users can skip to the next step)
Click "log in."
You may log in with your name, and/or email.
Enter the verification code, which will be sent to you at the email address you registered with.
---
CONFERENCE THEME
Lead, Listen, Inspire
In the 35 years since Grantmakers In Health (GIH) was founded, the landscape of health philanthropy has changed dramatically. Hundreds of new foundations have been created, channeling billions to communities. Meanwhile, the United States has become increasingly diverse and is confronted with growing levels of inequality. The Affordable Care Act has improved access to health care for many, but its future is uncertain. Health grantmakers are at the forefront of responding to these challenges by the way they lead, listen, and inspire.
Lead. Today, more than ever, funders are called upon to provide leadership on a vast array of health issues. By collaborating with a wide range of allies in and outside the health sector, providing grants and other forms of financial support, advocating for change, and championing innovation, foundations are helping drive lasting improvements in health.
Listen. Exceptional leadership requires being a good listener. By actively engaging with community residents, advocates, policymakers, health professionals, researchers, and other stakeholders, funders strengthen philanthropy's credibility, relevance, and impact. Meanwhile, developing strong networks and authentic relationships can lead to strategies and programs that are more likely to succeed.
Inspire. Foundations are uniquely positioned to inspire hope, courage, and action. Their talented staff, flexibility, and resources enable them to engage with a variety of partners, resolve conflicts, and motivate change.
---
Social Media:
GIH Connect
Connect with GIH to learn, collaborate, and grow through education, networking, and leadership opportunities.
Sign Up
Sign up for the GIH Bulletin to stay on top of news from the field.
Funding Partner Portal Login
Login to access exclusive Funding Partner resources from GIH.