Better health through better philanthropy
2017 GIH Annual Conference on Health Philanthropy
Boston, Massachusetts - Sheraton Boston Hotel
June 21 - 23, 2017

Join Grantmakers In Health for our 2017 annual conference (#GIHac), the largest gathering of health funders in the country. This is the best place to meet up with the bright minds, seasoned experts, and innovative practitioners working in health philanthropy today. Register today!
39 Dalton Street
Boston, MA 02199
$279/night (single/double)
Participants must register for the conference before making hotel reservations.
***Our hotel block at the Sheraton is filling up quickly! We have reserved an additional block at the Colonnade, a quick walk from the conference venue, and you can make a reservation by clicking here. Find other nearby options here.***
---
---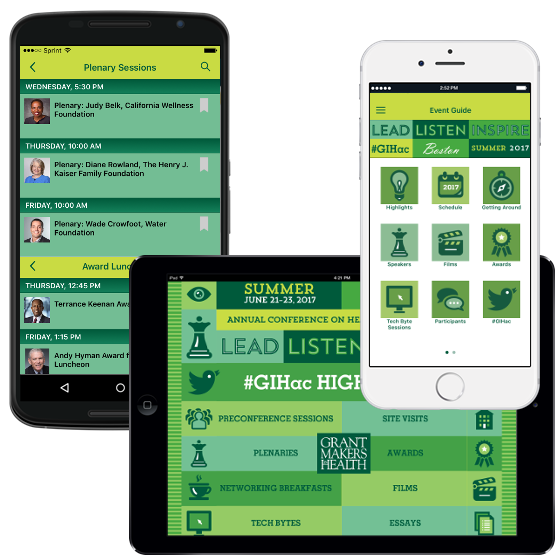 CONFERENCE APP
To make the most of your experience at #GIHac, download our conference app! The app will allow you to stay on top of conference opportunities and developments, browse conference sessions, and seamlessly connect with other leaders in the field. You can access the app one of two ways: as an app on your mobile device, or on the web. 
Download the GIH annual conference app on your Apple and Android device.
Find the conference app by searching for Grantmaker In Health in the Apple App Store or the Google Play Store, or click here from your device.
OR
Open the app with other devices via the app website.  The app website works with your web browser so no download is required.  You may log in, and the display is mobile-friendly.
In order to see the participant list, please log in:
Enter the mobile app or app website. 
From the app, select the 2017 Annual Conference, click on the menu button (web users can skip to the next step)
Click "log in."
You may log in with your name, and/or email.
Enter the verification code, which will be sent to you at the email address you registered with.
---
> Register today for the GIH Annual Conference!
Please note that the conference is only open to staff and trustees of grantmaking foundations and corporate giving programs.
2017 Registration
Regular
Available until
May 26
Extended
Available
May 27-June 20

Onsite
Available
June 21-23

Full Conference
(Funding Partners)

$700
$850
$1000

Full Conference
(Non-Funding Partners)

$1400
$1550
$1700
Full Conference - Group Discount
(5 or more Funding Partner attendees)
$600
$750
$900
Full Conference - Group Discount
(5 or more non-Funding Partner attendees)
$1300
$1450
$1600
Make Your Travel Arrangements with Care
We'll have preconference sessions on grantmaking skills, access and coverage, civic engagement, and impact investing; site visits on equity, food systems, and walkable neighborhoods; and films on incarceration, paid leave, and community violence—all before our opening plenary on Wednesday, June 21! You'll also want to stick around on Friday, June 23 to hear from the winner of the inaugural Andy Hyman Award for Advocacy. Check out our agenda at a glance to plan your trip to Boston accordingly.
Cancellation Policy
GIH is unable to provide refunds after our deadline of May 26; however, a substitute participant may attend the conference by notifying GIH in advance. 
---
CONFERENCE THEME
Lead, Listen, Inspire
In the 35 years since Grantmakers In Health (GIH) was founded, the landscape of health philanthropy has changed dramatically. Hundreds of new foundations have been created, channeling billions to communities. Meanwhile, the United States has become increasingly diverse and is confronted with growing levels of inequality. The Affordable Care Act has improved access to health care for many, but its future is uncertain. Health grantmakers are at the forefront of responding to these challenges by the way they lead, listen, and inspire.
Lead. Today, more than ever, funders are called upon to provide leadership on a vast array of health issues. By collaborating with a wide range of allies in and outside the health sector, providing grants and other forms of financial support, advocating for change, and championing innovation, foundations are helping drive lasting improvements in health.
Listen. Exceptional leadership requires being a good listener. By actively engaging with community residents, advocates, policymakers, health professionals, researchers, and other stakeholders, funders strengthen philanthropy's credibility, relevance, and impact. Meanwhile, developing strong networks and authentic relationships can lead to strategies and programs that are more likely to succeed.
Inspire. Foundations are uniquely positioned to inspire hope, courage, and action. Their talented staff, flexibility, and resources enable them to engage with a variety of partners, resolve conflicts, and motivate change.
---
Affiliated Events
The deadline to submit an affiliated event was May 26, 2017. Stay tuned for more information on this year's affiliated events!
Questions
Please direct all questions regarding conference logistics to VRS Meetings & Events Inc. at 202.315.3296 or gih17@vrsevents.com. 
---
Social Media: