Better health through better philanthropy
2018 GIH Annual Conference on Health Philanthropy
Chicago, Illinois
June 20 - 22, 2018

Join Grantmakers In Health for our 2018 Annual Conference on Health Philanthropy (#GIHac), the largest gathering of health funders in the country. This is the best place to meet up with the bright minds, seasoned experts, and innovative practitioners working in health philanthropy today.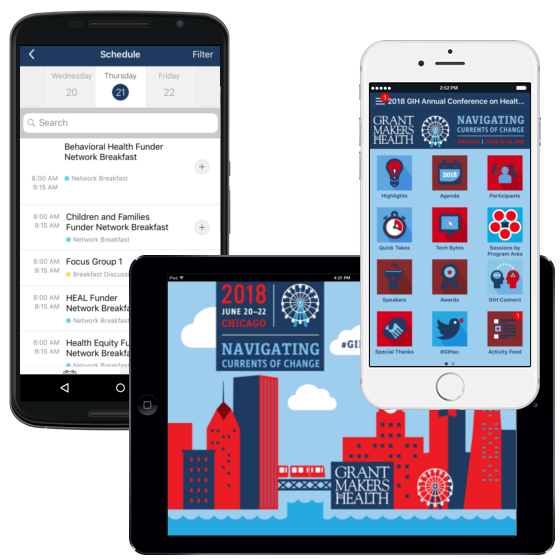 Speakers, session locations, details, and additional materials can be found by visiting the GIH App and mobile website.
---
QUICK LINKS
---
CONFERENCE VENUE
Chicago Marriott Downtown Magnificent Mile
540 North Michigan Avenue
Chicago, IL 60611 
$269/night (single/double)
***Our hotel block at the Marriott is filling up quickly! We have reserved an additional block at the AC Hotel, a quick walk from the conference venue, and you can make a reservation by clicking here or by calling 312.981.6617. Find other nearby options here.*** 
---
You asked, we listened! We have extended this year's conference from two and a half days to three jam-packed days of activities for one flat rate. Your registration fee now includes access not only to plenary, breakout, and networking sessions, but also to workshops and site visits beginning on Wednesday, June 20. Don't miss out—reserve your seat at the table today!
2018 Registration
Regular
Available until
May 25
Extended
Available
May 26-June 19

Onsite
Available
June 20-22

Funding Partners

$799
$949
$1099
Non-Funding Partners
$1400
$1550
$1700
Group Discount
(5 or more Funding Partner attendees)
$699
$849
$999
The GIH annual conference is open to staff and trustees of foundations and corporate giving programs, as well as our Philanthropy Support Partners.  

Cancellation Policy
Registrants who cancel before May 25, 2018 will receive a refund, less a $150 administrative fee. After May 25, no refunds will be given; however, a substitute participant may attend the conference by notifying GIH in advance.
---
CONFERENCE APP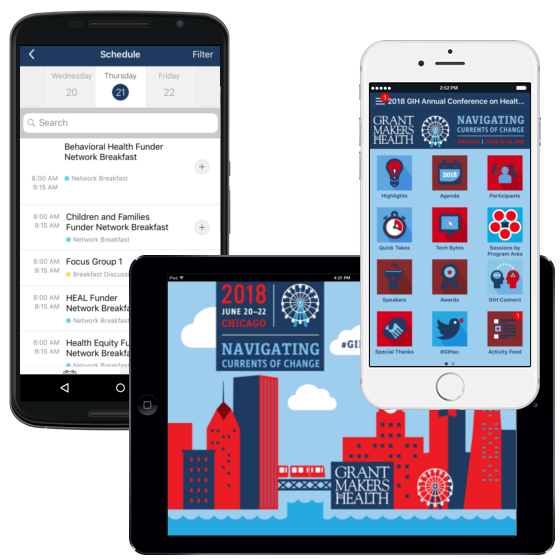 To make the most of your experience at #GIHac, download our conference app! The app will allow you to stay on top of conference opportunities and developments, browse conference sessions, and seamlessly connect with other leaders in the field. You can access the app one of two ways: as an app on your mobile device, or on the web. 
Download the GIH annual conference app on your Apple and Android device.
Find the conference app by searching for Grantmakers In Health in the Apple App Store or the Google Play Store, or click here from your device.
Once you download the app, click download beneath "2018 Annual Conference on Health Philanthropy."
iPhone users only: click "Allow notifications" if you would like to receive updates throughout the conference.
Click "log in."
You may log in with your name, and/or email.
Enter the verification code, which will be sent to you at the email address you registered with.
Set up your profile.
OR
Open the app with other devices via the app website
The app website works with your web browser so no download is required. You may log in, and the display is mobile-friendly.
Click "log in."
You may log in with your name, and/or email.
Enter the verification code, which will be sent to you at the email address you registered with.
---
CONFERENCE THEME
Navigating Currents of Change
How does your foundation or corporate giving program deal with change? Do you advance purposefully, adapting your theory of change as needed? Are you doing the same things you've always done and hoping you won't run aground? Or—worst of all—are you adrift?
In this time of dynamic social change, every health funder must face staying relevant and effective. Like a choppy sea, the challenges come from multiple directions: demographic shifts that affect community dynamics; increasing levels of social inequality; rapidly changing public policies; a health care system in transition; and new change management tools and techniques—to name just a few.
The good news is that from small communities to the national arena, funders are developing successful strategies to stay abreast of change. The 2018 annual conference is a time to share these strategies, identify best practices, and discuss new priorities. Together, funders can find ways to move forward with conviction, providing the leadership that communities urgently need.
Reflections
Each year, GIH asks health funders to share their thoughts on our annual conference theme. This year, we've asked evaluators from foundations to reflect on Navigating Currents of Change. Click here to read their essays.
---
AFFILIATED EVENTS
Interested in hosting an affiliated event in conjunction with the GIH Annual Conference on Health Philanthropy? Please complete the Affiliated Event Form by May 25, 2018. If you have any questions, please contact Sumintra Jonas Palm. 

---
QUESTIONS
For questions regarding conference logistics, please contact Roberta Sumner, VRS Meetings & Events Inc., at rsumner@vrsevents.com or 202.373.4175.
For questions regarding conference registration, including group registration, please contact Teagan Papke, Executive Events, at tpapke@executivevents.com or 877.887.7172.
For questions regarding the Hubb speaker portal, please contact Erica Watkins, Grantmakers In Health, at ewatkins@gih.org or 202.452.8331.
---
Social Media:
GIH Connect
Connect with GIH to learn, collaborate, and grow through education, networking, and leadership opportunities.
Sign Up
Sign up for the GIH Bulletin to stay on top of news from the field.
Funding Partner Portal Login
Login to access exclusive Funding Partner resources from GIH.