Better health through better philanthropy
2016 Annual Conference: Film Matinees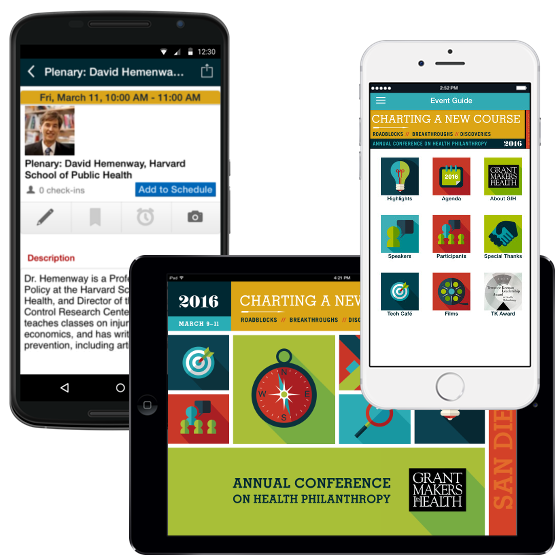 A detailed agenda, session locations, speaker profiles, and additional materials can be found within the mobile app and app website.
WEDNESDAY, MARCH 9, 1:00 – 3:00 P.M.
Being Mortal
Can watching a film change culture? Watch "Being Mortal," a film by Atul Gawande that examines how our society and medicine deal with serious illness, death, and dying and what needs to change to promote a good life to the very end. Afterwards, join in a conversation with two funders who partnered to promote community screenings of the film in 40 California locations specifically to engage people from diverse communities. Learn what community participants had to say about the experience, share your own ideas and reflections, and consider if and how a film can be a powerful tool to create opportunities for rich community conversations around difficult topics that can lead to changes in attitudes, culture, and behavior.
Session Designer: California HealthCare Foundation
Food Chains
Now, more than ever, there is great interest in food access and healthy food choices, yet there is very little interest in the hands that pick this food. "Food Chains" is a 2014 film about immigrant farmworkers and their efforts to improve the industry's work and health conditions. Narrated by Forest Whitaker, "Food Chains" highlights stories of human struggle, hope, and triumph, but also shows how America's farm laborers face abuse, wage theft, and even sexual exploitation and enslavement. The film underscores the importance of The Fair Food Program, which leads the way to improving the well-being of farmworkers and their families.

Session Designer: Grantmakers Concerned with Immigrants and Refugees
GIH Connect
Connect with GIH to learn, collaborate, and grow through education, networking, and leadership opportunities.
Sign Up
Sign up for the GIH Bulletin to stay on top of news from the field.
Funding Partner Portal Login
Login to access exclusive Funding Partner resources from GIH.