Better health through better philanthropy
2016 Annual Conference: Breakout Sessions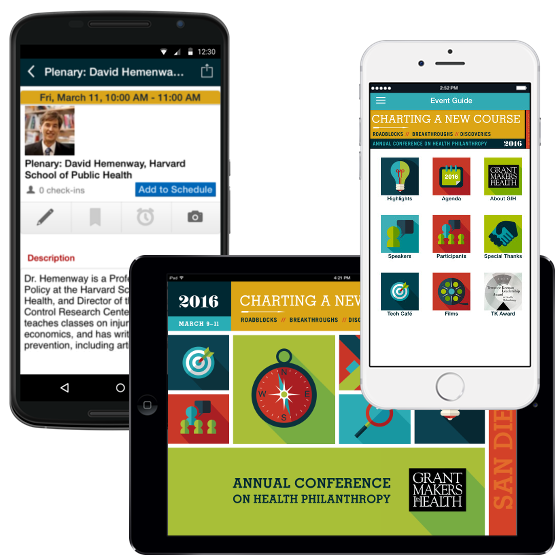 A detailed agenda, session locations, speaker profiles, and additional materials can be found within the mobile app and app website.

THURSDAY, MARCH 10, 11:30 A.M. - 12:30 P.M. 
Discovering New Solutions for Family Caregiving
Over 35 million Americans are caregivers for adults age 65 and older with chronic illnesses and impairments that limit their ability to care for themselves independently. Family caregivers routinely provide extensive, ongoing help with daily activities, and are increasingly asked to deliver complex medically related services and coordinate health care and long-term services and supports. In order to meet the needs of older adults and family caregivers, new solutions must be sought and implemented in both the public and private sectors. This session will explore key issues regarding family caregiving and the unique role philanthropy can play in supporting family caregivers.
Session Designer: Archstone Foundation
Food Deserts in Farm Country
Paradoxically, much of our country's farmland is home to our largest food deserts - rural communities miles away from grocery stores. Join this session to engage with energetic speakers and participants to re-think the way healthy food in rural areas is produced, distributed, marketed, and perceived. A panel representing both philanthropy and public-private partnerships will share case studies highlighting creative solutions from across the country. Participants will then develop their own strategies and solutions in small groups, which will feed into a large group "thought-fest" and call-to-action. 
Session Designer: Sunflower Foundation: Health Care for Kansans
Health Insurance Literacy: A Health Equity Issue
Health insurance literacy is gaining recognition as a social justice issue at the intersection of financial and health literacy. For low income, newly insured individuals and for those with poor English language proficiency, low health insurance literacy is a serious obstacle to needed care. This fast-paced interactive session will shed light on the dimensions of informed consumer engagement in a post-Affordable Care Act landscape and give participants the opportunity to engage in a collective exploration of potential programmatic and public policy solutions.
Session Designer: Connecticut Health Foundation
Protect, Prevent, and Transform: Finding the Path to a Healthier Climate
Climate change is a health concern and a health opportunity. This session will feature grantmakers who are changing the way they and their communities rise to the challenge. A lively fishbowl format will begin with funder stories and then invite participants into candid conversation about how to talk about climate change through a health lens; how to discuss climate-related challenges and opportunities with foundation trustees; and how to develop equitable, transformative strategies that help communities thrive. 
Session Designer: Health and Environmental Funders Network
Supporting Integration of Oral Health in Primary Care Settings
While health experts are increasingly aware that oral health is essential to overall health and quality of life, there remains an unacceptably high burden of oral disease. Enhancing access to affordable dental care is important, and has been a priority for oral health grantmakers for many years. However, to effectively combat oral disease, we need to expand the oral disease prevention workforce and intervene earlier. This session will discuss the results of a foundation partnership designed to explore a new approach to delivering oral health preventive care in primary care settings. 
Session Designer: REACH Healthcare Foundation
Supporting Systemic Mental Health Reform
Tragic events across the country are causing a reexamination of our mental health systems, and the creation, assessment, and scaling of strategies for early intervention and preventive care. Philanthropy has a key role to play in the quality of community mental health services. This facilitated discussion will explore grantmaker roles in leveraging state investment through public-private partnerships, supporting innovation of promising practices, assessing policies and programs, and implementing collective impact strategies to support systemic mental health reform at the local level.
Session Designer: The Meadows Foundation
Tools for Designing and Implementing Adaptive Funding Strategies
Foundations recognize the importance of designing adaptive strategies that can respond to complex environments and problems, but they often lack processes and tools to create and implement these strategies. Using the Colorado Health Foundation's consumer advocacy strategy as a case study, this session will explore how to design strategies that are adaptive without losing accountability; types of information foundations need to design context specific strategies; and how to engage grantees in the process. Participants will also learn about an online toolkit to support adaptive planning. 
Session Designer: The Colorado Health Foundation
What's the Risk?: Rethinking and Retooling Advocacy Support
Recent policy wins have opened new possibilities for health and health care, but gains are fragile in this contentious political environment. How can philanthropy help ensure effective implementation while simultaneously forging ahead on additional policy goals? The Atlantic Philanthropies' Atlas Learning Project, a candid investigation of 10 years of advocacy successes and failures, has raised fresh insights about why, when, and how funders can be bolder with advocacy grantmaking. Drawing on these lessons, this interactive discussion will explore how funders can retool advocacy support, using a full range of policy levers, blending capacity building and policy targets, and pivoting to implementation. 
Session Designer: Center for Evaluation Innovation
---
THURSDAY, MARCH 10, 2:30 –3:30 P.M.
Grantmaking Agility: The Courage to Change
"Out with the old and in with the new" is a lot easier said than done. In the philanthropic world, it can be difficult to leave behind old practices in an effort to become a more transparent and effective grantmaking organization. Join this session to hear presenters paint a picture of how their grantee/grantmaker relationship has changed for the better over time. Learn tools to create and maintain an agile culture of change at your grantmaking institution.
Session Designer: National Committee for Responsive Philanthropy
Helping Grantees Communicate with Confidence
These days, everyone with enough savvy to create a Facebook account is expected to be a communications pro. Grantees, however, often struggle with communications and may not feel confident applying communications tactics to their work. This session will explore the successes, and mistakes, one foundation experienced in creating a strategic communications plan and supporting grantees' on-the-ground efforts. From getting board buy-in on communications support (and resources), to the legwork required to develop a strategic plan, to the materials grantees love (and don't), presenters will walk you through their approach to helping grantees communicate with confidence.
Session Designer: Missouri Foundation for Health
Increasing LGBT Cultural and Clinical Competence
Despite advances in legal equality, lesbian, gay, bisexual, transgender and queer and/or questioning (LGBTQ) people are more likely to get sick, and less likely to get care. LGBTQ people are disproportionately affected by behavioral health problems, HIV/AIDS, and cancer. Many lack insurance and face barriers to care, including providers that are not equipped to meet their unique health needs. In this session, practitioners and funders will explore models for increasing LGBTQ cultural and clinical competence in the health care system. Participants will hear from experts working in hospitals, community clinics, and mental health settings about opportunities to support the health and well-being of LGBTQ communities.
Session Designer: Funders for LGBTQ Issues
Lessons Learned from Implementing Paid Leave in California
Policies that give employees time to care for their loved ones improve the health of families and communities. In the absence of national policies, states and cities have taken the lead in creating paid family leave insurance programs and requiring employers to provide paid sick days. Without targeted outreach and enforcement, however, low-income families remain unaware of their new rights and benefits. This session will explore how well-implemented paid leave policies can improve the health of low-income families, and will draw on California's experience to design funding strategies that increase program awareness and participation.
Session Designer: Ford Foundation
Nothing Lasts Forever…or Does It? Planning for Sustainability Post-Grant          
Foundations are deeply committed to sustaining the impact of their investments once grant funding ends, but knowing how to get there can be vexing. Join the Robert Wood Johnson Foundation and two of its grantees, Active Living By Design and the Safe Routes to School National Partnership, for a candid and lively discussion that will describe their exhilarating, challenging, and sometimes surprising paths toward sustainability. Participants will hear about their distinct approaches, successes, failures, and recommendations for funders and grantees alike, presented from the vantage points of a foundation program officer, a board chair, and two nonprofit leaders. A group discussion will glean other wisdom in the room and generate new ideas.
Session Designer: Robert Wood Johnson Foundation
Scaling Up Ain't Easy
What happens when a regional health foundation takes two local success stories across a three-state region over three years? Scaling Up -- taking what works locally to a larger geographic area and/or new partner organizations -- is a vital goal for heath funders, but it is not without its sinkholes. Join this session to participate in a candid conversation between Harvard Pilgrim Foundation's President and lead staff from two of its grantees, Let's Go! Health Care and Healthy Kids Out of School, that will explore the challenges, successes, and lessons learned as these two childhood obesity prevention programs grew beyond their home locations and/or partnerships. 
Session Designer: Harvard Pilgrim Health Care Foundation
The Risks, Challenges, and Rewards of Fast-Tracked Philanthropic Partnership
In 2014, three national funders joined forces with a publicly-traded research, technology, and consulting firm and a state-based funder to launch the BUILD Health Challenge. This $8.5 million initiative was designed to increase the number and effectiveness of partnerships between health care, public health, and community-based organizations that share resource and responsibilities to improve population health in low-income neighborhoods. This session will examine the challenges and rewards inherent in the development of a robust funding partnership among organizations with very different cultures on an accelerated timeline. Speakers will also provide recommendations about what other funders might do differently when launching similarly ambitious initiatives.
Session Designer: The Kresge Foundation
Youth Wellness: Advancing Prevention and Early Intervention 
Ninety percent of substance use disorders begin before the age of 18 and half of all lifetime cases of mental illness start by age 14. Recent health reform efforts and scientific advances make it possible to focus significant national attention and funding towards prevention and early intervention among adolescents. This session will discuss new opportunities to bridge the gap between primary health and behavioral health and transform the systems of care that serve young adults.
Session Designers: Conrad N. Hilton Foundation and New Hampshire Charitable Foundation
---
THURSDAY, MARCH 10, 4:00 – 5:00 P.M.
Breakthroughs in School-Based Sexuality Education
Thirty years of public health research demonstrates that young people benefit from receiving age-appropriate sexuality education, and public opinion strongly and consistently supports school-based programs. Over the years, however, implementation of such programs has been uneven. This session will explore recent breakthroughs in school-based sexuality education that were guided by a strong vision and backed by coordinated, multiyear policy and programmatic efforts among nonprofit organizations, public health and education agencies, and grantmakers. Participants will reflect on this movement and how lessons from it apply to their own work, with special attention to the role of grantmakers.
Session Designer: The Grove Foundation
Creating a Pathway to Community Health and Wellness
More than a decade ago a group of local funders and providers in Orange County, California created the Health Funders Partnership of Orange County (HFPOC) to address the health issues of the region's most vulnerable populations. HFPOC has since engaged community health centers, hospital systems, community-based organizations, and foundations to improve community health through changes in medical education, clinical practice, and outreach that focuses on wellness, prevention, and integrative health. This session will engage participants in a discussion of funder roles in helping to implement a new model of health care delivery that focuses on pathways to individual and community wellness.
Session Designer: Samueli Foundation
How to Navigate Health Issues When They Become Politicized
In an election year, health policy issues play a large role in public discourse. How can your foundation and your grantees best raise the profile of issues you care about during election season—whether educating candidates about your issue, responding to questions from a reporter, or when your program area becomes the topic of a ballot measure? At this interactive session, we will explore common election year scenarios and discuss case studies focusing on lessons learned from private and public foundations who have successfully navigated similar situations.
Session Designer: The California Endowment
Learning Communities that Create Sustainable Impact
Learning communities are effective and innovative tools to promote peer-to-peer learning; the dissemination and implementation of best practices; and capacity building of community organizations, health care systems, and other grantees. This interactive session will explore three foundations' diverse approaches to learning communities and highlight resources and tools for developing learning partnerships. Participants will experiment with learning community strategies and discuss how to use learning communities to enhance the sustainability of initiatives beyond grant-funded periods.
Session Designer: Maine Health Access Foundation
Pay for Success Financing
"Pay for success" (PFS) programs, also referred to as social impact financing or social impact bonds, have recently gained international attention as potential means to expand social services with a focus on a specified outcome. Examples exist in England, Australia, and the United States. So what are they and what is all the hype? This session will feature an introduction to the PFS financing approach, detail how three foundations have been on the cutting edge of the growing PFS movement, and offer suggestions for ways funders can participate going forward.
Session Designer: Dorothy Rider Pool Health Care Trust
Preventing Childhood Obesity by Focusing on Pregnancy through Age Five
Childhood obesity remains a serious public health crisis with long term health consequences. A child who enters kindergarten overweight has four times the risk of becoming obese and this trajectory is very hard to reverse. To curb the epidemic, interventions need to start early. Join this session to learn from and engage with four diverse foundations targeting their investments toward pregnant women and children birth to five. They will share their innovative approaches, the challenges they have faced, the lessons they have learned, and the benefits they have gained from working in partnership with other funders.
Session Designer: Children's Fund of Connecticut
The Role of Foundation Culture in Community-Based Grantmaking
Community-based grantmaking often shifts power and funding from nonprofit organizations to community residents. These shifts can affect all aspects of grantmaking, both internal and external. While the effects of these changes have been well documented for communities, the struggles that foundation staff and board face often remain hidden. This session features three foundations that are putting community front and center in their work, with significant implications, both painful and exhilarating, for staff. Discussants will candidly share lesson learned, mistakes, and triumphs. 
Session Designer: The Colorado Trust
Transforming the Community Health Center Experience               
The Affordable Care Act led to many changes for community health centers, intended to improve health, lower costs, and enrich the patient experience. To achieve these goals, practices must undergo transformation efforts, which can include proactive planning of patient needs, greater coordination of care, managing care transitions, integrating physical and behavioral health, and addressing social determinants of health. In this session, both urban and rural health centers in California will discuss how they are taking innovative and creative approaches to help their patients access and receive the best care possible.
---
FRIDAY, MARCH 11, 11:30 A.M. – 1:00 PM
Community Health Workers: Closing the Policy Gaps 
Community health worker (CHW) models have existed for decades around the world and the data are in: CHWs contribute to quality and outcome improvements for a wide range of targeted populations and conditions including HIV/AIDS patients, seniors, diabetics, and new mothers. In addition, peer support models have been used for persons in recovery and with behavioral health issues. The health, economic, and social benefits to communities are becoming more widely adopted in this country. Join us to explore the policy changes that are needed to ensure that CHWs become a true part of the health care team: trained, credentialed, and reimbursed. Speakers will share models of successful policy work, including the opportunities available through the Affordable Care Act to expand the impact of CHWs.              
Mastering Your Communications Strategy
Are you telling the story of your issues clearly and effectively? Are you reaching the right audiences? This session brings together experts on mass campaigns and issue messaging, and a communications savvy funder, to give you tips on using communications strategically to advance your mission.
Next Steps in Behavioral Health Integration 
Despite strong evidence of the positive impact of integrated behavioral health on clinical outcomes, patient experiences, and health care costs, comprehensive integrated care remains an elusive goal in many communities. Integrating mental health, substance use, and primary care has been a priority for many funders, but delivery system and financing challenges remain. Several recent reports and scans of the field have identified common barriers and proposed recommendations. This session will offer participants the opportunity to chart next steps in behavioral health integration.
Reaching the Vulnerable Uninsured
Those most in need of health insurance coverage are often the hardest to find, reach, and enroll. On the heels of the ACA's third open enrollment period, this session will take stock of the work that still must be done to achieve the law's vision of coverage and access in the health care system. Speakers with both national and local expertise will discuss the geography and demographics of the remaining uninsured, effective strategies for helping those consumers gain coverage, and areas of potential philanthropic investment at this critical time.
Soft Landings: Approaches to Managing Foundation Transitions
Charting new courses often requires foundations to conclude programs, strategies, and grantee relationships. In other cases, transitions may result from a strategic spend-down decision for a foundation as a whole. During this session, three funders – all of whom have or are experiencing transitions at the grantee, program, or institutional level – will facilitate a workshop on approaches and strategies for a range of foundation transitions. It will include case-study based discussion, practical tips and lessons learned, and an opportunity for peer-to-peer input and coaching.
Session Designer: Gordon and Betty Moore Foundation 
Supporting Communitywide Prevention Strategies
Health grantmakers are rethinking how to support population health efforts and accelerate communitywide prevention models. As part of these efforts, many funders are supporting multisector, systems-based approaches to strengthen the infrastructure necessary to sustain prevention strategies. This session will explore the partnerships required to make such innovative efforts successful, with a focus on the most useful roles philanthropy, government, and residents can play in the design of healthy communities.
When Personal and Professional Collide: Philanthropy Post-Ferguson
The recent deaths of Michael Brown in Ferguson, Freddie Gray in Baltimore, and Eric Garner in New York have fueled a growing movement for racial justice and police accountability. They have also raised questions about philanthropy's role in supporting systemic change and addressing the social and economic inequities at the root of unrest across the country. This session will explore how events in Ferguson, New York, and other cities have affected funders personally and professionally. Participants will hear funders' insights, struggles, and ideas about how they are deepening investments in health equity and social justice and working toward long-term change. 
Session Designer: Missouri Foundation for Health
GIH Connect
Connect with GIH to learn, collaborate, and grow through education, networking, and leadership opportunities.
Sign Up
Sign up for the GIH Bulletin to stay on top of news from the field.
Funding Partner Portal Login
Login to access exclusive Funding Partner resources from GIH.