Better health through better philanthropy
2016 Annual Conference: Networking Breakfasts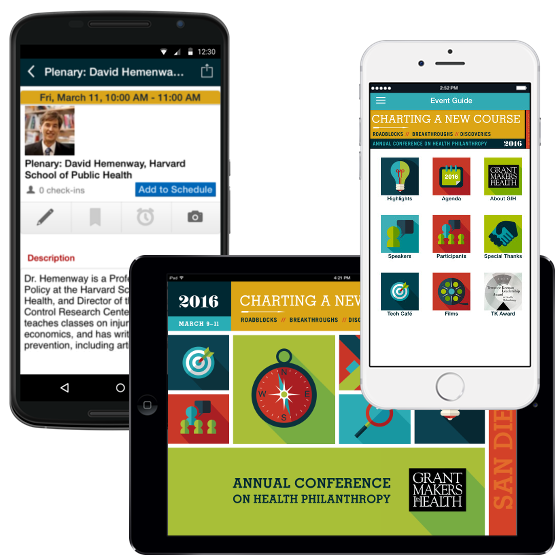 Hosts, session locations, details, and additional materials can be found within the mobile app or app website.
THURSDAY, MARCH 10, 8:15 – 9:30 A.M.
Behavioral Health Funder Network Breakfast
Jon Perez, Substance Abuse and Mental Health Services Administration
Rosemary Veniegas, California Community Foundation
Partnerships within and outside philanthropy are essential to advancing substance use and mental health reforms. Join this session to learn about regional workforce development efforts, explore collaboration opportunities, and develop new connections.
Children and Families Funder Network Breakfast
Liane Wong, The David and Lucile Packard Foundation
Many funders are adopting a two-generation approach as a way of improving the lives of children and families by addressing their needs together. Join this inaugural network breakfast where we will discuss how funders are advancing this approach. We will also discuss how GIH can continue to connect funders who are interested in serving the needs of children and families.
Health Equity Funder Network Breakfast
Samantha Franklin, Johnson Family Foundation
Samuel Nunez, Fathers and Families of San Joaquin
Marylynn Ostrowski, Aetna Foundation
Doran Schrantz, ISAIAH
Starsky Wilson, Deaconess Foundation
Join this networking breakfast to discuss new approaches and promising strategies for addressing health disparities and the social determinants of health. The session will highlight ideas and insights from the new Stanford Social Innovation Review supplement on innovations in health equity, released in February 2016 by GIH with the support of the Aetna Foundation. Hear from a panel of SSIR contributors about how they are applying an equity lens to a range of issues, including LGBTQ health, community organizing, racial justice, and culturally-based healing practices. Panelists will also share recommendations for funders and reflect on next steps to support innovations in health equity.
Healthy Eating / Active Living Funder Network Breakfast
Heidi Burke, Greater Rochester Health Foundation
Health grantmakers of all shapes and sizes have actively supported a multitude of programs and approaches to reverse the obesity epidemic and promote healthy lifestyles. As time has passed and the evidence-base grown, more and more funders are looking to be more purposeful in their funding. But shifting to a more deliberate approach that will truly move the needle in communities can be a daunting challenge. Join us for a chance to learn from Greater Rochester Health Foundation's experience in becoming more intentional in their grantmaking and to discuss with your fellow funders the challenges, opportunities, and collective lessons learned that can help lead to a more coordinated, strategic-strategy for HEAL Grantmaking.
Oral Health Funder Network Breakfast
Vyan Nguyen, Gary and Mary West Foundation
Diane Oakes, Washington Dental Service Foundation
Brenda Sharpe, REACH Healthcare Foundation
Nancy Watson, First 5 LA

Serving the oral health needs of vulnerable and hard-to-reach populations pose a challenge for many funders. Join this network breakfast to hear from funders who will share their policy- and practice-based strategies to reach vulnerable populations such as young children, older adults, and tribal communities.
What's Keeping Trustees Up at Night?
Join other foundation trustees for breakfast and talk candidly (and confidentially) about the challenges of foundation governance. Trustees from different foundations will start things off with a few key questions, and the conversation will flow from there.
Funder-Organized Breakfast Roundtables
FRIDAY, MARCH 11, 8:15 – 9:30 A.M.
Breakfast for Blue Cross/Blue Shield Foundations and Corporate Giving Programs
The purpose of this interactive session is for foundation colleagues from separate Blue Cross and Blue Shield plans to meet, network, and discuss current issues and future opportunities as they relate to the changing health care landscape, increased community needs, and foundation investments.
Health Reform Funder Network Breakfast
M. Ryan Barker, Missouri Foundation for Health
Jennifer Lee, Blue Cross Blue Shield of Massachusetts Foundation
Five years after the passage of the Affordable Care Act, health philanthropy is continuing to solidify the gains of health reform by focusing on implementation. The session will discuss the importance of funding coverage and enrollment efforts, exploring approaches to meet the immediate and long-term capacity needs of grantees, and advancing health insurance literacy. Presenters will describe the lessons they have learned from current and past investments, as well as areas of ongoing challenges and potential impact.
Integrative Health Funder Network Breakfast
Mimi Guarneri, Academy of Integrative Health and Medicine
Join fellow funders interested in prevention and wellness for an opportunity to network and discuss current issues in the field. Participants will hear from a leading integrative health clinician about strategies to implement and sustain holistic person-centered care models.
New Health Foundation Breakfast
Are you in the early years of forming a health foundation? Join the trustees and staff of other new foundations to compare notes and swap strategies. Leaders of more established conversion foundations will also be on hand to give advice and reflect on their experiences.
Population Health Funder Network Breakfast
Manal Aboelata, Prevention Institute
Larry Cohen, Prevention Institute
George Flores, The California Endowment

Many health grantmakers are rethinking how to support population health efforts and move closer to communitywide prevention strategies. As part of these efforts, health grantmakers are working to support multisector, systems-based approaches to improve health. Join this network breakfast where we will discuss communitywide prevention efforts and opportunities for health philanthropy to further support these efforts.
What's Keeping CEOs Up at Night?
This popular, unstructured session gives foundation presidents and CEOs an opportunity to talk candidly with their peers about the concerns and challenges facing their work. Leaders from different foundations will start things off with a few key questions, and the conversation will flow from there.
Funder-Organized Breakfast Roundtables
GIH Connect
Connect with GIH to learn, collaborate, and grow through education, networking, and leadership opportunities.
Sign Up
Sign up for the GIH Bulletin to stay on top of news from the field.
Funding Partner Portal Login
Login to access exclusive Funding Partner resources from GIH.