Better health through better philanthropy
What are social impact bonds?
Social Impact Bonds (SIB) are a form of impact investing.  Not bonds in the traditional sense, they are pay-for-performance agreements whereby several different parties are aligned with the goal of delivering a social service in a more effective way.  The parties involved often include representatives of the public sector, private sector investors, a nonprofit agency or service-providing agencies, and an intermediary organization that manages the process.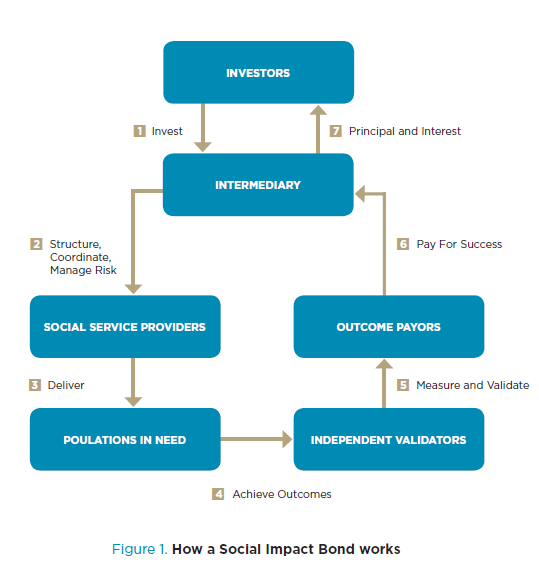 Source: Hughes, Jane and Jill Scherer. Foundations for Social Impact Bonds: How and Why Philanthropy is Catalyzing the Development of a New Market. Boston, MA: Social Finance, 2014.
Similar to other tools used by NTAs, SIBs are a very new instrument and their effectiveness is still unproven over the long term. The first SIB was launched in the United Kingdom in 2010 at HMP Peterborough, a prison in England.  The SIB aimed to reduce the recidivism rate in the prison. Initial results from this intervention are positive-the prison saw a decline of 11 percent in the recidivism rate, even accounting for a 10 percent increase in the national recidivism rate during the same period.
The first US SIB was made in 2012 as an agreement between Goldman Sachs, the City of New York, Bloomberg Philanthropies, and MDRC, a social services provider.   This arrangement finances the Adolescent Behavioral Learning Experience (ABLE), which also intends to reduce recidivism, this time for adolescents detained at Rikers Island.  More detail about the agreement can be found here. In the U.S., this tool is more commonly referred to as pay-for-success financing. The Nonprofit Finance fund maintains a map of current pay-for-success projects in the United States.
GIH Connect
Connect with GIH to learn, collaborate, and grow through education, networking, and leadership opportunities.
Sign Up
Sign up for the GIH Bulletin to stay on top of news from the field.
Funding Partner Portal Login
Login to access exclusive Funding Partner resources from GIH.