Better health through better philanthropy
2016 Annual Conference: Funder-Organized Breakfast Roundtables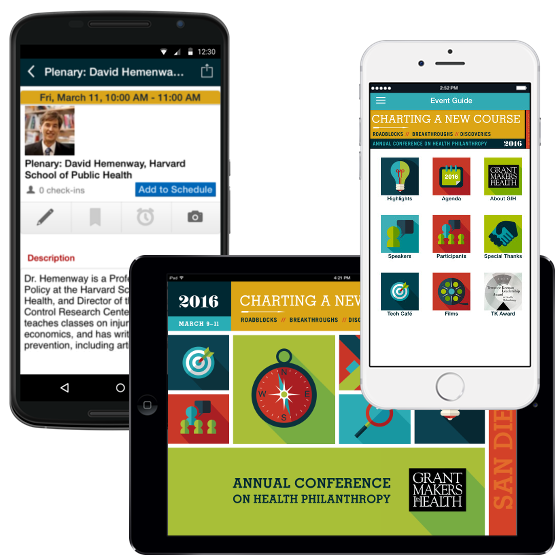 Hosts, session locations, details, and additional materials can be found within the mobile app or app website.
THURSDAY, MARCH 10, 8:15 – 9:30 A.M.
Funder-Organized Breakfast Roundtables:
Complex Care Funders
Susan Mende, Robert Wood Johnson Foundation
Consumer and Patient Engagement
Richard Thomason, Blue Shield of California Foundation
Emergency Preparedness
Jolene Fassbinder, Archstone Foundation

Empowering Foundation Funding of Public Health Advocacy
Steve Eldred, The California Endowment
Eric Gorovitz, Adler & Colvin
Health and Housing
Bill Pitkin, Conrad N. Hilton Foundation
Lauren Bennett, Funders Together to End Homelessness

Health Impact Assessments
Rebecca Morely, The Pew Charitable Trusts
Immigration and Health
Harmony Hayes, Grantmakers Concerned with Immigrants and Refugees
Ria Pugeda, Consumer Health Foundation
FRIDAY, MARCH 11, 8:15 – 9:30 A.M.
Funder-Organized Breakfast Roundtables:
Early Childhood Funders
Judith Meyers, Children's Fund of Connecticut
Denise Dell Isola, Irving Harris Foundation
Environmental Health, Drinking Water, and Equity
Kathy Sessions, Health & Environmental Funders Network
Family Caregiving
Mary Ellen Kullman, Archstone Foundation
Relationship between Public Health and Philanthropy
Catherine Patterson, de Beaumont Foundation

GIH Connect
Connect with GIH to learn, collaborate, and grow through education, networking, and leadership opportunities.
Sign Up
Sign up for the GIH Bulletin to stay on top of news from the field.
Funding Partner Portal Login
Login to access exclusive Funding Partner resources from GIH.