Better health through better philanthropy
2017 Annual Conference: Preconference Sessions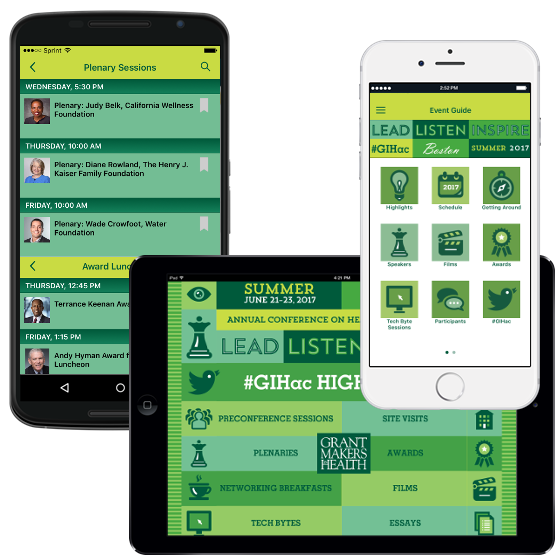 Speakers, session locations, details, and additional materials can be found within the GIH App and mobile website.
WEDNESDAY, JUNE 21, 8:30 A.M. - 12:00 P.M.
Building Community Health and Wealth: How Best to Combine Grantmaking, Impact Investing, and Operational Assets
A new generation of foundations and health systems are using impact investing and operational assets to complement their grantmaking. This workshop will explore ways philanthropic organizations can move beyond grantmaking to become leaders in transforming local economies for health and equity. Linking local economy strategies to an understanding of the social determinants of health, speakers will introduce a roadmap for using all assets—philanthropy, investment, and operations—to drive community health and wealth. Through a mix of interactive exercises and presentations, participants will be introduced to cutting edge concepts and discuss the nuts and bolts of how foundations can begin to make the shift to impact investing.
Session Designers: Business Alliance for Local Living Economies and Well Being Trust
GIH Funding Partners: $75 per registrant
Non-Funding Partners: $150 per registrant
Healthy Communities through a Healthy Democracy: Why Civic Engagement Matters
A healthy society depends on the active engagement of people in the decision-making processes that shape their communities and their lives. Efforts to promote civic engagement can take a variety of forms, including nonpartisan efforts to engage voters, eliminating structural barriers to voting, advancing reforms to improve government and electoral systems, ensuring census accuracy, and inspiring public involvement in civic life. This session, hosted in collaboration with Funders' Committee for Civic Participation, will examine a variety of civic engagement strategies, explore roles for health funders in supporting these strategies, and consider the experiences of health funders who have made significant investments in civic engagement grantmaking.
GIH Funding Partners: $75 per registrant
Non-Funding Partners: $150 per registrant
Forging a Communications Narrative to Move Forward on Health Care Coverage and Access
In the current health care policy environment, foundations play a pivotal role in crafting and delivering effective messages about a sustainable, high-quality health care system that is available to all Americans. As funders grapple with the changing landscape, these messages are critical to building a shared narrative that moves the conversation forward—whether in communications, analytics, or stakeholder outreach. In this session, experts will examine lessons learned from past messaging frameworks, describe the impact of perceptions on the ability to talk about the gains made and what is at stake, and explore how to enable productive conversations among those who disagree. In small group work, participants will begin to construct a shared affirmative narrative about what we all want from our health care system, one that harnesses the enthusiasm of the debate
GIH Funding Partners: $75 per registrant
Non-Funding Partners: $150 per registrant
---
WEDNESDAY, JUNE 21, 8:30 A.M. - 1:30 P.M.
Sharpening Your Grantmaking Skills: Proposal Review and Analysis
This workshop is designed to deepen grantmakers' skills and knowledge in the key areas of proposal review, nonprofit organizational assessment, and financial analysis. It will equip participants with the tools needed to assess proposals more effectively, spot red flags more quickly, and identify opportunities for grantee capacity building. The program was developed in conjunction with The Grantmaking School at Grand Valley State University's Dorothy A. Johnson Center for Philanthropy. 
GIH Funding Partners: $150 per registrant
Non-Funding Partners: $300 per registrant
GIH Connect
Connect with GIH to learn, collaborate, and grow through education, networking, and leadership opportunities.
Sign Up
Sign up for the GIH Bulletin to stay on top of news from the field.
Funding Partner Portal Login
Login to access exclusive Funding Partner resources from GIH.