Better health through better philanthropy
2017 Annual Conference: Site Visits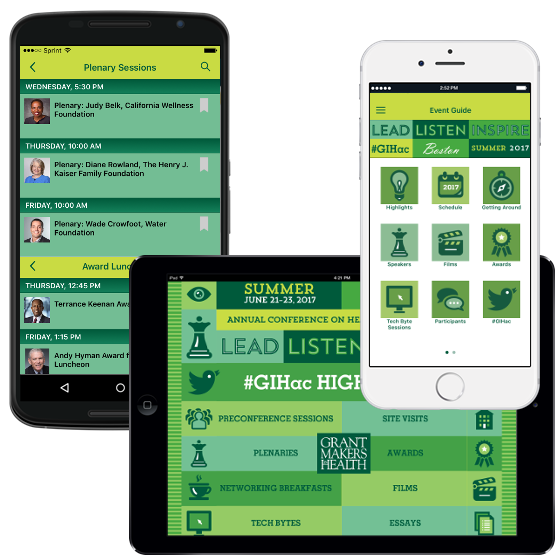 Speakers, session locations, details, and additional materials can be found within the GIH App and mobile website.
WEDNESDAY, JUNE 21, 12:00 – 4:00 P.M.
Putting Health Equity into Action: Community-Driven Solutions with David Williams and EMPath
As health disparities widen in many communities, new approaches are necessary to tackle the complex factors that shape health including housing, employment, and education. Join this site visit to see health equity strategies in action and learn about innovative practices to address the social determinants of health. Hosted by David Williams of the Harvard T.H. Chan School of Public Health, the site visit will explore how the organization EMPath is creating pathways out of poverty for low-income families in Boston. Participants will visit Hastings House, an emergency shelter in Brighton, Massachusetts, and hear from EMPath graduates and mentors about the organization's multi-faceted approach to fostering economic mobility and improving the well-being of families.
WEDNESDAY, JUNE 21, 12:30 – 4:30 P.M.
Food and Health Are Connected in Boston
A growing body of evidence shows that access to healthy food and health outcomes are inextricably linked. Many funders and organizations from the food and health sectors now consider access to healthy food as not only a human right but also as critical to addressing the ballooning number of diet-related chronic illnesses and their impact on the economy, the health care system, community, and individual quality of life. Join this site visit to explore a few of the growing number of interconnected health and food initiatives embedded in community and health care settings across Boston.

Session Designer: Sustainable Agriculture and Food Systems Funders
WEDNESDAY, JUNE 21, 1:00 – 4:30 P.M.
WalkBoston: Making a City Healthy and Walkable for All Residents
Across the country, health funders and communities are working tirelessly to create healthy places. Likewise, many funders and communities have committed to transforming their neighborhoods into age-friendly environments. In both cases, their goals are intertwined, like creating sidewalks and streets that encourage safe and comfortable walking. However, in many cases, these efforts remain siloed despite having similar goals. Join this site visit to learn about the extensive collaborative efforts now underway between Boston: Age-Friendly Walking and Vision Zero through WalkBoston to make the city walkable for residents of all ages. Participants will partake in a "Ped Advocacy 101" training, a walking tour of new built environment improvements, and conversations with engaged community members and city staff.
Session Designers: Tufts Health Plan Foundation and WalkBoston
---
Site Visit Registration
GIH Funding Partners: $50 per registrant
Non-Funding Partners: $75 per registrant
Registration fees will be donated to the organizations hosting the visits.
GIH Connect
Connect with GIH to learn, collaborate, and grow through education, networking, and leadership opportunities.
Sign Up
Sign up for the GIH Bulletin to stay on top of news from the field.
Funding Partner Portal Login
Login to access exclusive Funding Partner resources from GIH.