Better health through better philanthropy
2017 Annual Conference: Breakout Sessions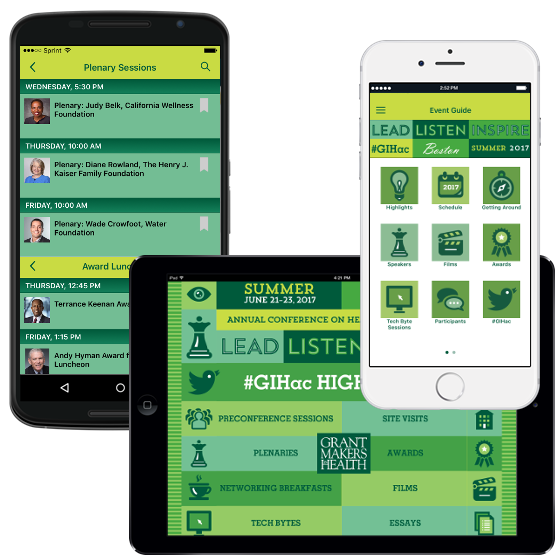 Speakers, session locations, details, and additional materials can be found within the GIH App and mobile website.

THURSDAY, JUNE 22, 11:30 A.M. - 12:30 P.M. 
Activist Philanthropy: Leading and Inspiring Change
Session Designers: Universal Health Care Foundation of Connecticut and Missouri Foundation for Health


Can a Marriage of Health Care and Social Services Give Birth to Healthy Outcomes?
Session Designers: The John A. Hartford Foundation and Robert Wood Johnson Foundation


Cocreating Solutions to Impact the Opioid Epidemic
Session Designer: GE Foundation


Creative Placemaking: Multisector Collaboration for Equitable Community Revitalization
Session Designer: Kresge Foundation


Ending the Gun Violence Epidemic: The Role of Funding Collaboratives
Session Designer: The California Wellness Foundation


Health Starts at Home
Session Designers: The Boston Foundation and Blue Cross Blue Shield of Massachusetts Foundation


Strategies and Tools for Assessing Program Impact and Contributions
Session Designer: The Commonwealth Fund


Taking Action to Improve Children's Environments for Health
Session Designers: Health and Environmental Funders Network, W.K Kellogg Foundation, and The John Merck Fund


Understanding What People Want from the Health Care System
Session Designers: Robert Wood Johnson Foundation and New York State Health Foundation

---
THURSDAY, JUNE 22, 2:30 –3:30 P.M.
Integrated Behavioral Health Sustainability Strategies
Session Designer: St. David's Foundation


Leading with Innovation to Transform Care in the Safety Net
Session Designers: Blue Shield of California Foundation and Center for Care Innovations


Moving and Scaling Home-Based Primary Care
Session Designers: The John A. Hartford Foundation and West Health


Overcoming the Third Rail on Health Care for Immigrants
Session Designer: Northwest Health Foundation


Reducing Maternal Health Disparities: A Lesson from Detroit
Session Designer: Rx Foundation


Searching for Water in the Desert: Fledgling Nonprofits and Philanthropic Inclusion
Session Designer: The California Wellness Foundation


Supporting Positive Outcomes for Native Youth
Session Designer: Native Americans in Philanthropy


Taking on Mass Incarceration as a Health Priority 
Session Designers: The California Endowment and Human Impact Partners


Thinking Outside the Grant: Innovative Investments in Health
Session Designer: Build Healthy Places Network 
---
THURSDAY, JUNE 22, 4:00 – 5:00 P.M.
Ballot Isn't a Four-Letter Word!
Session Designers: Healthier Colorado and Northwest Health Foundation
 

Building Communities of Practice
Session Designer: The Bravewell Collaborative


Criminalization and Unhealthy Communities: Local Budgets as Public Value Statements
Session Designer: Neighborhood Funders Group - Funders for Justice


Gender-Responsive Approaches to Mental Health
Session Designers: hope & grace fund, Movember Foundation, and Prevention Institute


Health, Housing, and the Displacement Crisis: Funding Power Building and Systems Change
Session Designers: The California Endowment and Neighborhood Funders Group


How to Cut the Teen Birth Rate in Half: Lessons from Colorado
Session Designer: Caring for Colorado Foundation


Scaling and Spreading Health Care Delivery Innovations 


The Health and Wealth Connection: Linking Solutions for Economic Security
Session Designer: Asset Funders Network and The California Wellness Foundation 


Two Is Too Late: Partnering with Native Communities to Improve Children's Oral Health
Session Designer: Washington Dental Service Foundation

---
FRIDAY, JUNE 23, 11:30 A.M. – 1:00 PM
Creatively Funding Social Movements and Health Justice
Session Designers: National Committee for Responsive Philanthropy and Neighborhood Funders Group – Funders for Justice
 
Fighting #FakeNews with Real Health Journalism
Session Designers: The California Endowment, Center for Health Journalism, The Henry J. Kaiser Family Foundation, and The Jacob & Valeria Langeloth Foundation


Fostering the Agency of Communities to Improve Health
Session Designer: Bridging Health & Community
 
Getting to Strategic Philanthropy: Pathways for Conversion Foundations
 
Lessons Learned in Moving toward Health Equity
Session Designer: Harvard Pilgrim Health Care Foundation
  
LGBTQI Health Funding: Spotlight on Trans and Intersex Health
Session Designer: Funders for LGBTQ Issues
 
Medicaid in an Age of Transformation
Session Designer: Robert Wood Johnson Foundation
  
Risk-Taking Doesn't Have to be Scary: Tools and Strategies for Funders and Trustees