Better health through better philanthropy
2017 Annual Conference: Quick Takes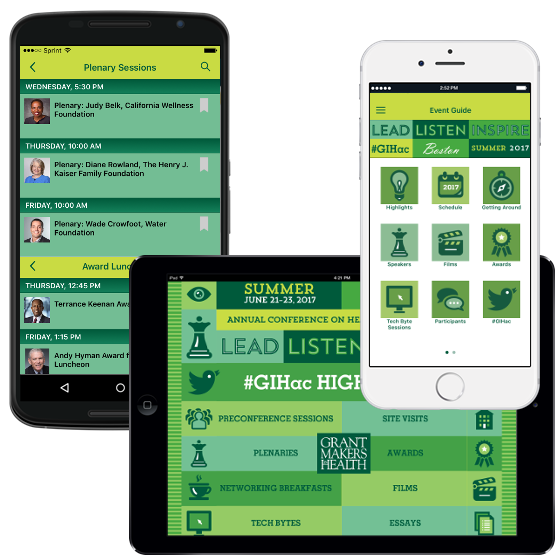 Speakers, session locations, details, and additional materials can be found within the GIH App and mobile website.
THURSDAY, JUNE 22, 11:30 A.M. – 12:00 P.M.
Reimagining the Direct Care Workforce: A Health Framework
Session Designer: PHI
THURSDAY, JUNE 22, 12:00 – 12:30 P.M.
Breaking Barriers to Equity in Cancer and Specialty Care
Session Designer: Bristol-Myers Squibb Foundation
THURSDAY, JUNE 22, 2:30 – 3:00 P.M.
The Colorado Way: We Created a Unique 501(c)(4) Grassroots Advocacy Organization (and You Can Too)
Session Designers: Colorado Health Foundation and Healthier Colorado
THURSDAY, JUNE 22, 3:00 – 3:30 P.M.
Legal Advocacy and Litigation: Tools to Advance the Fight for Health Care Access 
Session Designer: TCC Group
THURSDAY, JUNE 22, 4:00 – 4:30 P.M.
A Healthy Dose: Boosting the Impact of Your Community Strategies
Session Designers: Center for Community Health and Evaluation and Kaiser Permanente
THURSDAY, JUNE 22, 4:30 – 5:00 P.M.
Community Benefit Transparency to Improve the Health of Communities
Session Designer: Robert Wood Johnson Foundation
FRIDAY, JUNE 23, 11:30 A.M. – 12:00 P.M.
Helping Students Return to School Following Psychiatric Hospitalization
Session Designers: MetroWest Health Foundation and Brookline Mental Health Center
FRIDAY, JUNE 23, 12:00 – 12:30 P.M.
Mental Health and Criminal Justice System Collaboration
Session Designer: The Margaret Clark Morgan Foundation
GIH Connect
Connect with GIH to learn, collaborate, and grow through education, networking, and leadership opportunities.
Sign Up
Sign up for the GIH Bulletin to stay on top of news from the field.
Funding Partner Portal Login
Login to access exclusive Funding Partner resources from GIH.