Better health through better philanthropy
2017 Annual Conference: Funder-Organized Breakfast Meetups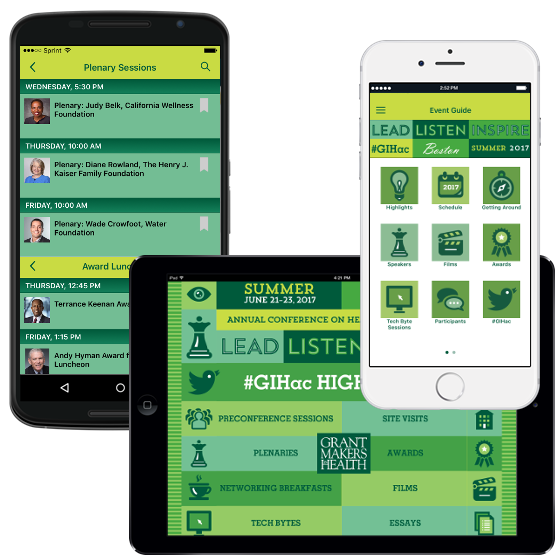 Speakers, session locations, details, and additional materials can be found within the GIH App and mobile website.
Designed as informal discussions, Breakfast Meetups are a great opportunity to exchange ideas with your grantmaking peers.
THURSDAY, JUNE 22, 8:15 – 9:30 A.M. 
Defining (and Supporting) Public Health in the Philanthropic Sector
Claudia Baier, VNA Foundation
Catherine Patterson, de Beaumont Foundation
Health Determinants of Early School Success: Moving the Needle in Your Community
Sally Fuller, Irene E. & George A. Davis Foundation
Carolyn Lyons, Campaign for Grade-Level Reading
Learning and Evaluation
Kaye (Boeke) Kavanagh, Colorado Health Foundation

Rural Health Grantmaking
Brian Myers, Empire Health Foundation
FRIDAY, JUNE 23, 8:15 – 9:30 A.M. 
Community Advisory Committees: Understanding the Needs of the Communities We Serve
Mary Jo Shircliffe, Foundation for a Healthy Kentucky

Environmental Health and Justice Grantmaking
Kathy Sessions, Health and Environmental Funders Network

Supporting the Health and Well-Being of Seniors 
David Fukuzawa, The Kresge Foundation
Transforming Health Care to Better Meet the Needs of People with Complex Needs: New Evidence-Based Approaches
John Feather, Grantmakers in Aging
Women, Girls, and Innovative Mental Health Funding Strategies
Nancy Chan & Julie Slay, hope & grace fund
GIH Connect
Connect with GIH to learn, collaborate, and grow through education, networking, and leadership opportunities.
Sign Up
Sign up for the GIH Bulletin to stay on top of news from the field.
Funding Partner Portal Login
Login to access exclusive Funding Partner resources from GIH.