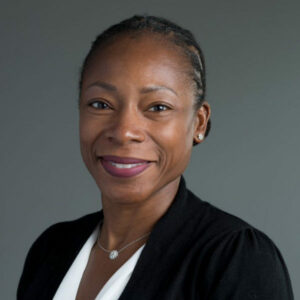 Myechia Minter-Jordan, MD, MBA, President and Chief Executive Officer of the CareQuest Institute for Oral Health, will receive the 2023 Terrance Keenan Leadership Award in Health Philanthropy.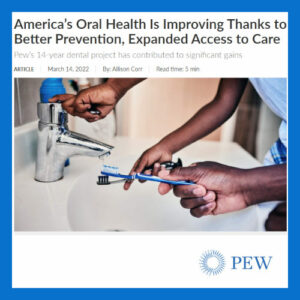 The Pew Charitable Trusts are wrapping up their long-term dental campaign, which worked to address policy changes that would increase access to dental care.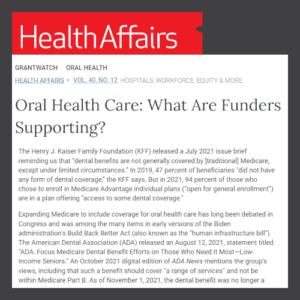 A recent edition of Health Affairs' "GrantWatch" blog outlined key oral health policy issues and provided an update on recent foundation grants in oral health. Several GIH Funding Partners are featured.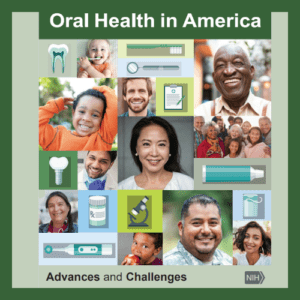 A new report from the National Institutes of Health provides a road map on how to improve the nation's oral health. Released by NIH's National Institute of Dental and Craniofacial Research (NIDCR), the report emphasizes the importance of oral health, and challenges to the creation of more equitable access to oral health services. Potential roles for health philanthropy are highlighted including grantmaking and policy engagement regarding insurance access, community health education, and school-based dental services.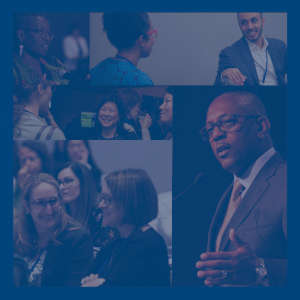 A user-friendly, interactive resource, the tool is designed to help key stakeholders center equity and community engagement in oral health policy agenda-setting. It is flexible and can be used to foster important advocacy conversations or analyze a specific piece of legislation or a comprehensive policy agenda.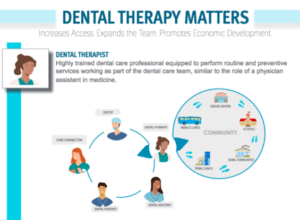 W.K. Kellogg Foundation has released a new toolkit for advocates and partners that spotlights the work of dental therapists and emphasizes how they promote economic development through job creation and business growth, expand the dental care team, and increase access to care for communities across the United States. The toolkit contains helpful fact sheets; an updated timeline; useful one-pagers on why dental therapy matters; messages that frame how dental therapists are cost-effective providers that are making a lasting difference in communities; and a suite of spotlights that feature several practicing, community dental therapists and elevate how they are reaching underserved communities, providing cost-effective care and increasing access through innovation.
Connect With Funder Peers on Oral Health
Interested in exchanging strategies, information, and questions with your funder peers? Sign up for GIH E-Forums.