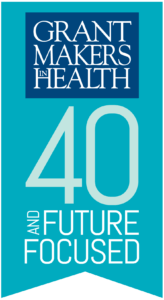 Cara V. James, PhD, President and CEO, Grantmakers In Health
The events of the past year and a half have put a spotlight on many gaps in our public health infrastructure, as well as deep injustices in our health, education, employment, and justice systems. They have also highlighted the importance of leadership, collaboration, and flexibility—and the vital need to tackle inequities to build a more just, equitable, and inclusive future.
I began my tenure at Grantmakers In Health on March 11, 2020, as our organizations and communities were just beginning to grapple with the immense changes to ensue. As I reflect on this period, along with my career in health policy, which brought me here, I am clearer and more confident than ever on the crucial role that Grantmakers In Health plays to maximize impact of the health philanthropy sector.
How Grantmakers In Health is Meeting This Moment
In the wake of COVID-19 and racial justice uprisings, the health philanthropy sector moved quickly to meet community needs—offering greater flexibility for grantseekers, waived or reduced reporting requirements, and simplified application processes. Philanthropy took collaboration to new heights, forming in and cross-sector partnerships and pooling funds to maximize impact. Many also took on the meaningful work of trust-based philanthropy, addressing inherent power imbalances, shifting power to communities, and working at the grassroots level to co-create sustainable solutions. The road ahead of us will require sustained, deliberate action—and we must build on the progress from the past year and a half to prepare for what comes next.
With this goal at center—and as we approach our 40th year of supporting philanthropy—we at GIH have been reflecting on how the field is evolving, what is needed to achieve better health, and what our role in this work can be. We've asked for guidance on what we do well and where we can improve. And we've reflected on your feedback, reaffirmed our mission and values, and identified intended outcomes. The result is our new five-year strategic plan.
Our New Vision Puts Equity at the Forefront: Better Health For All Through Better Philanthropy
Front and center in our 2025 strategic plan is our new vision, which serves as the north star for Grantmakers In Health: "Better health for all through better philanthropy." This new vision might look familiar. Years ago, we shared our vision of "Better health through better philanthropy." Now, we share this refined vision with you as a way to reaffirm our position that Grantmakers In Health must work to advance health equity for all.
Through our strategic plan, Grantmakers In Health will operate in service of the three components of our mission:
Better Health. For nearly 40 years, Grantmakers In Health has supported hundreds of health funders and philanthropic organizations through education, networking, and leadership. As we continue to support Funding Partners, our priorities will center on maximizing impact to achieve better health.
For All. Ensuring that everyone has a fair and just opportunity to achieve their highest level of health requires removing structural obstacles to access. We have woven equity throughout the issue areas of our work, in addition to elevating "Health Equity and Social Justice" as one of our core focus areas.
Through Better Philanthropy. Like other sectors, health funders are on a continuum with regards to many issues, including trust-based philanthropy; community engagement and power sharing; health equity and social justice; and diversity, equity, and inclusion. Grantmakers In Health is committed to the field's growth, as we work with health funders to anticipate overcome issues and challenges.
Our New Issue Areas
As part of our new strategic plan, Grantmakers In Health has identified five issue areas that are critical to achieving better health for all:
Access and quality
Community engagement and empowerment
Health equity and social justice
Philanthropic growth and impact
Population health
These are GIH's new issue areas, and we believe that viewing our work through these lenses will allow us to emphasize equity, innovation, and responsiveness—while continuing to elevate funders' myriad priority areas. This shift was also greatly informed by the sector's feedback, priorities, and trends, and I hope that you, too, view the work you do—whether in behavioral health, workforce development, climate change, rural health, healthy aging, or oral health—through one or more of these lenses.
Where We Go From here
In 2022, Grantmakers In Health will mark 40 years of service, and our continued commitment to supporting your essential work. To commemorate the occasion, and as well as the launch of our 2025 strategic plan, you can expect new programming, initiatives, and an expanded Funding Partner network.
I look forward to working together in the years ahead to ensure everyone has a fair and just opportunity to achieve their highest level of health.