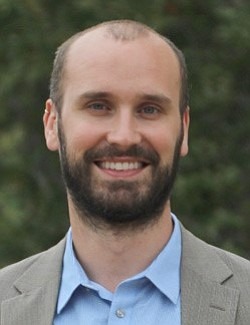 Benet Magnuson, Executive Director of Kansas Appleseed Center for Law and Justice, will receive Grantmakers In Health's 2019 Andy Hyman Award for Advocacy. The award pays tribute to advocacy grantees who embody Andy Hyman's commitment to principled action, passionate leadership to advance social change, and dedication to making progress in policy and practice despite challenging political environments.
For the last five years, Mr. Magnuson has served as Executive Director of Kansas Appleseed, a nonprofit, nonpartisan advocacy organization dedicated to vulnerable and excluded Kansans. The organization investigates social, economic, and political injustice in Kansas and works toward systemic solutions, serving as a voice for the public at large and for individuals and groups who are without effective legal representation. Under his leadership, Kansas Appleseed has grown from a staff of one to a staff of thirteen, plus a robust internship program, and from an annual budget of $50,000 to an annual budget of $850,000.
Mr. Magnuson is described as an exemplary Executive Director, who demonstrates strategic thinking and foresight, and has contributed to building the Kansas nonprofit landscape, providing training opportunities and building the capacities of advocates across the state. Nominator Steve Coen, President and Chief Executive Officer of the Kansas Health Foundation, characterized the work of Kansas Appleseed over the last five years as "nothing short of extraordinary," and stated that "Kansas has made incredible progress towards addressing health equity and social determinants of health over the last few years [which] would not have been possible without Benet Magnuson," and his leadership, vision, and tenacity.
Collaborative in nature, Mr. Magnuson has infused his orientation towards collective impact into Kansas Appleseed's work. Nonprofits across Kansas rely on his strategic acumen and are eager to partner with Kansas Appleseed, and his collaborative nature continues to be demonstrated through his commitment to partner with advocates and government, Democrats and Republicans, policymakers and community members. The results of those collaborations lead to impactful policy wins and admiration from often-unlikely sources. Forming and leading the Kansas Food Security Roundtable, Kansas Organizing and Advocacy Collaborative, or Kansans for Smart Justice Coalition, Mr. Magnuson's leadership is felt throughout the state.
Mr. Magnuson is a native of Lawrence, Kansas and is a graduate of Harvard College and Harvard Law School. From the very beginning, his career has been dedicated to nonprofit advocacy on behalf of impoverished and excluded communities. Prior to joining Kansas Appleseed in August 2013, Mr. Magnuson worked as an attorney for the Texas Criminal Justice Coalition, the Texas Access to Justice Commission, and national Appleseed's immigration financial justice project. His pro bono representations include immigration, criminal, public housing, domestic violence, and family law cases. As a certified mediator, Mr. Magnuson has conducted over a hundred mediations of public housing, family, and small claims disputes and provided dispute resolution trainings to a wide range of clients, including a school district's special education department, a city's energy task force, a Boston roller derby league, public housing, and the United States military. While working in Texas, Mr. Magnuson founded PRISMS, a writing program for inmates in Texas jails.
GIH established the Andy Hyman Award for Advocacy in 2016 in honor of Andy Hyman and his remarkable life and career. The award will be presented to Mr. Magnuson on June 14, 2019, at the GIH Annual Conference on Health Philanthropy in Seattle, Washington.