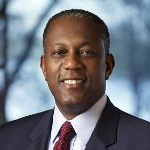 Chet Hewitt, President and CEO of the Sierra Health Foundation, will receive Grantmakers In Health's (GIH) 2017 Terrance Keenan Leadership Award in Health Philanthropy. The award recognizes outstanding health grantmakers whose work is distinguished by leadership, innovation, and outstanding achievement.
Since beginning his tenure at Sierra Health Foundation in 2007, Mr. Hewitt has crafted a bold strategy focused on achieving health equity in underserved communities and improving the well-being of vulnerable children and youth in Northern California. Mr. Hewitt's leadership style is collaborative. He engages with community stakeholders and residents, and draws on his experiences in philanthropy and the public sector to craft solutions to complex problems such as access to health care services, child mortality, and homelessness. As Antony Chiang, President of Empire Health Foundation, explained in nominating Mr. Hewitt, "Chet recognizes that foundations and leaders can catalyze change, but that ultimately, others need to sustain the work on their own behalf. The impact of Chet's leadership is not only demonstrated by direct action, but also by creating the conditions for long-term success."
Seeking to deepen the foundation's impact, Mr. Hewitt engaged its board of directors to create The Center in 2012. This nonprofit intermediary facilitates investment partnerships with public and private funders, community members, and community organizations to tackle health inequities across California. More recently, Mr. Hewitt launched the San Joaquin Valley Health Fund, a partnership of state and national funders working to improve the capacity of communities and organizations in California's Central Valley, a region where many residents experience persistent poverty and lack access to nutritious food and clean drinking water.
Prior to joining the Sierra Health Foundation, Mr. Hewitt served as the Agency Director of Alameda County's Social Services Agency and as its director of child welfare. During his time in Alameda County, he was known as the "Peoples Director" for his commitment to providing accessible and dignified service to those in need. Before his appointment in Alameda County, Mr. Hewitt served as Associate Director for the Rockefeller Foundation in New York City, as well as a director at the Center on Juvenile and Criminal Justice in San Francisco.
Mr. Hewitt co-chairs the California Executives' Alliance, a statewide consortium of foundations working to improve the life chances of boys and young men of color. He also serves on several boards, including Roberts Enterprise Development Fund, Public Policy Institute of California, Advance Peace, Sacramento Steps Forward, Valley Vision, and Saint John's Program for Real Change.
Mr. Hewitt has received numerous awards for his work, including an Annie E. Casey Foundation Child and Family Leaders Fellowship, Congressman Robert T. Matsui Community Service Award, Grantland Johnson Intergovernmental Cooperation Award, and the Urban League President's Award.
GIH established the Terrance Keenan Leadership Award in Health Philanthropy in 1993 in honor of Terrance Keenan and his more than 40 years of contributions to the field of health philanthropy. The award will be presented to Mr. Hewitt on June 22, 2017 at the GIH Annual Conference on Health Philanthropy in Boston, Massachusetts.