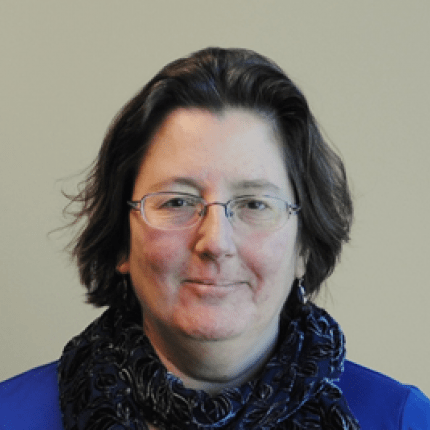 Elisabeth Arenales, Director of the Colorado Center on Law and Policy's Health Program, will receive Grantmakers In Health's 2018 Andy Hyman Award for Advocacy. The award pays tribute to advocacy grantees who embody Andy Hyman's commitment to principled action, passionate leadership to advance social change, and dedication to making progress in policy and practice despite challenging political environments.
Ms. Arenales is recognized as a health policy expert and focuses on access to public health insurance programs, including Medicaid. She has a strong track record of protecting, preserving, and expanding access to health care, particularly for lower-income Coloradans. Her ongoing efforts have helped shepherd in legislation and programs that reduced health access barriers and have led to significant changes in the Colorado health landscape.
Ms. Arenales has been director of the Colorado Center on Law and Policy's Health Program (CCLP) since January 2000. For more than 15 years, the CCLP has forged pathways from poverty by researching, analyzing, developing and advocating for policies that will improve the quality of life for low-income Coloradans. Her organization is a leader in increasing access to health care, family economic security, job training and other critical family needs and supports. Unique among policy advocacy organizations, CCLP has used litigation and administrative advocacy to effect systemic change.
As Amy Latham, Vice President of Philanthropy at The Colorado Health Foundation stated in her nomination, "Elisabeth has left a mark on health policy all across Colorado. Elisabeth's dedication to the mission of Colorado Center on Law and Policy never flags and her energy for action never wanes. She takes leadership roles on numerous external committees and task forces that address health equity. She is a brilliant lawyer who uses her knowledge and skill to help the poor, individuals with disabilities, and others who depend on Medicaid."
Whatever the issue at hand, Ms. Arenales works to protect the interests of low-income consumers, individuals with disabilities, and frail and vulnerable populations. To that end, Ms. Arenales has represented the consumer community and low-income Coloradans in the Colorado Blue Ribbon Commission on Health Care Reform, which was created by the Colorado General Assembly in 2006, to identify strategies for expanding health care coverage and reducing health care costs for Coloradans. She is also currently a member of the Colorado Commission on Affordable Health Care, which recommends policy options for mitigating health care cost drivers in Colorado.
In addition to shaping the Colorado Center on Law the Policy's health program into the force that it is today, Ms. Arenales was a founder of the Colorado Consumer Health Initiative and served for six years as its board chair. The statewide, nonpartisan initiative represents 50 nonprofit organizations—mobilizing well over 500,000 consumers—to shape effective health care policy. Ms. Arenales saw the need for two organizations to work in tandem to address the needs of consumers in the private health insurance market, as well as the needs of low-income Coloradans who rely on public programs for health care.
Ms. Arenales was also the original convener of the Health Advocates Alliance, a coalition of consumers and providers who come together to share strategy and advance the overall goal of improving access to health care for low-income and vulnerable populations.
Ms. Arenales has been recognized by numerous organizations, including the University of Colorado's Law School Alumni Award for Distinguished Achievement, the Colorado Bar Association's Donald Hoagland Award, and the Trial Lawyers for Public Justice's Trial Lawyer of the Year. In 2006, she was recognized as a community health leader by the Robert Wood Johnson Foundation. In 2014, she received the Iglehart Award for leadership in health policy from The Colorado Health Foundation, and the Tip of the Spear Award from the Colorado Medical Society.
Prior to working at CCLP, Ms. Arenales was staff attorney for the Colorado Lawyers Committee, where she focused on access to education, particularly in rural areas of Colorado. Ms. Arenales graduated Order of the Coif from the University of Colorado School of Law and Summa Cum Laude from the University of Pennsylvania.
GIH established the Andy Hyman Award for Advocacy in 2016 in honor of Andy Hyman and his remarkable life and career. The award will be presented to Ms. Arenales on June 22, 2018 at the GIH Annual Conference on Health Philanthropy in Chicago, Illinois.