The field of health philanthropy lost one of its greatest champions when Andy Hyman of Robert Wood Johnson Foundation passed away on February 25, 2015.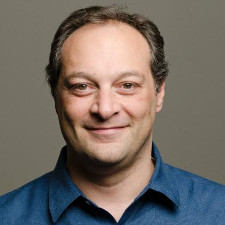 Andy was an active Funding Partner and an avid supporter of Grantmakers In Health (GIH). He was the driving force behind several of our most lauded health reform activities, including the State Grantwriting Assistance Fund, the Federal-State Implementation Program (F-SIP), and the Outreach and Enrollment Learning Community.
Andy was a beloved son of Valerie and Allen Hyman, a devoted father to Lily and Nathaniel, and a loving brother to Joshua and his wife Elizabeth, and Jonathan and his wife Susan.
As a Senior Program Officer at Robert Wood Johnson Foundation (RWJF), Andy focused on the foundation's efforts to expand coverage and secure meaningful access to health care for all Americans. He recognized that "the promise of equal opportunity in this country is empty while we permit millions to be uninsured." Having joined the foundation in 2006, he worked with policy experts, researchers, and advocates to help state and national policymakers enact and implement policies designed to expand coverage.
In addition, Andy worked with the foundation's staff to develop strategy and design programs to address violence and its impact on children and families, with a particular focus on mental health.
Andy came to RWJF after serving as Director of Government Relations and Legislative Counsel for the National Association of State Mental Health Program Directors, which represents the public mental health systems in every state. In that role, he sought to advance policies that secure positive health outcomes and full community participation for individuals with mental disorders.
Prior to his work in the mental health field, from 1998–2001 Andy was the Deputy Director and then Director of the Office of Intergovernmental Affairs at the U.S. Department of Health and Human Services (HHS), serving as Secretary Donna Shalala's liaison to state, local, and tribal governments. His work at HHS also included efforts to combat tobacco use, implement the Children's Health Insurance Program (CHIP), and advise the Secretary on Medicaid. He began his service at HHS as the Special Assistant to the General Counsel in 1993.
A New Jersey native, Andy received a juris doctor from the Fordham University School of Law, and a bachelor's degree from Columbia College.
Andy was a smart, passionate, and innovative grantmaker, with a generous spirit and a great laugh. We truly miss him.
GIH CONNECT
Connect with GIH to learn, collaborate, and grow through education, networking, and leadership opportunities.
Sign Up
Sign up for the GIH Bulletin to stay on top of news from the field.
Funding Partner Portal Login
Login to access exclusive Funding Partner resources from GIH.