Address: 400 Fairview Ave N, Suite 800 Seattle, WA 98109
Web: www.arcorafoundation.org
Email: info@arcorafoundation.org
Arcora is the foundation of Delta Dental of Washington(DDWA), which is its primary funder. Arcora and DDWA share a vision for all people to enjoy good oral and overall health with no one left behind. Arcora Foundation advances oral health across Washington state. Through oral disease prevention and access to dental care initiatives and programs, Arcora focuses its work on Black, Indigenous, and People of Color (BIPOC) populations where disparities in oral health are significant. Prevention and access are Arcora's two strategic priorities, which it advances through policy advocacy, direct services, grantmaking, and partnerships.
Arcora's mission—bending the arc of oral health toward equity—is in its name, which combines arc and the first three letters of oral. Arcora partners with communities to build on their assets to cocreate solutions that address their most pressing oral health needs. Children thrive in the classroom when they do not have pain from cavities, but not everyone has the same opportunities for good oral health. In Washington state, oral health disparities are largely along racial or ethnic lines. The rate of untreated decay for Native Hawaiian/Pacific Islander children in 2nd and 3rd grade is 26 percent. In the same age group, the rate is 19 percent for American Indian/Alaska Native children, 18 percent for Black children, and 10 percent for white children. That's why Arcora has deepened its focus on BIPOC populations.
Program Information:
Arcora has cultivated deep partnerships to implement its prevention and access initiatives and programs including:
Community Water Fluoridation—Arcora provides education, technical expertise, and funding for equipment to help communities provide fluoridated water to their residents, which research shows is the most cost-effective and equitable way to prevent tooth decay in people of all ages and backgrounds.
DentistLink—Arcora and the Washington State Health Care Authority fully fund DentistLink which connects people in Washington state to dental care in their area, whether they have insurance, including Apple Health (Medicaid), or not.
Local Impact Networks—Arcora supports community partners who are committed to advance good oral and overall health. As a strategic venture, the Local Impact Networks center community-driven solutions to advance equity.
SmileMobile—Arcora's three-chair dental office on wheels delivers oral health services across Washington state. It serves babies, children, youth, pregnant or postpartum people, and adults at designated clinics who have challenges to access dental care.
Financial Information:
Total Assets: $2,855,077 (FY21)
Amount Dedicated to Health-Related Grants: $1,889,781 (FY21)
Special Initiatives and/or Representative Health and Human Services Grants
Capital Clinic Access—Arcora provides safety net dental programs including Federally Qualified Health Centers, Tribal, and nonprofit dental clinics with capital funding to expand their programs to serve more people, particularly BIPOC communities with oral health disparities. ($500,000)
Project Grants for Community-based Organizations—Arcora supports oral health projects that increase access to dental care, improve social determinants of health, and/or promote healthy behaviors, particularly within BIPOC populations. ($410,590)
Arcora Foundation and GIH
In 2018, Arcora Foundation and GIH hosted a site visit to the Seattle Indian Health Board (SIHB), an Urban Indian Federally Qualified Health Center that serves Native people in the Seattle area. Participants learned about Native health, SIHB's approach to delivering culturally appropriate care, and other Native leaders' and organizations' innovative approaches to improve health and eliminate oral health disparities for American Indian/Alaska Native people in the Northwest and nationally.
Most Pressing Health Issues in the Community You Serve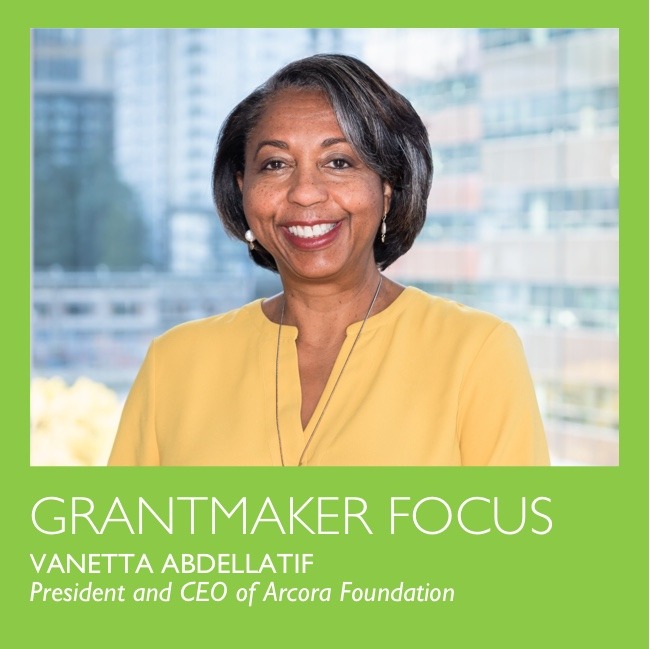 "Equity is important for our work. The people we serve tell us so. That is why Arcora strives to demonstrate a greater capacity for equitable practices and policies to better engage with communities as an authentic partner. One way we worked toward this goal in 2022 was through our community learning grants. We deepened relationships with five community-based organizations across Washington state—four of them focus their work on specific ethnic populations. Through focus groups and conversations, we learned about communities' strengths, challenges, and solutions to address oral health issues. Key insights included hearing about the communities' value of whole person health, the importance of prevention, and the desire to integrate oral health into community building and cultural events to 'make fun events healthy, and healthy events fun.' What we learned will inform our work with these organizations and beyond."

– Vanetta Abdellatif, President and CEO of Arcora Foundation