Address: 1701 E Woodfield Road, Suite 201, Schaumburg, IL 60173
Phone: 847.330.1020
Email: Aserena@blowitzridgeway.org
Web: www.blowitzridgeway.org
The Blowitz-Ridgeway Foundation was founded in 1984 with the proceeds of the sale of Chicago's Ridgeway Hospital, a nonprofit psychiatric facility focusing on low-income adolescents. The foundation's initial mission was to broadly support nonprofit agencies that served the economically disadvantaged of all ages. In late 2017, the foundation revised its funding focus areas to health care and housing to better align with its original mission.
The foundation is committed to supporting organizations that address the social and economic barriers that cause many of the health disparities. Housing is well understood to be an important social determinant of physical and mental health and well-being. Homelessness is closely connected to declines in physical and mental health; homeless persons experience high rates of health problems such as HIV infection, alcohol and substance abuse, mental illness, and other conditions. Thus, access to affordable, safe, and healthy housing is a crucial component for supporting people's health.
Blowitz-Ridgeway Foundation's priority is to fund programs that increase access to care and provide direct services that improve conditions for low-income, uninsured, and medically underserved communities in Chicago, Illinois and six collar counties.
Program Information:
Blowitz-Ridgeway Foundation's funding focus is to improve the health of the uninsured, underinsured, and low-income metropolitan Chicago, Illinois residents and the community through increased access to community-based preventive and primary health services, such as medical, dental, vision, mental health, and case management; and to support housing programs and services that provide access to prevention, intervention, follow-up, supportive services, and employment training for individuals and families who are homeless or at-risk of being homeless.
Financial Information:
Total Assets: $21,903,627 FY 2019
Amount Dedicated to Health-Related Grants: $569,600 FY 2019
Special Initiatives and/or Representative Health and Human Services Grants
Alternatives—to support the Behavioral Health Services Program, which provides school-based health center counseling, counseling at a community-based center, substance abuse treatment, and crisis intervention counseling services for at-risk youth from low-income families. ($12,500)

Community Health– General operating support for this free health care center which provides uninsured and low-income individuals with comprehensive primary, dental, specialty care, medication, mental health, and lab services, as well as health education and social services. ($20,000)

Connections for the Homeless—to support its Health & Wellness Services program, which provides clients that have not seen a physician or psychiatrist in years and who lack health insurance, with coordinated care plans in collaboration with the clients and their medical providers. ($10,000)

The Boulevard of Chicago— General operating support to provide transitional housing and support services for homeless adults discharged from the hospital with acute medical needs and prepare them for independent living. Residents receive meals, employment training, and other supportive services. ($12,500)

Impact Behavioral Health Partners—General operating support to provide adults, living with chronic mental illness and homelessness, with permanent supportive housing and wrap-around supportive services. Services include clinical (trauma-informed counseling and using a trauma reduction approach) and employment assistance. ($15,000)
Orientation of Our Organization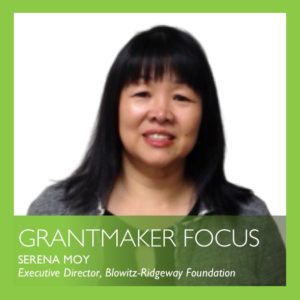 "Reflecting on its funding history and an analysis of the impact of our philanthropy, the foundation revised its funding focus two years ago to better align with its original purpose and increase its ability to make a greater impact with its giving. An emphasis on improving access to both affordable housing and affordable health care for our low income population in the greater Chicago area has given us better insight into some of the root causes and barriers to that access: trauma (both personal and shared), mental health, and substance use are under-treated conditions facing many of our most vulnerable neighbors, many facing language and cultural barriers.

We have learned that case management and supportive services, along with assistance navigating access to affordable health care, are vital to improving the ability of those who are homeless, or at risk of becoming homeless, to find and maintain stable housing. With this new focus, we can experiment with funding novel and creative approaches to the safety net of housing and health care services available in our community"

– Serena Moy, Executive Director