Address: 6500 Wilshire Blvd., Suite 1100, Los Angeles, CA 90048
Phone: 310.967.4316
Email: erin.ward@cshs.org
Web: https://www.cedars-sinai.org/community/grant-making.html
Formalized in 2014, the Community Benefit Giving Office was established to centralize all outbound philanthropy on behalf of Cedars-Sinai. As part of the health system's community benefit portfolio, the Community Benefit Giving Office awards grants to nonprofit organizations that work to strengthen the health care safety net in Los Angeles, California. With a flagship initiative focused on elevating the leadership and effectiveness of Los Angeles community clinics through support for capacity-building programs, Cedars-Sinai has since expanded its grantmaking efforts to reflect high-impact philanthropy focused on increasing access to care, addressing health disparities, and promoting civic engagement.
Through a series of programs and initiatives in partnership with key stakeholders and local organizations, Cedars-Sinai grantmaking strives to reduce health disparities and improve health equity by increasing access to care, improving the quality of that care, and promoting the overall health and well-being of the most vulnerable members of the community. Its grantmaking primarily supports vulnerable populations including people experiencing homelessness and people who are uninsured, underinsured, or undocumented.
Program Information:
The Community Benefit Giving Office has three priority funding areas:
Access to Care—increase the capacity of organizations to improve access to comprehensive, quality health care services for underserved populations.

Current initiatives focus on community clinics and behavioral health organizations.

Social Determinants of Health—increase the capacity of organizations to promote healthy environments in which people are born, grow, live, work and age.

Current initiatives focus on homelessness, housing, and economic stability.

Civic Engagement—increase the capacity of organizations to address issues of public concern in partnership with local community efforts that align with Cedars-Sinai institutional priorities and geography.

Current initiatives focus on civic partnerships, community wellbeing, and resilience.
Financial Information:
Amount Dedicated to Health-Related Grants: $25 million FY20
Special Initiatives and/or Representative Health and Human Services Grants
United Way of Greater Los Angeles—expand health care access and continuity of care for people experiencing homelessness (PEH), while deepening partnerships between health and homeless service providers. Support aims to sustain, expand, or establish health services in partnership with one or more homeless services providers to meet the non-COVID health needs of PEH in Los Angeles County, California. This collaborative effort is led by ​California Community Foundation and United Way of Greater Los Angeles, ​with investment support from Cedars-Sinai, L.A. Care Health Plan, and Providence. Cedars-Sinai was the first funder to seed this initiative. ($500,000)
United Way of Greater Los Angeles—develop a distinct, comprehensive, five-year county-level roadmap that articulates a clear and actionable path forward for ending homelessness among older adults in Los Angeles, California. This includes engaging stakeholders, understanding the population characteristics, building a framework, and establishing a sustainable strategic management infrastructure that reduces the inflow of older adults into homelessness as well as increases housing placements for exits out of homelessness. ($2.5 million)
California Community Foundation—to preserve and expand adult residential facilities and residential care facilities for elderly people with mental illness in Los Angeles County, California. The grant aims to stabilize and expand the number of facilities through a needs assessment, provide support for immediate deferred maintenance needs, and promote development of a financing plan for future acquisitions and sustained operations. This is a collaborative effort between the Los Angeles Department of Health Services, Department of Mental Health, Cedars-Sinai, and the California Community Foundation. Cedars-Sinai was the first philanthropic partner to seed this initiative. ($5 million)
Community Clinic Association of Los Angeles County—to support local community clinics in implementing telehealth services to expand clinic capacity in remotely monitoring the health of patients as part of a coordinated rapid response to the COVID-19 pandemic. Includes provision of technical assistance, leveraged resources, and economies of scale to help consortia members implement sustainable telehealth services. ($1 million)
Sustainable Economic Enterprises of Los Angeles (SEE-LA)—in response to the growing food insecurity across Los Angeles County, California due to COVID-19, Cedars-Sinai partnered with local supervisors Mark Ridley-Thomas, Hilda Solis, Sheila Kuehl, councilmember Mike Bonin, and SEE-LA to launch a farm box program to improve food access through distribution and discounting of produce. Funding supports local farmers and ensures access to fresh produce in identified food deserts throughout the county. Over 12 distributions were held across the county (with more than 40 Cedars-Sinai volunteers involved) between March 15 and July 1, 2020 and over 15,000 produce boxes distributed. ($325,000)
Cedars-Sinai and GIH
Cedars-Sinai's grantmaking portfolio has grown exponentially over the past three years (from $5.9 million in 2018 to $25 million in 2020). As the team continues to evolve, adapt, and grow in both size (number of staff) and in maturation, Cedars-Sinai is grateful to be part of the broader GIH network to ensure access to best practices from leaders and colleagues in the field. Cedars-Sinai also very much appreciates learning about national efforts in the health grantmaking space since much of their work is hyperlocal. Whether it is information on trending philosophies such as trust-based philanthropy, or advice on navigating a new database system, Cedars-Sinai turns to the GIH network for support.
Role of Philanthropy in Meeting Pressing Needs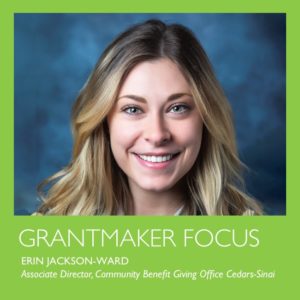 "The beauty of philanthropy lies in its inherent flexibility and ability to adapt. We have an obligation to 'meet this moment'—a moment of dual public health crises: COVID-19 and race equity—and an opportunity to change the landscape, dynamics, culture, and outcomes of our field. In times of crisis, where innovation and collaboration across systems are enhanced, I am reminded why I chose public health as a career and am committed to adapt, listen, and continue support for the most vulnerable."

–Erin Jackson-Ward, Associate Director, Community Benefit Giving Office Cedars-Sinai