Address: 1500 Cornwall Ave #201, Bellingham, WA, 98225
Phone: 360.671.3349
Web: www.chuckanuthealthfoundation.org
Email: heather@chuckanuthealthfoundation.org
Chuckanut Health Foundation (CHF) was one of the first health legacy foundations in the nation, originally named St. Luke's Foundation. It was created in 1983 with proceeds from the sale of St. Luke's Hospital, a local community hospital that served the Bellingham, Washington community for nearly 100 years. For 40 years, CHF has honored that heritage by investing in the critical health needs of the people of Whatcom County, Washington.
As a foundation focused on addressing health equity across a lifetime through the lens of the social determinants of health, it works to build a community where every child gets a healthy start, and every person receives the care they need throughout their lifetime. Whatcom County, Washington has a population of 230,677 and has disparities across all sectors:
14 percent of the population identify as people of color but makeup a disproportionate percentage of the jail population.
4.5 percent are under the age of five—the county is 5,000 child care slots short of meeting families' needs.
20 percent are over the age of 65—in the 2023 census of houseless neighbors, older adults make up 15 percent of all people counted.
52 percent are renters—58 percent of those are cost burdened by their rent.
In its history, only four people of color have served on either Whatcom County Council or Bellingham City County Council.
The Foundation is independently governed by a board of local leaders deeply rooted in this community and passionate about improving individual and community health. They have stewarded over $17 million in assets to ensure vital funding of local health services, health education activities, and health professional scholarships.
Program Information:
Chuckanut Health Foundation's strategic priorities include:
Children and Families—ensures every child gets a healthy start.
Aging Well Whatcom & Support for Aging Communities—represents a community vision for Whatcom County, Washington becoming a place with the culture, physical infrastructure, social supports, and services for all to age well.
Connecting Care / Youth Mental Health—connects medical providers and educators on the front line of caring for youth to honor the contributions of teachers and schools as potentially healing spaces and develop cross sector-strategies for supporting the care of young people.
Opioid Prevention—Addresses opioid use and the intersection with systems of incarceration to create strategies to support healing and treatment and prevent systemic harm and stigmatization of substance use disorder/opioid use disorder (SUD/OUD).
Health Equity—targets inequities in the social determinants of health related to systems and addresses them through urgent funding and long game systemic and policy change.
Racial Equity Commission—invests in community leadership of those who have been historically or are currently excluded from decision-making processes in local government that impact their lives the most.
Capacity Building for Nonprofits—resources the local nonprofit community in the way that they need to support their capacity to continue doing meaningful work.
Civic Belonging—cultivates, supports, and sustains community power by increasing engagement and belonging, especially for those historically and/or currently excluded in civic spaces.
Financial Information:
Total Assets: $17,000,000 (FY22)
Amount Dedicated to Health-Related Grants & Strategic Impact Areas: $700,000 (FY22)
Special Initiatives and/or Representative Health and Human Services Grants
Whatcom Council on Aging—CHF supported Senior Day in the Park Resource Fair and Senior Day in the Park and sponsored the Elected Official Meet & Greet tent, connecting policymakers with seniors directly. ($13,750)
Northwest Youth Services—CHF provided funds for the Executive Director to attend the Contemporary Drug Use Conference, provided resources to support teen/youth/next gen engagement in a public hearing process, including food, transportation, and a guide to the local public hearing format, provided funds to form a Community Impact Committee to advise on organizational policies and support shifting to a healing-centered and anti-racist organization, and provided funds to support communications with staff across its locations. ($12,505)
Whatcom Human Rights Task Force & Bellingham Unity Committee (sponsored by WHRTF)—CHF provided funds for ASL interpretation, artists, and event support for the 24th Annual Rev. Dr. King Jr conference, Unity Ball, Honoring our Roots & Ascendents of the Movement celebration, Black History Month activities, and Juneteenth celebration. ($5,040)
Carl Cozier Elementary & Ferndale School District—CHF supported a back-to-school event and students painting a mural at the school. Currently, 44.9 percent of Carl Cozier Elementary is eligible for free or reduced lunch due to family income. These grants enabled access to after-school programs and placemaking to cultivate belonging in our schools. ($2,500)
Brigid Collins—CHF supported the Rising Tide event, convening local leaders to build relationships and connections as a launching point for future collective action. ($810)
Chuckanut Health Foundation and GIH
CHF looks forward to bringing the best of its organization to work alongside others in the GIH network to make a meaningful impact. The work of the long game in addressing health equity and the vital conditions for health requires philanthropy to undergird collaboration and efforts in a social change ecosystem, from grassroots to grasstops and across the whole field. As a smaller health legacy foundation, CHF is excited to leverage the flexibility and nimbleness that comes with being a hyperlocal organization. Together, we can roll up our sleeves as national partners while continuing to learn from one another.
Role of Philanthropy in Meeting Pressing Needs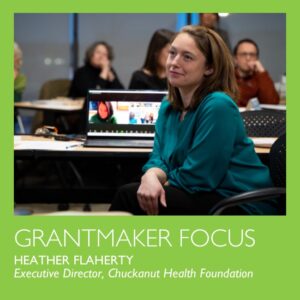 "Philanthropy can and should be the risk capital for social good. In this field, we are positioned to be bold and to stretch for love, justice, health, community, and humanity. We can take the risks that many organizations can't, and we can use our funds and our power to do the work, but not control the work. It is not always the size of the grants that we give out that make the most impact—it's the doors we open, the tables where we give up our seats to voices who need to be heard, the new tables, structures, and systems we build in partnership with those most impacted by the issues we're working to address, and the trust we build with our community partners through longevity, relationship, and consistency—that allow for the work that is needed to happen in our communities, to happen meaningfully and sustainably."

–Heather Flaherty, Executive Director