Address: 2333 34th St. South, St. Petersburg, FL 33711
Phone: 727.856.4650
Email: info@healthystpete.foundation
Web: www.healthystpete.foundation
The Foundation for a Healthy St. Petersburg is a private foundation created from the proceeds of the nonprofit Bayfront Health Systems, Inc. to Health Management Associates (HCA). It serves the health and well-being of the residents of South Pinellas County, Florida, the geographic coverage area of the hospital.
Pinellas County, Florida is home to 1 million people, 140,000 of whom live out of health equity, 80,000 of whom are not in health equity due to race. By 2045, Pinellas will be majority people of color. The county is a tourist economy with very split economic conditions, predominantly based on race.
The foundation's mission is to end differences in health due to social and structural differences in order to improve population health. It works toward this mission by inspiring and empowering people, ideas, information exchange, organizations, and relationships. The foundation prioritizes race equity as the pathway to achieving health equity in Pinellas County, Florida.
Program Information:
The Foundation for a Healthy St. Petersburg fulfills its race and health equity mission through three main areas of effort:
Knowledge Curation
Race Equity Movement Building
Catalytic Convening
Financial Information:
Total Assets: $150 Million FY19
Assets Dedicated to Health-Related Grants: $4.7 Million FY19
Special Initiatives and/or Representative Health and Human Services Grants
Center for Health Equity—Programming at the foundation's Center for Health Equity, a hub for community-led social change interventions and education, training, and facilitation that advances race and health equity. ($683, 000)
Catalytic Convening—Black and Brown business and nonprofit COVID -19 resiliency funding and support programs via innovative community-led grants, loans, CARES Act navigators and grant writers. It also includes grassroots PPE distribution and disease mitigation efforts and information campaigns. ($1.6 million)
Civic Engagement, Research, and Policy Advocacy—Activities in support of a more engaged community include voter education, 2020 Census outreach in Black, Latinx, and traditionally undercounted communities as well as published reports across the social determinants of health to fuel data-driven advocacy efforts. ($900,000)
Equitable Education—Investments and partnerships focused on improving early learning and school readiness, race equity in the countywide school system, and equitable digital access as well as research reports and investments in technology. ($600,000)
Community Engagement and Listening—Efforts to build a countywide race equity movement, including the deployment of a Race Equity Listening team, a multimedia campaign of 1,000 Voices for Race and Health Equity, a Race Equity Pledge, and educational and inspirational virtual speaker series. ($400,000)
Foundation for a Healthy St. Petersburg and GIH
We appreciate the efforts of GIH to connect foundations with similar missions to share learnings. We find GIH national conferences to be a great opportunity to gain new knowledge and network.

Most Pressing Health Issues in the Community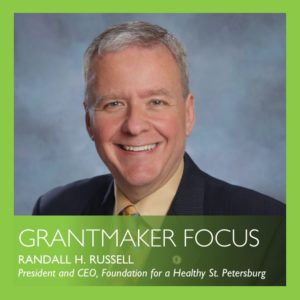 "Racial discrimination has a wide-ranging and enduring legacy in Pinellas County, Florida, barely a generation removed from Jim Crow laws and practices. Across the social determinants of health—from education to housing, access to medical care to employment and wealth-building opportunities—racist institutions and systems disadvantage and harm African Americans. The result is profound racial disparities in health, lifespan, and quality of life.

Data from across our county tell us that stress, disease, and other repercussions of discrimination take their toll on the health of Black people at an alarming rate. That is why the Foundation for a Healthy St. Petersburg prioritizes race equity as we pursue health equity to improve population health. This necessitates working with our community to challenge the status quo and confront systems that perpetuate inequality and reinforce advantages and disadvantages along racial lines. It is relentless, slow work but necessary to create the lasting change residents deserve. We are and will be community-led by listening deeply for lived experience and solutions from the community."

–Randall H. Russell, President and CEO