Address: 333 Lakeside Drive, Foster City, CA 94404
Phone: 650.522.1696
Email: grants@gilead.com
Web: www.gilead.com
Gilead Sciences, Inc. is a research-based biopharmaceutical company that discovers, develops, and commercializes innovative medicines in areas of unmet medical need. The company strives to transform and simplify care for people with life-threatening illnesses around the world. Gilead has operations in more than 35 countries worldwide, with headquarters in Foster City, California. The company also recognizes that it takes more than medicine to address challenges patients and communities face in accessing the best possible care, that passion for scientific discovery alone — and that Gilead alone — cannot solve these challenges. Gilead applies the values of partnership, innovation, and dedication to tackling the social and structural challenges that patients and health care providers must overcome to identify and elevate the best possible solutions.
Gilead is committed to creating possible. For more than 30 years, it has pursued the impossible, chased it down, tackled it for answers, and surrounded it for a way in. It has worked tirelessly to bring forward medicines for life-threatening diseases. Through bold and transformative science, it creates possibilities that have the potential to become the next generation of life-changing medicines.
Gilead's giving programs are driven by the greatest need identified by communities seeking to serve marginalized populations. From tackling HIV in the epicenter of the disease in the United States—the Deep South—and helping people living with or at risk of acquiring HIV in Eastern Europe and Central Asia, to supporting the Transgender community and addressing increasing hepatitis C infections in the greater Appalachia region, it focuses its time and resources to have positive impact on the populations who experience the greatest unmet needs.
Program Information:
Providing Access — Gilead works with partners to help overcome political, social, and geographical barriers that prevent patients around the world from accessing the best possible care.
Reducing Disparities — Gilead funds projects that support underserved communities that have systematically experienced greater social or economic obstacles to health achieve better health outcomes.
Advancing Education — Gilead supports disease awareness programs for patients and expanding knowledge and skills for healthcare professionals.
Supporting Communities —Gilead funds programs that promote the general well-being and betterment of the local neighborhoods and cities in which people live and work.
Financial Information:
Total Net Income: 5.4 Billion FY19
Amount Dedicated to Health-Related Grants: $368,927,529 FY19
Special Initiatives and/or Representative Health and Human Services Grants
COMPASS Initiative—The Gilead COMPASS (COMmitment to Partnership in Addressing HIV/AIDS in Southern States) Initiative® supports organizations working to address the HIV/AIDS epidemic in the Southern United States with an initial focus on capacity building for community-based organizations, education and anti-stigma campaigns, and mental health and wellness. ($100 million)
RADIAN—RADIAN is a partnership to meaningfully address new HIV infections and deaths from AIDS-related illnesses in Eastern Europe and Central Asia through focused action, investment, and resourcing to improve the quality of prevention and care for people living with or at risk of HIV in the region. ($25 million)
TRANScend—The TRANScend Community Impact Fund serves to elevate best practices and community-led solutions that improve the safety, health, and wellness of the Transgender community. TRANScend supports strategic program development, capacity building, and direct services. ($4.5 million)
HepConnect—HepConnect is helping address the increase in hepatitis C infections intersecting with the opioid epidemic in Indiana, Kentucky, North Carolina, Tennessee, and West Virginia through support for harm reduction and community education, expanding screening and linkage to care, and activating health care infrastructure in the region. ($8 million)
CARES Grantee Fund—The Gilead CARES (COVID-19 Acute Relief and Emergency Support) Grantee Fund has provided $20 million emergency general operating support to Gilead grantees whose ability to provide essential services to their communities was threatened by the impact of the COVID-19 pandemic. ($20 million)
Role of Philanthropy in Meeting Pressing Needs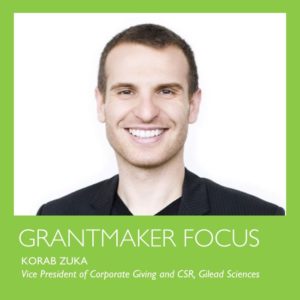 "Gilead knows that it will take more than medicine to end some of the greatest public health crises of our time. The social, economic, and political factors that drive infectious disease epidemics present formidable challenges to our work. But together – in partnership with communities most directly impacted – program by program, we can help improve health outcomes for the most marginalized populations and help change lives."

–Korab Zuka, Vice President of Corporate Giving and CSR, Gilead Sciences