Address: 5255 Loughboro Rd, NW Washington, D.C. 20016
Phone: 202.660.6262
Web: www.jbrdc.org
Email: info@jbrdc.org
The Jane Bancroft Robinson Foundation (JBRF) was created in 2010 as a legacy of commitment to the Methodist Church. It was named in honor of Jane Bancroft Robinson, a learned and compassionate woman, who was the founding Secretary of the Deaconess Bureau and later President of the Woman's Home Missionary Society of the Methodist Episcopal Church. In 1894, Ms. Robinson joined forces with William J. Sibley to support the founding of Sibley Memorial Hospital and launched training programs to holistically address the health inequities she saw in Washington, DC.
JBRF funds workforce development, cancer navigation, and overall health and well-being initiatives to improve the lives of Black women who live east of the Anacostia River in Washington, DC. Today, the foundation continues the work that Jane Bancroft Robinson began, with the goal of championing change and reducing racial, health, and economic disparities.
Program Information:
JBRF is committed to upholding the foundation's purpose by focusing on three essential areas of philanthropic investment:
cancer navigation,
workforce development, and
community partnerships.
In 2019, JBRF began working closely with residents and community-based organizations to create an inclusive model called Black Women Thriving East of the River (BWTEotR). This initiative centers the voices of Black women who are directly affected by health and workforce-related issues, then amplifies, champions, and funds the grassroots, equity-focused solutions that emerge from collaborative discussions.
Financial Information:
Total Assets: $103 million (FY23)
Amount Dedicated to Health-Related Grants: $2.2 million (FY23)
Special Initiatives and/or Representative Health and Human Services Grants
Cancer Patient Bill of Rights—The BWTEotR Bill of Rights consists of the Cancer Patient's Bill of Rights and the Cancer Provider's Patient Bill of Rights. Each is designed to educate Black women and providers serving Black women interacting with the cancer care system on what they should reasonably expect when receiving health care services in Washington, DC. The Cancer Patient's Bill of Rights is intended to be disseminated among patients and health care providers caring for Black women living east of the river in the District of Columbia. ($250,000)

Scholarship Fund—The Scholarship Fund Intervention is a dedicated fund for Black women residents and those with deep connections to Wards 7 and 8 of Washington, DC. These financial scholarships are for training, credentials, professional development opportunities, certifications, licensure, and education costs. In addition, it includes funding for the wrap-around supports Black women need to complete these programs. ($500,000)

Health Careers Resources Map and Community—An employment resource website will be a resource for Black women, providing support to effectively identify the health care-related jobs and career pathways that best align with their personal and professional goals. The website will include comprehensive details about various career entry points, including training and support offered to enter the position and the different career opportunities that follow from the position. With easy access to support like the employment resource website, Black women will gain a stronger understanding of the ways to gain employment and advance swiftly in health-related careers. ($200,000 in the first year increasing to $500,000 by the third year)
Jane Bancroft Robinson Foundation and GIH
JBRF is a new member to GIH. It joined because of the extensive national network, its focus on centering equity, and the comprehensive resources it provides its members. So far in 2023, JBRF has taken advantage of all that GIH has to offer. JBRF's program, Black Women Thriving, was selected as a presenter at the 2023 GIH annual conference in Minneapolis, Minnesota where it highlighted the lived expertise of a Black woman's cancer and workforce journey in Washington, DC. The foundation also connected with health funders across the nation at the conference and learned about best practices in grantmaking.  JBRF looks forward to more engagement with GIH in the future.
Strategic Changes in Grantmaking Direction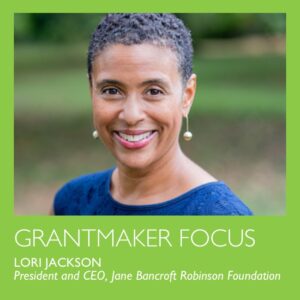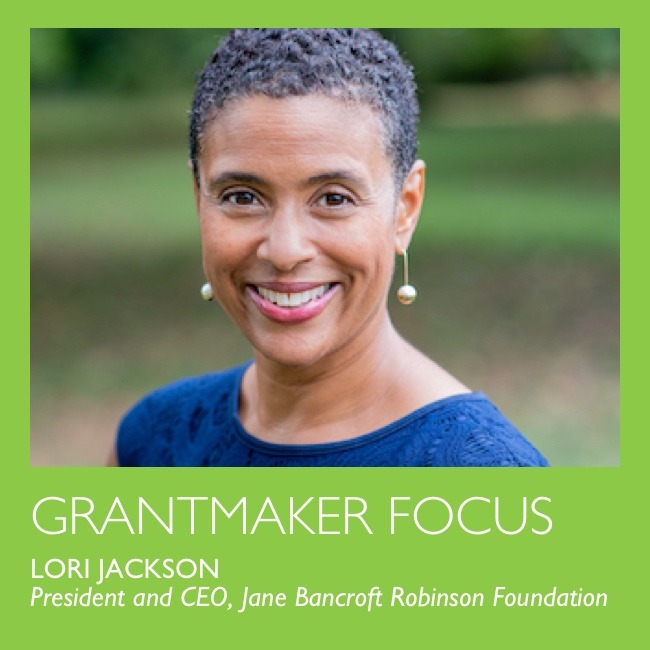 "The approach for Black Women Thriving is imperative now because we haven't seen the disparities reduce over time. And in fact, the disparities are increasing. Black women are the core of the community. They're the decisionmakers in their families, and the caretakers in the community. Finding the best approach to lift up their lives and their voice, improve their health outcomes and economic mobility, will have an economic and social benefit across communities. So, it's something that we must do, and we can't ignore any longer."

–Lori Jackson, President and CEO, Jane Bancroft Robinson Foundation