Address: 401 Carlson Parkway, Minnetonka, MN 55305 
Phone: 952.992.3318
Web: www.medicafoundation.org
Email: joann.birkholz@medica.org
Reestablished in 2003, the Medica Foundation is the charitable giving arm of Medica, a Minnesota-based health plan. The foundation was founded to support the health-related needs of people in the community where Medica does business. Its mission is to improve the health of those in need by investing in community-led initiatives that advance health equity.
Medica envisions healthy communities free of inequities, where health resources, care, and treatment are accessible and available to all. Relationships drive its work as the foundation engages its partners in developing ways to address challenges that face the communities it serves.
The Medica team believes that everyone deserves a fair and just opportunity to be as healthy as possible. Disparities in health care exist for a variety of reasons and the foundation funds programs that use innovative health care delivery models to deliver care that improves health equity. Medica and Medica Foundation are committed to understanding and responding to the unique concerns of local communities, building effective partnerships in those communities, and fostering innovative solutions that hold promise to improve health care quality and accessibility, especially for those who are underserved.
Program Information:
Medica Foundation concentrates on the following focus areas: 
Behavioral Health—programs that provide support for people of all ages experiencing serious mental illness and/or substance use disorder, as well as proposals that creatively or collaboratively address the behavioral health workforce shortage. For example, programs that integrate physical and mental health care, address co-occurring disorders, provide supportive and intensive case management, and address children's mental health needs.
Early Childhood Health—early intervention programs that foster optimal growth and development for children ages birth through age 12, with a focus on the whole child/whole family. For example, programs that improve maternal health outcomes and birth equity for women of color; enhance parenting skills; support developmental, social, and emotional health; and/or provide preventive health and dental care.
Rural Health—support for community-led solutions that address health needs and social determinants of health in rural communities. For example, caregiver/respite support, transportation to medical appointments, and food security.
Financial Information:
Total Assets: $64,761,677 (FY22)
Amount Dedicated to Health-Related Grants: $1,640,700 (FY22)
Special Initiatives and/or Representative Health and Human Services Grants 
Hennepin Healthcare Foundation (2023-2024)—Pediatric Mobile Clinic: Engaging communities to improve pediatric immunization rates, expanding to meet the rising community need for services by providing preventive pediatric health care, and advancing equitable access to care in Minnesota. ($200,000)
Avivo (2022)—Provide mental health services for children ages 6 to 18 from low-income families who are at risk of homelessness while prioritizing children with a parent in recovery treatment. ($50,000)
People Incorporated (2022)—Place mental health professionals within police departments to respond to mental health-related calls. ($50,000)
Fraser (2022)—Provide mental health wellness support for children who have experienced trauma or have significant behavioral challenges. ($25,000)
The University of Minnesota Foundation (2022)—Promote oral health among teens and pregnant women within Cook County, Minnesota, including the Grand Portage Band of Ojibwe, using age-appropriate education grounded in Ojibwe culture. ($25,000)
Medica Foundation and GIH
GIH provides the Medica Foundation with trusted research and resources that it often uses in its work. The annual conference provides an opportunity to learn best practices and network with health funders across the country. The Medica team values the connections, resources, and opportunities to learn from others who share a similar health focus and funding strategy.
Most Pressing Health Issues in the Community You Serve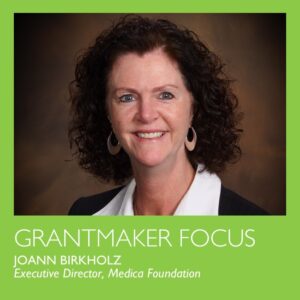 Nationally, the need for mental health and substance use treatment has never been greater. We have seen these needs grow exponentially, especially with our young people, and be exacerbated by the COVID-19 pandemic. The statistics are alarming, and there are many elements at play that affect access to care.
According to a Cornell University study, Medicaid's low reimbursement rates mean that providers and hospitals spend more money caring for people covered by Medicaid than they receive in reimbursement, which limits access to quality care and contributes to poor health outcomes for Medicaid beneficiaries who are disproportionately people of color. Health care workforce shortages also translate into limited health care services and quality of care.
The stigma attached to mental illness can affect the health outcomes of those with a mental illness. People with a mental illness must deal with symptoms and sometimes disabilities associated with a mental illness, as well as the prejudice and stereotypes from others who are uninformed.
"The Medica Foundation especially values programs that utilize tools to deliver mental health care where it's most needed, and that overcome obstacles like race, language, economic status, geographic location, or historical distrust of the health care system. Both telehealth and mobile health care units are reaching communities and populations that were previously unrepresented and making inroads to building trust in the health care system. We are proud to partner with programs that are delivering care to people through innovative new methods and models."

–JoAnn Birkholz,  RN, MBA, Executive Director