Address: 126 East Lincoln Avenue, P.O. Box 2000, Rahway, NJ 07065
Phone: 908.740.4000
Web: www.merck.com/company-overview/responsibility/philanthropy/
Email: leslie_hardy@merck.com
Established in 1957, Merck Foundation is a private, charitable organization funded entirely by Merck & Co., Inc. It is Merck's chief source of financial support for philanthropic initiatives tackling important global health and social needs aligned with the company's mission of inventing for life. The foundation has provided nearly $1 billion to support innovative programs and partnerships that improve the health and well-being of people around the world.
Its strategic imperatives include: advancing equitable access to healthfor underserved populations in the United States and globally, with a focus on cancer, diabetes/cardiovascular disease, HIV/AIDS, and vaccines and enabling Merck employees to support health and disaster response priorities in their communities. Foundation support complements other funding sources from Merck to strengthen health system resilience and response to disasters in communities where the company operates.
Merck Foundation's philanthropic program investments help advance health equity around the world. It supports efforts to overcome the barriers that many people—especially those living in marginalized and underserved communities—face in accessing high-quality, equitable health care. The foundation's approach is guided by several key principles: respond to critical global health needs where it can have a meaningful impact; address health disparities; collaborate with diverse partners to build healthier, stronger communities; and leverage its range of resources— financial, product, and expertise—to achieve greater success in improving health.
Program Information:
Merck Foundation's health portfolio supports programs that aim to improve the quality of health care and address barriers to care for people from underserved communities. It focuses on individuals who are living with non-communicable diseases—notably cancer and diabetes—and infectious diseases, primarily HIV/AIDS. It seeks sustainable ways to enable better access to health care, especially in parts of the world where there are limited resources dedicated to health. It also works to strengthen health systems to improve the delivery of high-quality care and empower patients to better manage their health by helping them overcome barriers to care. The foundation's philanthropic programs promote health equity by addressing the contributors to health disparities and supporting multi-sector solutions—within and outside the health sector—to address the social determinants of health.
Financial Information:
Total Assets: $371,594,621 (FY20)
Amount Dedicated to Health-Related Grants: $62 million (FY20)
Special Initiatives and/or Representative Health and Human Services Grants
Alliance for Equity in Cancer Care—This five-year, multi-site initiative aims to advance health equity by improving timely access to high-quality, culturally responsive cancer care for patients from underserved communities in the United States. The foundation is providing grants to select nonprofit health care organizations working with local community-based groups to implement evidence-informed, innovative programs that will help reduce health inequities and improve patient outcomes. ($20 million)

Bridging the Gap: Reducing Disparities in Diabetes Care—This five-year initiative aims to improve access to high-quality diabetes care and reduce disparities in health outcomes among people living in underserved United States communities. Funding supports eight program grantees around the country and a National Program Office based at the University of Chicago who are transforming primary care to deliver better diabetes services in their communities while linking patients to resources that can meet basic needs such as healthy food, stable housing, and transportation. ($16 million)

Project ECHO®—The foundation's support of Project ECHO® is enabling expansion to underserved communities in India and Vietnam. The unique ECHO model of virtual knowledge sharing, learning, and peer support improves access to specialty care for people living with complex, chronic conditions such as hepatitis C, HIV, tuberculosis, and non-communicable diseases, including cancer, cardiovascular disease, and mental health conditions. ($7 million)

American Cancer Society—The foundation's support is helping the American Cancer Society (ACS) leverage its expertise in patient navigation in resource-limited settings in sub-Saharan Africa. It also supports ACS to develop a toolkit to help low- and middle-income countries adopt navigation programs as part of delivering comprehensive cancer care. ($2 million)

Enhancing HIV Care and Treatment in South Africa—The Foundation is supporting mothers2mothers and Population Services International to expand HIV prevention, care, and treatment for men who have sex with men (MSM) in South Africa. This key population remains disproportionately affected by HIV, and funding is supporting tailored HIV services, including peer mentoring, psychosocial, and mental health support. ($4.7 million)

HIV Care Connect—This five-year, multi-site initiative aims to reduce disparities in HIV care in the Southeastern United States communities of Miami, Florida; Montgomery, Alabama; and Jackson, Mississippi. Program grantees are working to improve linkage to and retention in high-quality care for people living with HIV through community engagement and multisectoral collaboration. ($7 million)
Merck Foundation and GIH
The GIH network is unique in its ability to bring together like-minded funders from diverse organizations, creating a platform to explore partnerships for greater impact. Merck Foundation values GIH's efforts to highlight innovative work and groundbreaking organizations that can inspire its efforts. It is proud of its GIH membership and has appreciated the important networking and learning opportunities that have resulted from connecting with other funders in health.
Role of Philanthropy in Meeting Pressing Needs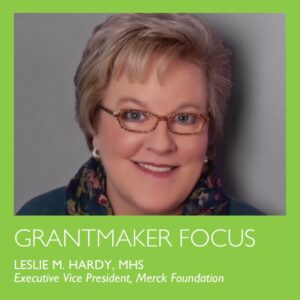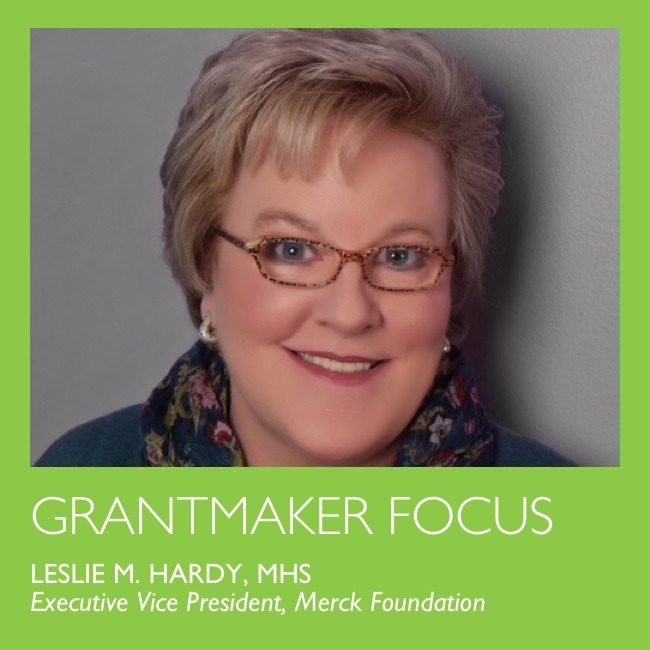 "No one strategy is sufficient to reach people from underserved communities who are living with diseases like cancer, diabetes, and HIV/AIDS with the high-quality health care they deserve. That's why the Merck Foundation has focused on making longer-term and more flexible philanthropic investments that support an array of promising and comprehensive approaches.  Further, collaboration is critical to tackle complex health disparities and build healthier communities. Through our initiatives, we bring together health care providers, community leaders, and academics from across the United States and around the world to test and expand innovative solutions to improve the delivery of health care in their communities."

– Leslie M. Hardy, MHS; Executive Vice President, Merck Foundation