Address: P.O. Box 2040 Santa Monica, CA 90404
Phone: 323.899.5532
Web: www.movember.com
Email: michelle.carlson@movember.com
In 2003, two mates from Melbourne, Australia (Travis Garone and Luke Slattery) were having a quiet beer at the Gypsy Bar in Fitzroy when their conversation turned to recurring fashion trends. The mustache, a fixture in past decades, was nowhere to be seen in recent trends. They joked about bringing it back.
The two friends decided to talk their mates into growing a "Mo." Inspired by a friend's mother who was fundraising for breast cancer, they decided to make the campaign about men's health and prostate cancer. They designed the rules of Movember and agreed to charge $10 to grow a Mo. They sent around an email titled 'Are you man enough to be my man?' and found 30 men willing to take up the challenge. Those first 30 Mo Bros grew their mustaches with such enthusiasm that in 2004 the concept was formalized with a goal to get all participants growing for a cause.
The reality is that men's health is in crisis. Men are dying on average six years earlier than women, and for largely preventable reasons. Unchecked, prostate cancer rates will double over the next 15 years. Globally, testicular cancer is the most common cancer among men aged 15-39 years of age. And across the world, one man dies by suicide every minute of every day, with males accounting for 75 percent of all suicides. Movember is uniquely placed to address this crisis on a global scale. It funds groundbreaking projects all over the world, engaging men where they are to understand what works best and accelerate change.
Program Information:
Movember primarily focuses on its grantmaking prostate cancer, testicular cancer, mental health, and suicide prevention.
Financial Information:
Total Assets: $24,988,589 (FY21)
Amount Dedicated to Health-Related Grants: $5,066,726 (FY21)
Special Initiatives and/or Representative Health and Human Services Grants
Over the past 12 months, Movember has committed over $11 million to programs related to mental health and suicide, prostate cancer and testicular cancer in the United States. This includes:
Partnering with the Prostate Cancer Foundation to advance research in prostate cancer.
Launching the pilot of Movember's Rooted & Rising Collective to address mental well-being for Black youth and young men.
Supporting Making Connections community-based programming to develop connection and resilience among young men, men, and their communities.
Building mental health support for men through the digital tools, Family Man and Movember Conversations.
Movember and GIH
As a new GIH Funding Partner, Movember's Michelle Carlson is looking forward to exploring opportunities for partnership with other funders to broaden and increase the organization's impact on mental health support in our communities. Grantmakers in Health provides the opportunity to learn from the knowledge and experience from a diverse community of grantmakers to address the social determinants of health.
Strategic Changes in the Organization's Orientation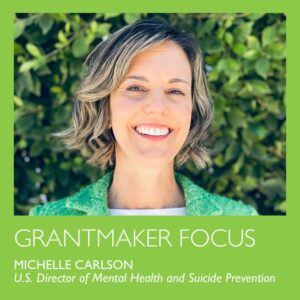 "Movember is currently in the process of shifting from solely acting as a grantmaker to building and co-developing programs to address mental health. This allows us to work with and learn from communities with first-hand lived experience. It also deepens our understanding and creates a more intentional approach to suicide prevention in men. As a suicide loss survivor myself, I know that Movember's impact goes beyond the men we serve directly. It's familial, generational, and societal, and I'm glad to help lead this work with the GIH network to address mental health across the country and around the world"

– Michelle Carlson, U.S. Director of Mental Health and Suicide Prevention