Address: 800 Scudders Mill Road Plainsboro, NJ 08536
Phone: 609.987.5800
Web: www.novonordisk-us.com
Email: KMUH@novonordisk.com
A subsidiary of Novo Nordisk Global, Novo Nordisk Inc.'s (NNI) corporate sustainability and social impact team leads corporate giving efforts in the United States. Its goal is to improve chronic disease prevention and management efforts and reduce the burden of chronic disease for vulnerable populations.
NNI utilizes a place-based approach to funding projects that are designed to help determine vulnerabilities by the localized prevalence and identify community assets that can support implementation projects that are community-driven. Currently, NNI is working in 10 states with its place-based programming and plans to expand its geographic foot0print to additional vulnerable communities throughout the United States.
Program Information:
Currently, NNI focuses its program on four areas: community-based disease prevention and management, patient camps, STEM scholarships, and disaster relief.
Financial Information:
Total Assets: Global Novo Nordisk $30 billion (FY21)*
Amount Dedicated to US Health-Related Grants: $9 million (FY21)*
* Please note that Novo Nordisk operates globally: total assets represent 80 offices around the world that serve 170 countries, while grants given is only representative of giving in the US.
Special Initiatives and/or Representative Health and Human Services Grants
Partnership for a Healthier America: Community Partnerships to Create Food Equity in the Mississippi Delta—The project will create demand for nutritious locally grown foods through an outreach campaign coupled with working with local food sellers to improve access, visibility, and consumer support for utilization of locally grown food. ($2,087,683 over three years)
The University of Arizona Foundation's Culinary Medicine Program: Reducing the Burden of Diet-Sensitive Disease in Vulnerable Arizona Communities—University of Arizona will develop, implement, and evaluate a culturally competent Culinary Medicine program and evaluate its impact on health outcomes in a pilot intervention delivered in three different community-based sites to vulnerable populations. ($753,010 for two years)
Alliance for a Healthier Generation: Healthier North Carolina—This effort works with schools to deliver community-driven solutions to chronic disease prevention in four rural counties in North Carolina. It also engages local stakeholders to initiate solutions to increasing access to healthy food and nutrition education and positioning schools as a hub for healthy food distribution. ($1,900,000 over three years)
Health Care Improvement Foundation: Cities Changing Diabetes Philadelphia—This project integrates community-driven and place-based approaches across multiple sectors to address obesity and diabetes in the city's vulnerable and underserved communities. Through the program, more than 100 health, faith, education, business, and community leaders from across the city are working together to develop new ways to change the trajectory of diabetes in the community. ($2,925,681 over three years)
The National Minority Quality Forum: Sustainable Healthy Communities Project DRIVE—The goal of this project is to improve equitable diabetes and obesity outcomes in West Oakland, California by partnering with a West Oakland Federally Qualified Health Center to advance health equity in clinical diabetes care. In addition, equipping community leaders in barber shops, hair salons, and churches to be trusted health ambassadors and champions for health equity in diabetes and obesity prevention and management. ($514,800 over two years)
Novo Nordisk and GIH
Novo Nordisk is a new GIH Funding Partner and has been working within the network to educate itself on new geographies it is expanding into. It has been helpful to have access to other funders to gain perspective on the landscape to make more informed decisions about investment. NNI hopes to use the GIH network to continue to grow its portfolio of grantees and find potential funding partners.
Strategic Changes in Grantmaking Direction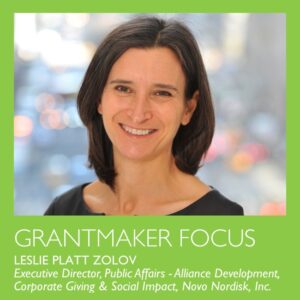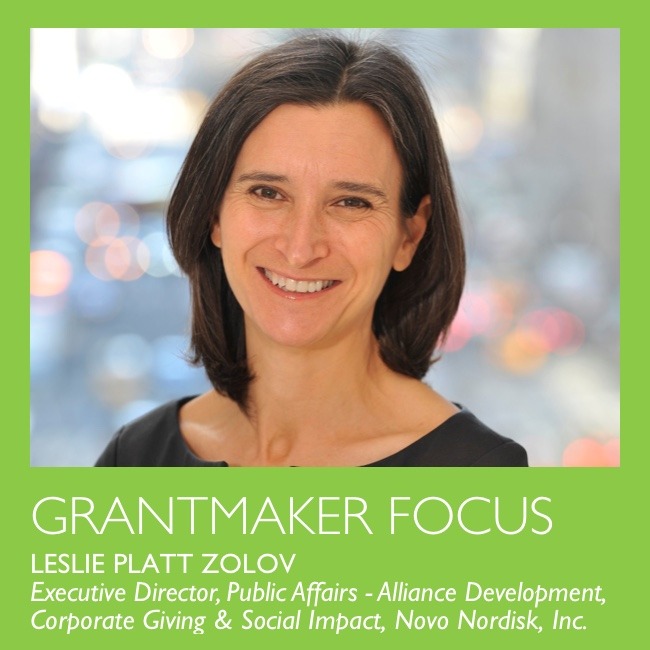 "We are excited about the new direction NNI is taking with our charitable giving strategy, focusing on reducing the burden of chronic disease for vulnerable populations. By committing funding to projects specifically geared toward prevention by way of community-based health education and nutrition equity/food access, we are focused on supporting capacity building of local, on-the-ground organizations to design solutions tailored for the needs of the communities they serve. This in turn is designed to ultimately lead to better health outcomes."

– Leslie Platt Zolov, Executive Director, Public Affairs – Alliance Development, Corporate Giving & Social Impact, Novo Nordisk Inc.