Address: 700 S. Dixie Hwy, Suite 205, West Palm Beach, FL 33401
Phone: 561.833.6333
Web: www.palmhealthfoundation.org
Email: info@phfpbc.org
Palm Health Foundation (PHF)was created in 2001 as the successor to Good Samaritan Foundation and St. Mary's Hospital Foundation. Through the transition from hospital foundations to an independent community health foundation, the board of trustees sought court approval to shift the focus of the mission to encompass a broader, much needed set of initiatives to meet the health needs of the entire county.
At the time, the board realized that there were tremendous needs in our health care delivery system and was unified in its mission to remove barriers to health care access for the underserved. Today, Palm Health Foundation is the leading community health foundation in Palm Beach County, Florida and brings the community together on initiatives that promote the adoption of healthy lifestyles and tackle the social, economic and environmental factors that impact health in Palm Beach County neighborhoods.
PHF serves all of Palm Beach County, Florida; population 1,496,770. The county is a study in contrasts. On the east coast, Palm Beach is a town of Gilded Age mansions, home to some of the wealthiest people in the world. Forty-five miles west, in the agricultural communities along Lake Okeechobee, sugar cane, corn and vegetable crops are tended to by migrant farmers, where in some cities one in two children live in poverty. It is also a place where elderly "snowbirds" escape to during the winter, and Haitian and Guatemalan immigrants have fled to escape poverty and civil war.
The foundation has granted more than $85 million to the Palm Beach County community. Its mission is to inspire and fund solutions for better health in Palm Beach County through community collaboration. Its vision is that all Palm Beach County residents have opportunities to thrive and reach their full health potential.
Program Information:
The foundation's charitable funds support building a culture of health, advancing brain health, and strengthening the health professions. It inspires unique partnerships and innovative networks between brain science, community members, and care settings to make Palm Beach County, Florida a national leader in promoting brain health. It also funds educational programs that improve the quality of care in clinical and community-based settings. All of its grantmaking and sponsorship work is done through a health equity lens, with the ultimate goal of leading change for better health for all, now and for generations to come.
Financial Information:
Total Grant Spend: $86,568,498 (FY20)
Grant Spend Dedicated to Health-Related Grants: $2,326,346 (FY20)
Special Initiatives and/or Representative Health and Human Services Grants
The FAU Brain Institute's Program in Computational Brain Health— Uses computational approaches to better understand brain health and treat brain disorders, share this knowledge with the Palm Beach County, Florida community, and improve care. ($1,000,000)
211 of Palm Beach and Martin Counties— Support the development consultant and the first three phases of a four-phase capital campaign. ($100,000)
Scholarships— Needs-based scholarships that assist individuals in the community to enter and advance in the nursing and behavioral health professions. ($435,000)
Community Partners AmeriCorps VISTA Program— Community Partners of South Florida supports the oversight and administration of the Palm Beach County AmeriCorps VISTA Program; Creating Access; Building Social Capital. ($35,000)
Healthier Together Initiative— Supports the Healthier Together communities for continued resident-led efforts to grow a culture of health networks throughout Palm Beach County, Florida. ($880,000)
Palm Health Foundation and GIH
In 2018, Palm Health Foundation Vice President of Grants and Community Investments, Abby Goodwin, was honored with a fellowship from the Terrance Keenan Institute for Emerging Leaders in Health Philanthropy. Through this fellowship, Ms. Goodwin networked with other emerging leaders in the field in open, honest, and transparent conversations. She views it as a time of personal, professional, and organizational reflection in relationship to the craft of philanthropy within a health conversion foundation, and a chance to be held accountable by peers in a space of privilege and power while approaching safe-to-fail experiments. Ms. Goodwin's fellowship led to a "Views from the Field" article, and Palm Health Foundation's collaboration with ReThink Health, an initiative of the Rippel Foundation, on the Portfolio Design Project.
Strategic Changes in Grantmaking Direction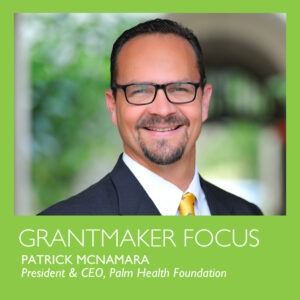 "Six years ago, the foundation launched our Healthier Together initiative, committing $1 million to six communities with the greatest health disparities in Palm Beach County. Healthier Together represented a radical shift in our grantmaking – we put residents at the core of developing health solutions around their own needs, rather than force-fitting a system that doesn't always recognize the complexity, culture, context and circumstances of diverse communities. When you start to see health issues through the eyes of the people who live in a vulnerable community, you realize the barriers and inequities that exist won't be overcome through traditional clinical care systems. Healthier Together is leading change for better health in our community, neighborhood by neighborhood."

– Patrick McNamara, President & CEO, Palm Health Foundation