Address: 228 S. Sycamore St., Petersburg, VA 23803
Phone: 804.732.8900
Web: www.camfound.org
As a health legacy foundation, The Cameron Foundation was established out of the sale of Southside Regional Medical Center in Petersburg, Virginia. Its service area is the area that historically was served by the hospital when it was a public hospital, including the cities of Petersburg, Colonial Heights, and Hopewell, Virginia; Dinwiddie, Prince George and Sussex counties, and Chesterfield County south of Route 10 in Virginia. Its grantmaking is directed across six fields of interest, with funding priorities identified within each field. To date, the foundation has made 1,207 awards to 316 different organizations through its responsive grantmaking, proactive initiatives, as well as capacity-building investments—a total of more than $96 million.
The Cameron Foundation strives to transform the Tri-Cities and surrounding counties into a healthy, vibrant, and economically vital region by strategically leveraging resources for community impact. In working towards this mission, the foundation focuses on six outcome areas, including healthy residents, education excellence, cultural richness, a vital economy, vibrant communities, and dynamic nonprofits.
Program Information:
The Cameron Foundation makes grants across six funding interest areas, including health care, human services, community and economic development, education, historic preservation and conservation, and arts and culture. Within its health grantmaking, priorities include access to health services, behavioral health, prevention services and health education, and child health/K-12 health.
Financial Information:
Total Assets: $145,759,675 (FY20)
Grant Spend Dedicated to Health-Related Grants:  Health–$846,124; Human Services–$744,853 (FY20)
Special Initiatives and/or Representative Health and Human Services Grants
COVID Vaccine Outreach Grant (Crater Health District)—To enable the district to immediately hire five new community health workers to expand outreach for COVID vaccines. The workers are focusing on serving hard-to-reach populations in five local cities and counties that have "vaccine hesitancy" and/or difficulty in accessing technology to navigate vaccine registration systems. ($230,000)

School Based Health Center Initiative—Recognizing academic achievement as a social determinant of health, the United Way's Petersburg City and Schools Partnership has led an initiative to create the Crimson Clinic, a pilot school-based health center located in Petersburg High School. Early stages of the project have been funded in part by The Cameron Foundation. The clinic opened in the fall of 2020 and is serving students through the pandemic. ($216,000)

Policies, Systems and Environmental Approach to Address Health Disparities (STORY—Southside Transformation Opportunities for Residents & Youth)—Cameron's Request For Proposals initiative addresses health disparities in the region by focusing on policies, systems, and environmental factors. Through it, community partners undertake strategic, collaborative work to improve health outcomes for low-income populations in the region. STORY, an agency that provides programs and services to low-income children and families in Hopewell, Virginia, has leveraged its grants to successfully lead an effort to develop policies to improve the social environment and safety of all three public housing communities in the city. More recent funding also focuses on incorporating a trauma-informed approach into the culture of the housing communities. ($110,000 over two consecutive grants)

COVID-19 Emergency Grant (NAMI-Central Virginia)—To offset some of its lost revenue (due to the pandemic) while shifting to an online model of program delivery during a time when it has witnessed an increased demand for its mental health services. ($15,000)
Strategic Changes in Grantmaking Direction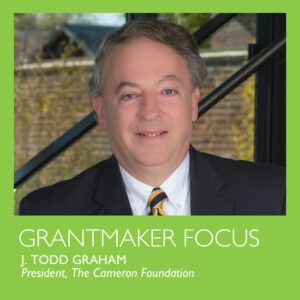 "As part of its objective to promote a culture of health across the region, the foundation's board and staff have worked together to shift Cameron's grantmaking strategy to focus on social determinants of health. This change has made a tremendous impact on our work—it has enabled us to look at health through a broader lens beyond health care interventions, to improve the foundation's impact through increased collaboration with community partners, and to more fully realize its work towards a healthy, vibrant, and economically vital region across the Tri-Cities area. Research shows that health starts in people's homes, neighborhoods, workplaces, and the larger community—long before the point where a person needs health care."

– J. Todd Graham, President, The Cameron Foundation