Annie Martinie, Director of Collaboration and Senior Program Officer, Danville Regional Foundation
Tim Schwantes, Senior Project Officer, Healthy Places by Design
Liz Weaver, Co-CEO, Tamarack Institute; Director, Tamarack Learning Centre
In 2019, the Virginia-based Danville Regional Foundation (DRF) set a new strategic vision—to help more people believe in the transformation of the region and embrace their role in achieving it. A region formerly dominated by tobacco and textiles, the Dan River Region has made great strides toward reinvention. DRF recognized that increasing collaboration and building the civic capacity of the region would be critical to its economic transformation.
With this in mind, and building upon the success of the region's Health Collaborative, DRF launched a new effort to build collaborative leaders across sectors. They engaged long-time partner, Healthy Places by Design (HPBD), and invited the Tamarack Institute to join the design team.
Together, the three organizations share a wealth of experience guiding community leaders through collaborative processes, as well as a fundamental belief that community change happens through effective collaboration.
We identified a need for a practical approach to leading cross-sector collaboration but did not want to force people to prescribe to any one model. Instead, the design team developed a framework that guides participants toward the appropriate structure and from ideas to action within their specific context.
The partners leveraged their combined experience to design the Collaboration Lab, an immersive leadership development experience. The Collaboration Lab works with a diverse cohort of individuals who are engaged in community change efforts to explore the core elements of impactful collaborations. The 10-month experience provides a framework, curriculum and resources, and peer-to-peer learning and coaching.
The Model – People, Process, Planning
The foundation of the Collaboration Lab is the Collaborative Premise, first defined by David Chrislip and Carl Larson in the book Collaborative Leadership.  
"If you bring the appropriate people together, as peers, in constructive ways with good content and context information, they will create authentic visions and strategies for addressing the shared concerns of the organization and community" (Chrislip and Larson 1994, Chrislip 2022).
The Collaboration Lab curriculum builds upon the Collaborative Premise and explores the nuances to give participants the "how to's" of collaboration. The framework for this curriculum is the "3P model," which includes three concurrent pathways of collaborative development: People, Process, and Planning. The core tenets of building trust and sharing power weave throughout each pathway, and the framework, at its foundation, centers on achieving equitable outcomes.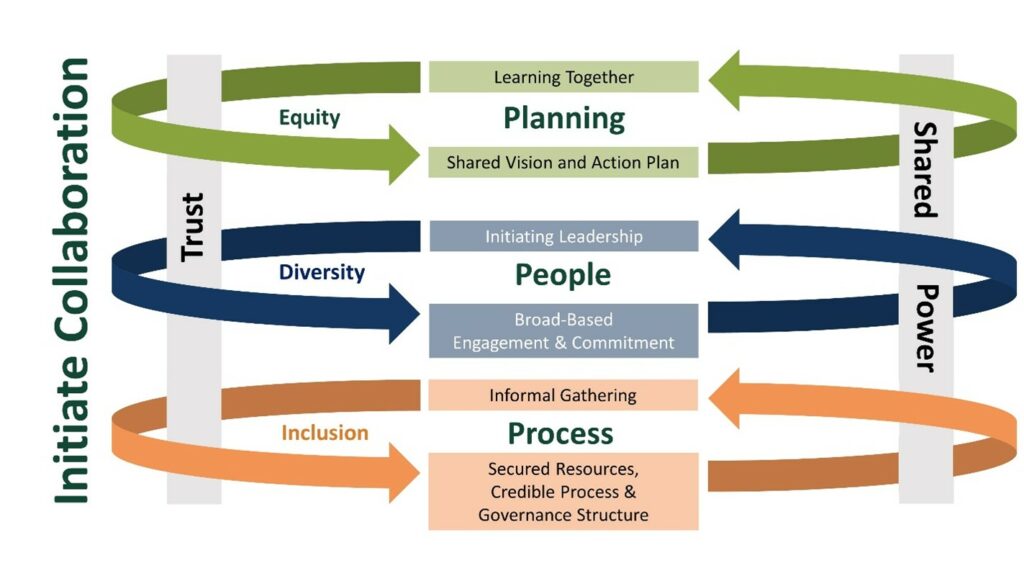 The 3P model is relevant to any developmental stage, and the pathways build upon and overlap one another. It is intentional that the model is a circle as the pathways are both iterative and cyclical, and the end point is when a collaborative sees its mission as complete. A collaborative requires deft consideration from its leaders to navigate each pathway simultaneously, while recognizing one pathway may require more attention than others at certain points.
The People pathway aims to achieve broad-based engagement, trust, and commitment to each other and a shared future. Cultivating this takes time and constant tending, especially between people and groups with different backgrounds and experiences. If done well, a collaborative can activate and unify a diverse group of residents to lead and build strong, effective community-serving organizations, binding them together to create lasting change.
Inclusive decisionmaking is the cornerstone to the Process pathway. This pathway includes how a collaborative will be organized and what resources it needs to be successful. While it can easily be taken for granted, transparency and clear, credible decisionmaking that follows agreed-upon rules helps cultivate trust and enables members to do the work.
The Planning pathway is comprised of equitable problem-solving and the creation of a clear, proactive plan of action. Learning together, developing strategies, being data aware and informed, and narrowing and refining the strategies which determine what work needs to be prioritized are included here.
Build Trust, Engage Broadly, Create Equitable Change
How do you truly put people at the center of community transformation? The design team learned several key lessons, informed by research, experience, and the insights of Collaboration Lab participants.
How a collaboration starts matters. Ideally, collaboration is initiated with active engagement from those who have experienced the identified problem, as well as those with content expertise and strong facilitative leadership skills. This also includes those on opposing sides of an issue and enough people to make a difference.
Engaging people with lived experience requires building authentic relationships. Inviting people to your table is not enough. Effective collaboration requires being present in the community and showing vulnerability, then deliberately creating an inclusive environment with shared power and decisionmaking.
Engage people who reflect the diversity of the community. There is a critical distinction between reflecting and representing. Those who are asked to represent a population or issue often feel compelled to advocate for one cause, rather than bring their whole self into the work (Chrislip 2022). Also, it is not appropriate to assume one or even a few individuals can represent an entire community, yet this (often unspoken) expectation persists.
Intentionally invest time to build trust and connections. When people come together to solve complex problems, there is skepticism. It is imperative to build in time to learn about each other, without discussion of strategies or positions. This may include a trip or other immersive experience. These earlier investments allow people to move through conflict in healthier, more productive ways.
Community transformation starts with individual transformation. Leading cross-sector collaboration is one of the most challenging forms of leadership. When problems are complex, power must be shared equitably, and conflicts must be resolved swiftly. Collaborative leadership requires ongoing self-assessment, personal reflection, and skills-based learning.
Ultimately, people are the foundation upon which all else is built. The Collaboration Lab is already resulting in a stronger region with an increasingly deep and diverse number of collaborative and connected leaders. If communities invest in creating the conditions for authentic and inclusive collaboration, even in this increasingly complex and uncertain world, it is possible to rebuild the social fabric of community life—building hope, ensuring resilience, and creating social change.
If you are interested in learning more about Collaboration Lab, please contact Tim Schwantes at  tims@healthyplacesbydesign.org or Annie Martinie at amartinie@drfonline.org. For more information about the Collaboration Lab partners, visit us online:
> Healthy Places by Design | Building Healthy Communities
> Danville Regional Foundation
---
References
Chrislip, David D. and Carl E. Larson. Collaborative Leadership: How Citizens and Civic Leaders Can Make A Difference. San Francisco: Jossey-Bass Publishers, 1994.
Chrislip, David D. "Community Driven Change and Civic Capacity." Collaboration Lab. Presentation, Danville, VA, 11 Jan. 2022.