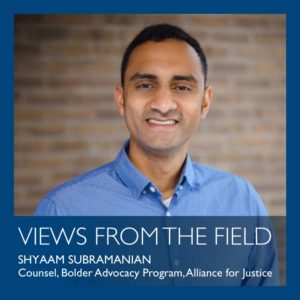 Shyaam Subramanian, Counsel, Bolder Advocacy Program, Alliance for Justice
As elections approach, foundations across the country are considering how to best raise awareness of issues ranging from health equity and climate change to immigration reform and criminal justice.
Health foundations tax-exempt under section 501(c)(3) of the Internal Revenue Code—which includes both private foundations and community foundations—must comply with IRS rules requiring 501(c)(3) organizations to remain nonpartisan. 501(c)(3)s are strictly prohibited from supporting or opposing candidates for public office and are in jeopardy of losing their tax-exemptions if they do so.
But how can foundations discuss issues during an election year but remain nonpartisan? Fortunately, the IRS has provided some helpful guidance.
Please note: This article is for informational purposes only. The information is necessarily broad, and it does not apply to anyone's specific circumstance. Accordingly, this article is not legal advice. Bolder Advocacy provides additional information on these topics, including state law resources.
Issue Advocacy
The IRS would consider all the facts and circumstances to determine if a communication about an issue supports or opposes candidates. There are a number of questions the IRS would ask, and no one answer is determinative:
Does the communication reference candidates, voting, or an election?
Is the communication about a "wedge" issue, distinguishing two or more candidates in a race?
When was the communication released? Was it during a non-electoral event, like a public hearing or mayoral announcement, or is it close in time to an election?
Does the organization have a track record of talking about the issue?
Consider this example: "The cost of prescription drugs is too high. Remember this as you go to the polls."
The statement does not reference any candidates but does reference an election. But we need more information. What is the organization's track record of talking about prescription drugs? Is it a "wedge" issue between candidates in a campaign? For example, has one candidate centered their campaign around the cost of prescription drugs, while another candidate focuses on climate change and education? In that context, the communication might be riskier.
But a track record of advocacy on an issue, careful attention to timing, and avoiding references to candidates, voting, and the upcoming election can lower the risk that the IRS would view an issue communication as campaign intervention.
If the communication is about specific legislation, which includes a bill or a ballot measure, please be mindful of IRS rules related to lobbying. With some exceptions, attempting to influence specific legislation is generally considered lobbying under IRS rules. Private foundations are taxed on any lobbying expenditure or on a grant expenditure that is earmarked for lobbying. Public foundations may lobby but must stay within certain lobbying limits. And public foundations must track and report any lobbying to the IRS.
Voter Education
The IRS permits 501(c)(3) organizations to educate voters about the policy positions of candidates through voter guides and candidate forums.
Voter guides outline candidate positions to voters. It is a best practice to send candidate questionnaires to all candidates in a particular race and allow them to respond to open-ended questions. Do not compare candidate responses to your organization's view on a topic, and do not ask candidates to take pledges. When presenting candidate responses, do not edit answers or present answers in a biased manner. Include a disclaimer that the voter guide is being distributed for educational purposes only.
Candidate debates or forums are events where candidates present their views to voters. To remain nonpartisan, invite all viable candidates in the race. If you cannot invite all candidates, determine viability using neutral and objective criteria, like polling thresholds based on nonpartisan polls. At the event, ask candidates about a broad range of issues and ask open-ended questions. Try to have an unbiased moderator, which could include a well-respected member in the community, or someone from local nonpartisan media. Try to ensure the audience is not biased for or against any of the candidates by reaching out to a broad cross-section of the community. And finally, give candidates an equal opportunity to present their views at the debate or forum. Note: Federal, state, and local election laws may also regulate candidate forums and debates.
Voter Registration and Get-Out-the-Vote
Foundations can support charitable organizations that conduct voter registration and get-out-the-vote initiatives, so long as those activities are nonpartisan.
Private foundations that earmark grants for voter registration drives must follow specific rules. See 26 U.S.C. § 4945(f). It is important to note that these rules apply to earmarked grants for voter registration drives, and not get-out-the-vote activities.
Public foundations may earmark grants for voter registration but—as with private foundations—the voter registration must be nonpartisan. This means:
The organizations may not encourage people to register with a specific political party or encourage voters to vote for a specific candidate or candidates from a certain political party.
The voter registration service must be available without regard to a voter's political preference.
If the voter registration or get-out-the-vote effort is focused on certain neighborhoods or communities, use nonpartisan criteria to select the areas of focus. For example, communities your organization regularly works with, or members of groups underrepresented at the polls (e.g., low-income people, youth, communities of color). Do not select communities based on suggestions from political parties or candidates, since their goal is to get candidates elected. Above all, document the reasons for focusing and how it is connected to the mission of your organization. It is helpful to have a track record of working with the communities in which you are conducting voter registration or get-out-the-vote.
For more legal information and practical tips, reach out to Bolder Advocacy. It is important to stand up and speak out for issues your organization cares about, especially during an election year.