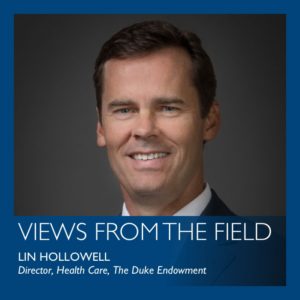 Lin Hollowell
Director, Health Care
The Duke Endowment
At The Duke Endowment, we seek to improve the health status of the communities we serve and promote health equity for disadvantaged populations. This objective, which I believe is broadly shared, is challenged by the reality that unmet needs within our existing health care system far outweigh private philanthropy's resources. Unfortunately, this gap continues to widen. Over time, we have seen greater health disparities while health care spending increases at an unsustainable pace.
The Duke Endowment focuses on identifying areas of investment where we can demonstrate how fundamental changes in our approach to care can yield the greatest returns. This strategy led us to explore how we can best care for individuals living with serious illness—a health condition that has a high risk of mortality, often leads to a decline in quality of life, and causes increasing strain on family caregivers.
While our health care system is generally very good at providing medical care to treat and cure illness, it is not well equipped to provide holistic care that meets the evolving needs of patients and their families as illness progresses. When an individual is diagnosed with a serious illness, providers often jump to conversations about medical treatment, failing to effectively engage patients and their families to understand the illness and the journey ahead.
What people with serious illness and their families need and what they get are often very different. Individuals need a good understanding of their illness and how it is likely to progress, as well as evidence-based information about the effectiveness and side effects of treatment options. Family members and care providers need to understand the values and goals unique to each individual. Treatment plans must be customized to meet the holistic needs of individuals and facilitate a transition from curative care to palliative and hospice care should conditions and goals change. Family caregivers require support with both their own emotional needs and in the daily challenge of caring for their loved one.
The Duke Endowment has invested in several areas to support serious illness care. We have funded training to help providers understand evidence-based approaches to having good conversations with patients and their families so that they are engaged in planning for their care and treatment goals are well understood. We have also funded health information exchange, enabling advance care plans to follow patients throughout the community and health care systems. Additional grants have gone to programs that support family caregivers and in-home telemonitoring systems that provide real-time information and access to telehealth services. Other funding has supported artificial intelligence and analytics that can identify and predict changes in physical and emotional needs. Finally, we have awarded grants to expand provider capacity and integrate palliative and hospice care.
These investments have demonstrated significant returns in improving symptom management and quality of life. They have greatly improved patient and family satisfaction, provided goal concordant care, and reduced spending for treatments showing little evidence of benefit. The investments also demonstrated improved provider satisfaction and reduced burnout.
While each of these components of serious illness care has led to important outcomes, we have yet to integrate all of them into a single, comprehensive program model. We are now aiming higher, asking what it would take to change the standard of care so that all patients diagnosed with a serious illness consistently have access to comprehensive care. We are moving away from simply funding good programs to concentrating our resources on understanding and demonstrating what is needed to create lasting change within our health care system.
In the Carolinas, health care systems and payers are investing in developing innovative practices and trying to understand their ability to outperform the current standard of care. While promising practices are emerging, we lack the infrastructure to align our efforts and identify shared priorities that focus our resources on areas of the greatest opportunity. Supporting health innovation that is scalable and sustainable requires a pragmatic approach to the inclusive design, testing, and rigorous evaluation needed to drive system reform.
With this in mind, The Duke Endowment has partnered with major stakeholders in the Carolinas to establish the Carolinas Health Innovation Institute, a resource for identifying shared priorities and aligning resources to accelerate reform. The Institute will focus on the design and testing of innovations that have the potential to improve health outcomes and reduce health disparities while also demonstrating cost savings and improved patient and provider satisfaction. It will help us develop and test a system that can consistently deliver comprehensive, individualized care to patient and families dealing with serious illness. At this point in the journey we have more questions than answers. How can a system share information and collaborate across sectors to meet the holistic needs of individuals? What combination of practices and resources will have the greatest impact on health? How can we redesign our payment system to incentivize the right things? We are in unchartered territory and must learn quickly.
This is where I believe private philanthropy can have the greatest impact. We can take risks, identifying and investing in promising and innovative practices to demonstrate their viability to the marketplace. Philanthropy can contribute to developing an understanding of what works and what doesn't, capturing these learnings and sharing them to accelerate progress. Our sector can develop a knowledge and evidence base that directly informs and guides systems change.
Playing this role will require a commitment to research and development of rigorous evaluation plans that are co-designed with the input of payers, providers, and those with the ability to shape policy. If the objective of our investments is to change the standard of care, then evaluation must be designed both to understand the relative return on investment and to support the qualitative learnings necessary for the consistent replication and scale of innovative practices.
We realize that making fundamental reforms to well established and complex systems is difficult work. It's an ambitious undertaking, but we believe the potential impact is too great to ignore.