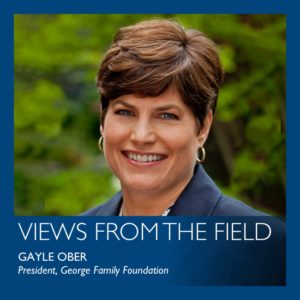 Gayle Ober
President
George Family Foundation
My beloved mother-in-law died in 1981 from complications of Type-1 diabetes, ovarian cancer, and congestive heart failure. She had been a skilled amateur athlete and remained active and engaged in life until the year before she died. In that last year, when it was apparent that she would not live much longer, she was clear with all of us (including having a "do not resuscitate" sign above her home and hospital beds) that she wanted to die peacefully and without additional medical intervention. Her wish was honored because she had planned for the type of death she wanted and had often shared her wishes with loved ones and her care team. What a wonderful example she set for us all, and what an important day when an individual's final wishes can be fully respected and honored.
Talking about end-of-life planning, choice, and care can be a touchy subject. No one wants to talk about our mortality. We don't want to imagine the way we might die. We don't want to tell our medical care team and loved ones what they should do for us if we are unable to speak for ourselves. If there is nothing more that can be done medically to get us back to living as fully as our age allows, what is it we want? More procedures? Additional experimental treatments? More tests? Or do we want a peaceful death that is as pain-free as possible?
The truth is, unless we plan for the kind of end-of-life care we want, it won't happen.
For 25 years, the George Family Foundation has been investing in efforts to change the way health care systems care for us. We have invested over $22 million to bring a mind, body, spirit, and community approach to medical care in Minnesota and beyond. We want today's health care to supplement the best of "Western" medicine with non-invasive treatments and practices that enhance healing and well-being. We want the spirit (not religion, per se) returned to health care, where practitioners can be as nurtured as their patients. We want easy access to massage, acupuncture, therapeutic yoga, breath work, and mind-body techniques provided by highly skilled practitioners–all of which have been proven to increase healing, decrease anxiety, and support overall well-being.
Our goal is exemplified in high-quality palliative and end-of-life care, which we strongly believe should be available to everyone and covered generously and for unspecified periods of time by public and private payers. These interventions are highly person-centered and focus on the needs and wishes of patients and their families. End-of-life-care begins with our own discernment and continues in conversations with our loved ones and health care practitioners. The next step is to write down our end-of-life wishes in such a manner that they can be shared widely and are easily accessible to ourselves (if we are able) and to loved ones and health care providers if we are not.
Over the past seven years, the George Family Foundation has supported organizations that encourage individuals to invest time in end-of-life discussions and planning with our loved ones and with health care teams. The End in Mind Project is one such organization. Based in St. Paul, Minnesota, it was founded by author and public media host Cathy Wurzer and is "dedicated to helping people achieve a level of comfort and mastery with uncomfortable conversations around death and dying." Her experience co-writing the book, We Know How This Ends, with Bruce Kramer, PhD, was the catalyst for the project's founding. Dr. Kramer died of ALS, or Lou Gehrig's Disease, after his five-year journey to live as fully as possible despite his illness. In founding the End in Mind Project, Wurzer seeks to honor Dr. Kramer's legacy by hosting community gatherings that invite the participants to not only talk about how they want to die, but also how they want to live the remainder of their lives fully, with joy and meaning.
End-of-life planning through health directives also helps the patient, their loved ones, and medical practitioners. Our colleagues in health care too often carry the burden of making decisions for patients who either never talked about their end-of-life wishes or never shared those wishes with family and loved ones. Honoring Choices Minnesota is a program of the Twin Cities Medical Foundation which offers classes and resources to assist the public in considering, documenting, and sharing end-of-life wishes with health care providers and loved ones.
The foundation is also supporting Compassion and Choices, a national organization that seeks to increase the availability of medical aid in dying. Medical aid in dying is a controversial movement with people as passionate for it as they are against it. Still, if we are to have health care based solidly in a mind, body, spirit, and community approach, we believe having a choice to request medical aid in dying should be available to us all. This position is supported by public opinion, as 74-percent of Americans agree that "(w)hen a person has a disease that cannot be cured…doctors should be allowed by law to end the patient's life by some painless means if the patient and his or her family request it" (Gallup 2020). At this time, medical aid in dying is authorized in nine states and the District of Columbia. In addition to expanding medical aid in dying, Compassion and Choices also seeks to advance access to palliative and hospice care.
The end-of-life choice and planning organizations that the George Family Foundation supports are not many, but they are one more piece of our effort to change health care in the U.S. One of the foundation's values is "transformational." Grants that are to be transformative will serve a clear and compelling vision and will go to organizations with the ability to drive significant change. We believe that the three organizations mentioned above are indeed transformational, and we are grateful to be able to support the work that they do every day.
We encourage other health and wellness grantmakers to consider supporting end-life-planning, choice, and care organizations in your own communities or nationally.  Providing funds to end-of-life advocacy organizations at the state and national level is also important.  Only by investing generously in the care needed at the end of one's life, can we make it possible for all people have a peaceful finish to a hopefully, well-lived life.
---
References:
Gallup. Americans Support Medical Aid in Dying. Portland, OR: Compassion and Choices, May 2020.