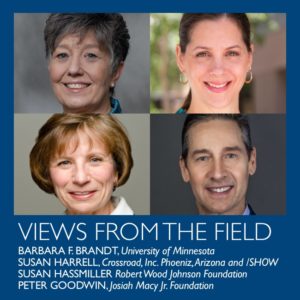 Barbara F. Brandt, Director, National Center for Interprofessional Practice and Education, University of Minnesota
Susan Harrell, Chief Medical Officer Crossroad, Inc. Phoeniz, Arizona and Program Director, /SHOW
Susan Hassmiller, Senior Adviser for Nursing, Robert Wood Johnson Foundation
Peter Goodwin, Chief Operating Officer & Treasurer, Josiah Macy Jr. Foundation
In 2016, the Robert Wood Johnson Foundation, Josiah Macy Jr. Foundation, Gordon and Betty Moore Foundation, and John A. Hartford Foundation envisioned a national program to support advanced practice nurse faculty members to create sustained and vibrant academic-community partnerships with the goal of improving population health in their own communities and zip codes. The funders selected the National Center for Interprofessional Practice and Education to create the Accelerating Interprofessional Community-Based Education and Practice Initiative to:
Support advanced practice nurses to form health care teams with physicians, social workers, pharmacists, other health professionals, and with multisector agencies in their own communities;
Commit to a zip code to address "upstream" factors of social determinants and health equity beyond the walls of hospitals and clinics;
Design an interprofessional education program, "community as curriculum," for health profession students and other stakeholders to teach teamwork skills while implementing collaborative practice; and
Demonstrate real patient, population, and community health outcomes as a result of the program.
After a national call for proposals that generated applications from 51 schools, a national advisory council selected 16 to participate in the two-year program. Schools received $50,000 grants that required a one-to-one match and included over 85 hours of technical assistance and site visits to the communities. The types of diverse settings serving vulnerable, high-risk populations include: low-income housing facilities, a residential addiction treatment center, a skilled nursing facility, a Federally Qualified Health Center, a primary care teaching clinic, a public school, and rural and urban primary care clinics. At the end of the two-year initial implementation, an external evaluator documented a number of health, patient, learning, and organizational outcomes in individual sites. Most notably, improvements were reported in health (decreased emergency department visits, increased access to care, decreased hospitalizations, and decreased diabetic markers); organizational measures (increase in staff satisfaction, expansion of services such as two new primary care teaching clinics); expansion of the number of professions involved; and the progression of how well faculty, staff, students, and community members work together in teams.
Pandemic-Ready in Arizona. As a result of the Arizona Accelerating Initiative, Crossroads Inc.—a residential substance use treatment center serving the Medicaid population in Phoenix—built a clinic to deliver onsite clinical care for the first time, while also creating an interprofessional teaching site. Liz Harrell, an Arizona State University nursing faculty member and the grant's principal investigator, now serves as the Crossroads Chief Medical Officer. Knowing that COVID-19 disproportionately affects populations in residential care facilities, the Crossroads team leveraged their relationship established during the initial grant-funded Accelerating Initiative. They successfully kept staff, residents, and the academic and recovery community safe while continuing sustainable and high quality care delivery. The Crossroads Executive, Maintenance, Kitchen, Compliance, Finance, Operations, and Integrated Care Officers "accelerated" and extended trust by conducting weekly COVID-19 update meetings to address organizational communication protocols, as well as roles and responsibilities across the leadership team and the organization. The team immediately developed new policies, procedures, and care delivery practices to keep residents and staff safe and healthy, and ensured economic safety nets for staff. Finally, Crossroads launched future partnership discussions with the academic community to navigate university and college clinical restrictions, and made a commitment to continue providing meaningful student/resident learning experiences. To date, there have been no COVID-19 cases throughout the 400 bed organization, assuring the sustainability of Crossroads and the academic-community partnership.
What is Next? The inspiring experiences of the Accelerating Initiative teams offer many insights to build upon. In 2020, 11 of the 16 Accelerating Initiative partnerships are not only sustained but are vibrant, making an impact in their zip codes. With the growing recognition that traditional clinical care accounts for approximately 20% of health outcomes, the community as curriculum model focuses on social determinants of health to close the health gap between differentially advantaged and disadvantaged populations. The community as curriculum model should be an integral component of health professionals' education, to ensure that students understand how to address the major facts that impact up to 80% of health.
A critical success factor in the Accelerating Initiative is collaboration with the National Center and across sites—as well as support and facilitation through guided tools and coaching. Additional lessons learned include: engaging the patients and communities from the beginning; building trust through strong academic community teams; team leaders who share decisionmaking; and early planning for sustainability. What was learned using a suite of tools during the Accelerating Initiative and resulting documented outcomes have informed the creation of the Nexus Learning System (NLS). The NLS is a hybrid, online educational program for community-academic partners funded by the Josiah Macy Jr. Foundation to carry on the work of the Accelerating Initiative. The NLS courses and tools are set to be to be released in 2020, and the National Center looks forward to inspiring communities as curriculum in many zip codes.
---
References
Hood, C. M., Gennuso, K. P., Swain, G. R., & Catlin, B. B. (2016). County Health Rankings: Relationships between Determinant Factors and Health Outcomes. American Journal of Preventive Medicine, 50(2), 129–135.
Magnan, S. 2017. Social Determinants of Health 101 for Health Care: Five Plus Five. NAM Perspectives. Discussion Paper, National Academy of Medicine, Washington, DC. doi: 10.31478/201710c
National Academies of Sciences Engineering and Medicine. (2019). Integrating Social Care into the Delivery of Health Care: Moving Upstream to Improve the Nation's Health.