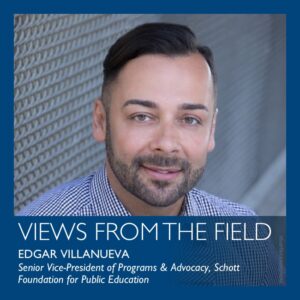 Edgar Villanueva, MHA
Senior Vice-President of Programs & Advocacy
Schott Foundation for Public Education
As we look to imagine a post-pandemic future, philanthropy is considering its next steps to advance a more equitable future. We witnessed an unprecedented response from our sector to support Black-led organizations and movements in 2020 and the COVID-19 pandemic demonstrated that if we want to, we can transcend our traditions and self-imposed limitations to fund quickly and across issue area to meet communities where they are to address racial disparities.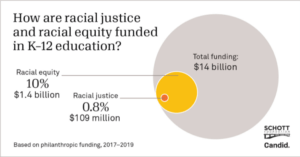 Investing in racial justice is a key strategy to get to a more just world. While Black and Brown organizers and movement leaders have modeled extreme heroism and dedication, much of their work has occurred with limited or nonexistent financial support. They are fighting for racial justice, yet most do so without significant philanthropic investment. A new Schott initiative, #JusticeIsTheFoundation, addresses the current challenges in philanthropic support for racial justice in education—and offers pathways to shape a racial justice in health grantmaking as well, since race, income, and educational opportunities most clearly predict health outcomes.  
Earlier this year, Schott Foundation for Public Education's commissioned new research with Candid showing that in education, philanthropy drastically underfunds both racial equity and racial justice. In fact, from 2017 through 2019, education philanthropy—the second most popular issue for foundations—disbursed $14 billion, but just ten percent of that ($1.4 billion) went to racial equity, and less than one percent ($109 million) went to racial justice. There are 56.6 million K–12 students nationwide, which means the philanthropic investment in racial justice works out to less than $2 per student. An examination of health philanthropy's investments would likely reveal similar trends.
It is important to describe how racial equity and racial justice grants differ. In the education field, racial equity grants are designed to close the achievement gap that persists between racial groups. This includes support for valuable programs like racial bias trainings for teachers or mentorship programs for Black and Brown students.
Racial justice grants, on the other hand, are designed to address the underlying, systemic injustices that create these achievement gaps in the first place. These grants focus explicitly on empowering the people closest to the problem (families and youth) as they organize in their communities to change the systems and structures that generate and reinforce racial injustice. Racial justice grantmaking supports building community power, supporting policy change, engaging with policymakers, and building partnerships with advocates to advance racial equity.  Philanthropic investments aimed at shifting policy and practice—whether in education or health—must include a community-building power strategy in order to hold government leaders accountable to the changes we all seek for young people and families.
After decades of doing this work, many education and health funders have long suspected what the data have now begun to confirm: that philanthropy is failing to combat the systemic harms that young people of color experience. Funding data from 2011 to 2018 indicate that overall philanthropic giving increased dramatically, growing 48 percent. Funding for racial equity and justice in education, however, fell by 36 percent in the same interval.
Achieving racial justice in society as a whole requires using a racial justice lens in all areas of grantmaking. We have seen what happens when community organizers get support and resources. After a yearlong campaign by Black and Brown youth and their families supported by grassroots organizers, the Los Angeles Unified School District agreed to restructure its relationship with police—limiting police presence in schools, banning the use of pepper spray on students, and diverting funds from the department to improve Black students' education outcomes. Students had long pointed out that police disproportionately targeted Black and Latinx students, which is both an education issue and a health issue. It is one thing to dismantle or restructure relationships, but organizers have to continue to fight for the school board to reinvest those resources to fund counselors, nurses, social workers, and other key supports. They need continued philanthropic support to do so.
Our philanthropic giving shapes both our leaders and our future. We must support communities to have the power to envision and demand the excellent public education and public health systems that they want: systems that culturally affirm them, leverage their brilliance, challenge their thinking, and prepare them to live in and lead in the future. Investing in racial justice is the only strategy to get to a more just world. Let's bend the arc of funding toward justice!