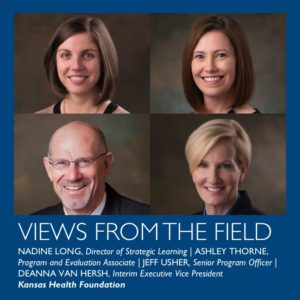 Nadine Long, Director of Strategic Learning
Ashley Thorne, Program and Evaluation Associate
Deanna Van Hersh, Interim Executive Vice President
Jeff Usher, Senior Program Officer
Kansas Health Foundation
At the Kansas Health Foundation (KHF) we believe, along with many others, that those who are closest to the problem are also closest to the solution and must be engaged and empowered to make sustainable, meaningful progress. This is true for local philanthropy. Community foundations are often in the best position to bring partners together, across sectors and geographies, and to tackle the complex set of issues facing their residents. Since the first community foundation in the United States was established in 1914 (Fredrick H. Goff, The Cleveland Foundation), these charitable entities have worked to address pressing local issues and grown to a field of more than 750 community foundations who collectively gave an estimated $5.8 billion in 2017 toward nonprofit activities supporting the common good (Council on Foundations 2020). They represent a network that can serve as a powerful force, including to improve health outcomes.
Recognizing this, KHF launched the Giving Resources to Our World (GROW) Initiative with the goal of strengthening local philanthropy in communities across Kansas. In October 1999, the KHF Board approved a 10-year, $30 million grant (GROW I) to build local philanthropic leadership and resources for long-term, sustained health improvements in Kansas communities. Funds provided a series of financial and technical support to build community foundations, including matching funds for new general-operating support gifts; matching funds for new endowments; training programs and other technical-assistance to build capacity; and funds for grants to improve health. By 2006, participating foundations in Kansas had:
Increased their grantmaking dollars by 43 percent (distributing more than $33 million in grants into their communities);
Increased their collective assets by 141 percent to more than $50 million;
Increased their total incoming gifts by 163 percent; and
Established themselves as philanthropic leaders in their respective communities.
A third-party evaluation found that GROW had increased the organizational capacity of the participating foundations and started laying the groundwork for improving sector relationships toward more effective planning across the state. Given this success, in 2007 the KHF Board approved a second grant for the same purpose (GROW II), with an additional $30 million to continue building capacity and strengthening the network of community foundations.
In addition to the grant funding and technical assistance provided, KHF included two unique components that were particularly impactful for helping spur the work of local community foundations. One was to build the capacity of the Kansas Association of Community Foundations (KACF). In 2005, with funding from the Sunflower Foundation, a dedicated group of volunteers representing community foundations across Kansas established KACF to support place-based philanthropy, peer learning, and statewide partnerships. As described by Svetlana Hutfles, KACF Executive Director:
"It was their dream that KACF would impact the organizational development and sustainability of Kansas community foundations as trusted community catalysts that offer in-depth knowledge of local issues and funding resources to help preserve, steward, and grow local wealth for the health and well-being of Kansas residents in perpetuity and to address the challenges specific to their communities as they arise. In 2009 KHF provided core support funds to KACF to further this dream. In the past 10 years community foundations strengthened by KACF have demonstrated their impact on Kansas, having built health endowments ($21 million) and unrestricted endowments ($43 million) with the total of $499 million in endowments for their communities."
Kansas has experienced a 164 percent growth in community foundation endowments since 2009, and KACF now has a membership that includes over 100 community foundations. They are also recognized as a leader in the community philanthropy space, with an annual convening that has gained national attention. In 2019, nearly 500 participants representing 183 community foundations from all over the United States, Canada, and Bermuda attended. It has become a national platform for exchanging ideas and networking, attracting community leaders from all over the world, thus enriching the experience of Kansas community foundations and boosting development, especially in rural, small urban, and suburban America.
The second critical component was engaging Wichita State University to conduct a "transfer of wealth" study. This report estimated the future intergenerational wealth transfer for each county in Kansas so community foundations could use this information to enhance philanthropic giving. KACF used the data to develop the "Keep 5 in Kansas" campaign, which encouraged Kansans to leave 5 percent of their estate to their local community foundation.
Between 2008 and 2017, the 39 community foundations participating in GROW II earned $14.9 million in matching funds from KHF at the rate of 25 cents or 50 cents on-the-dollar, depending on the type of endowment raised. Through both GROW I and II this initiative leveraged a total of $533 million for the 39 participating community foundations in Kansas. Aubrey Abbott Patterson, President of the Hutchinson Community Foundation, articulated the impact of the GROW program this way:
"Since the beginning of the GROW II Initiative, Hutchinson Community Foundation's assets have grown substantially and we are well on our way to a goal of $20 million in unrestricted assets by 2030. The transfer of wealth data for our county has inspired almost $70 million in legacy gifts that will be permanently endowed for the benefit of people in Reno County. Perhaps most exciting is our growing role in economic development and our commitment to investments that will stoke things like entrepreneurship, housing, and rural broadband. These leaps forward were possible because of the timely and strategic incentives, training, and continuing support of the Kansas Health Foundation over the past 10 years."
Over the last two decades, the investment in GROW has moved KHF closer to our vision of creating strong local philanthropy throughout Kansas that will last into perpetuity. This investment successfully leveraged local funds and established significant endowments in the participating community foundations. The opportunity now exists to continue building local philanthropic resources in a way that would result in long-term, sustained health improvements in Kansas communities. KHF plans to continue building the capacity of community foundations to create change through impact investing and will provide future opportunities to support their success.
---
References
Council on Foundations. Foundation Types: Community Foundations. Washington, DC: 2020.